Michelle Obama's College Experience Is All Too Familiar for Minority Students
"Princeton was extremely white and very male. There was no avoiding the facts."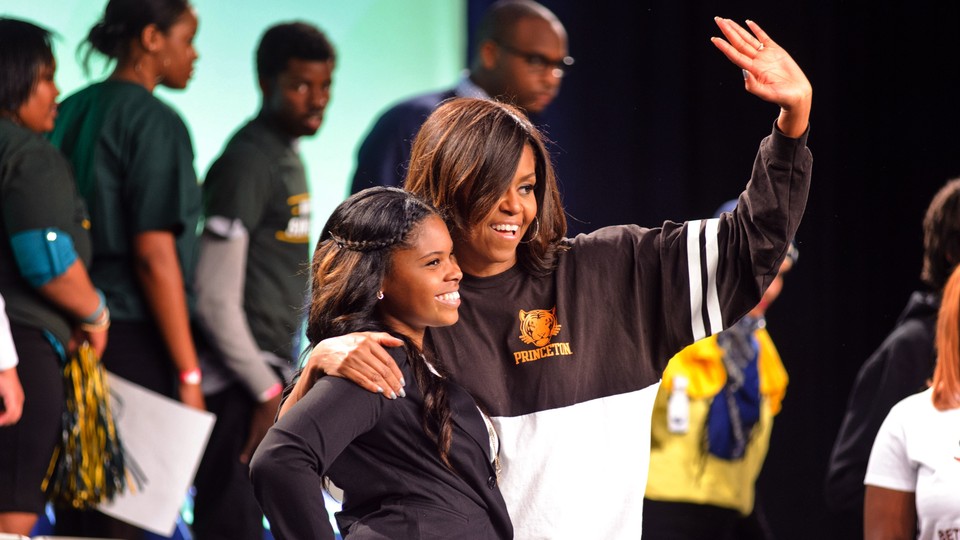 Michelle Robinson didn't shy away from her background in her application essay for Princeton University. The Chicago native wrote about the lack of college degrees in her family, and her father's struggle with multiple sclerosis. While she was in the top 10 percent of her high-school class, a member of the National Honor Society, and the class treasurer—not to mention that her older brother was already enrolled there—she was far from a shoo-in at the Ivy League university. Less than 8 percent of the undergraduate students at Princeton were black, and it wasn't exactly known as a mecca for low-income students. But her essay worked, and in the fall of 1981, she left Chicago for Princeton, New Jersey.
Of course, Robinson would go on to marry Barack Obama and serve as the first lady for eight years. In Becoming, her newly released memoir, she reflects on her experiences in high school and college. Just as her college essay embraced her background, so too does Becoming. And beyond revealing her own story, Michelle Obama's tales of applying to and enrolling in Princeton are emblematic of an all-too-common narrative for low-income and minority students, particularly those at elite institutions.
Obama arrived on campus earlier than most other students. She had been identified as a good candidate for a three-week orientation program "meant to close a 'preparation gap'" for certain incoming freshmen—specifically, low-income and minority students. But there are some things even a head start can't prepare students for. "Princeton was extremely white and very male. There was no avoiding the facts," she writes. "If during the orientation program we'd begun to feel some ownership of the space, we were now a glaring anomaly—poppy seeds in a bowl of rice."
That is a shared sentiment among students of color on selective college campuses today. In 2015, Tavaris Sanders, a black student at Connecticut College, put the sentiment bluntly: "I'm always segregated in classes. I'm like the only black male in there, always, usually, most of the time," he wrote. "I don't belong here at all."
But there are often places of refuge for minority students, and Obama found hers at Princeton's so-called Third World Center. As she writes, it "quickly became a kind of home base for me. It hosted parties and co-op meals. There were volunteer tutors to help with homework and spaces just to hang out."
There she found students like herself, who had arrived on campus unaware of their disadvantages relative to their classmates. They weren't afforded the privilege of SAT prep or AP classes in high school. They hadn't attended boarding school, and so often weren't as comfortable with being away from home. "It was like stepping onstage at your first piano recital and realizing that you'd never played anything but an instrument with broken keys," she writes. So, to adapt and overcome, she leaned on a community that was experiencing the same struggles she was.
The administrators, though, probably weren't too fond of this setup, she says—with the majority of the minority students hanging out with one another. The university was after campus diversity—the compelling governmental interest that had been outlined in a Supreme Court decision just a few years earlier. As Obama puts it, "The ideal would be to achieve something resembling what's often shown on college brochures—smiling students working and socializing in neat, ethnically blended groups."
But the dynamics on campus never quite resembled the glossy brochure images. "Even today," Obama writes, "with white students continuing to outnumber students of color on college campuses, the burden of assimilation is put largely on the shoulders of minority students." And in her experience, she writes, "it's a lot to ask."
For black students such as Obama, affirmative action was a constant elephant in the room, she writes. Though they knew they were qualified, "you could almost read the scrutiny in the gaze of certain students and even professors," she writes. And the practice of affirmative action recently received a renewed wave of scrutiny as Harvard University, where Obama's daughter Malia is now a sophomore, is being sued for allegedly discriminating against Asian American applicants.
More than three decades later, with her own undergraduate years firmly in the past, Michelle Obama's struggles as a black student at Princeton are eerily similar to the experiences of students today. Nestled within Becoming is a long-held truth about American higher education: Supporting students—particularly low-income and minority students—once they're on campus matters at least as much as getting them there in the first place.