The Candidates Embracing Their Black-College Roots
Andrew Gillum and Stacey Abrams are part of a wave of black politicians who are playing up their HBCU bona fides, and in turn raising the profile of the beleaguered institutions.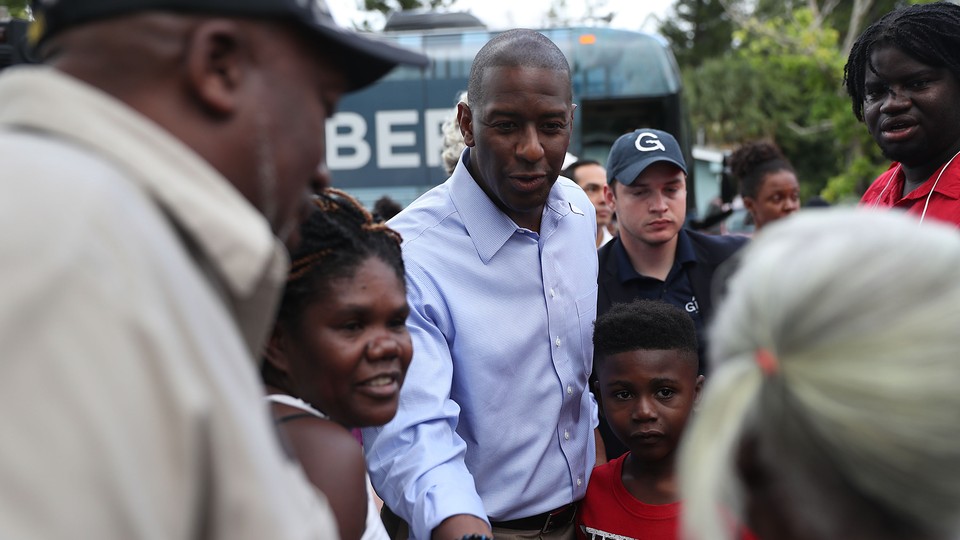 Donald Trump has a habit of taking to Twitter first thing in the morning. So when he fired off a slew of tweets early one late-October morning, it wasn't much of a surprise. "In Florida there is a choice between a Harvard/Yale educated man," Ron DeSantis, he wrote, before vilifying DeSantis's opponent, Andrew Gillum, who is vying to become the state's first black governor, and just the fifth black governor in U.S. history.
Trump's tweet was an example of the time-honored tradition of equating an Ivy League degree with a person's bona fides for a position. But Gillum had a reminder for the president. "I am a graduate of THE Florida Agricultural & Mechanical University (FAMU)," he responded the next day on Twitter. "An HBCU founded on October 3, 1887. Google it."
The exchange was interesting not least because the Trump administration has made a show of courting historically black colleges and universities, or HBCUs. And despite a number of public missteps, it has consistently pointed to its work with black colleges as one of its "wins" with the black community. These institutions, which were founded primarily after Reconstruction to educate black Americans who had been shut out of the rest of higher education, have had their fair share of struggles over the past few decades—budget woes, enrollment dips, and accreditation concerns among them. But they have seen a renaissance, of attention and enrollment, in the Trump era.
Another, perhaps unforeseen renaissance, however, has been the rise of black politicians who graduated from these colleges. In addition to Gillum, Stacey Abrams, a gubernatorial candidate in Georgia, and Mandela Barnes, a candidate for lieutenant governor in Wisconsin, both attended historically black colleges. The prospect of so many black-college graduates being elected to statewide office in the same year is unprecedented, Keneshia Grant, an assistant professor of political science at Howard University, told me.
Now, of course, there are HBCU alums across all levels of government. Senator Kamala Harris graduated from Howard University, and the mayors of Atlanta, New Orleans, and Birmingham—all of whom were elected in 2017—also attended HBCUs. And there have previously been governors who attended black colleges: In 1989, Douglas Wilder became the governor of Virginia and the first elected black governor in the United States. In the 1870s, there was P. B. S. Pinchback, who very briefly served as the governor of Louisiana. These candidates—Abrams, Gillum, and Barnes—are continuing that black political tradition.
However, just as the sheer number of these candidates is different, so too is the energy behind them, particularly for Abrams and Gillum, says Grant—and it's making them more popular with students at HBCUs. The politicians are vocal in boosting black colleges. They're celebrities at homecoming. And they're unyielding in their clap backs during debates.
"It changes the students' engagement with the materials for the [candidates] to look like them and quote Migos. If you show a clip of a person who is a legitimate candidate who is good on policy and can talk about 'walking it like he talks it,'" alluding to the viral clip of Gillum that references the lyric from the rap group Migos, "it just takes the lesson [in class] to another level."
Abrams, Gillum, and Barnes are sending a message, says Walter Kimbrough, the president of Dillard University, an HBCU in New Orleans. "It's a reaffirmation, not only for students but for families, that you can go to an HBCU and compete with anyone." Kimbrough told me it's important not only that the candidates attended a historically black college, but also that they've embraced it as a fundamental part of their identity.
And the candidates are taking up the mantle of defending black colleges as important institutions, he says. For instance, when Representative Cedric Richmond criticized Senator Bernie Sanders's education plan for not mentioning HBCUs, Abrams tweeted her agreement: "HBCUs are vital for economic independence," she wrote. And the institutions, which have struggled across sectors, both public and private, could use the boost.
While it's unclear whether these black politicians will pull out victories tomorrow, their candidacies could still prove important for HBCUs. "I always tell people you can go wherever you want to go," says Kimbrough. "We want people to go where there's a good fit. But don't just assume because the person went to an HBCU that they aren't as good."