The Fallout at Michigan State Continues
The institution's former president has been charged with lying to investigators in the Larry Nassar case.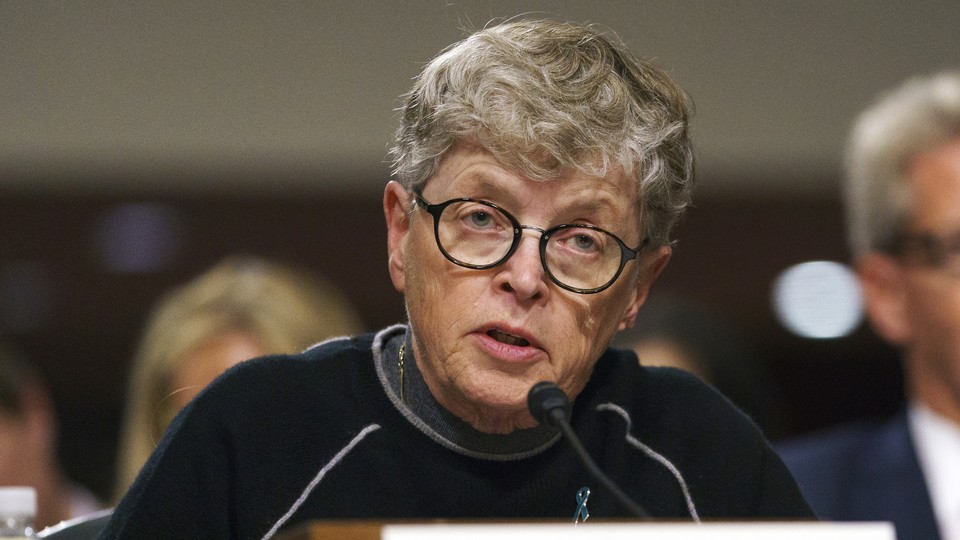 On Tuesday, Lou Anna K. Simon, the former president of Michigan State University, was charged with lying to investigators during inquiries into sexual-abuse allegations against Larry Nassar, who was found guilty of abusing more than 150 young women as a doctor for the university and USA Gymnastics.
Simon, who resigned as the institution's president in January, has been charged with two felony counts and two misdemeanor counts in state district court, several outlets have reported. She has remained part of Michigan State's faculty since her resignation, keeping the $750,000 annual salary she made as president. But according to a statement issued by the university, Simon is taking an "immediate leave of absence, without pay, to focus on the charges." (A lawyer for Simon, Lee Silver, did not immediately respond to a request for comment.)
Tuesday's revelation is the latest in a case that has been a disaster for the university. Over time, several trends have emerged: the slow-footed response by Michigan State's leadership to the reports, their sitting by as accusations against Nassar mounted, and their failure to take responsibility for Nassar's misconduct, which occurred over several decades from at least 1992 until 2014.
In a statement immediately following her resignation as president in January, Simon suggested that she knew that in thorny situations like the one at Michigan State amid the Nassar scandal, the school's leadership would be targeted. "As tragedies are politicized, blame is inevitable. As president, it is only natural that I am the focus of this anger," Simon wrote. "As Nassar's legal journey to prison was drawing to a close, more and more negative attention was focused on Michigan State University, and on me." And that attention has now manifested as legal charges against the former president.
Since the allegations against Nassar surfaced in 2016, after an investigation from The Indianapolis Star, the fallout has continued. Nassar was sentenced to what amounts to a lifetime in prison. Several people at Michigan State have been charged or indicted, or have resigned. The United States Olympic Committee has taken steps to revoke the status of USA Gymnastics as the organization representing America on the world's gymnastics stage. And the new charges indicate that the crisis at Michigan State is far from resolved.