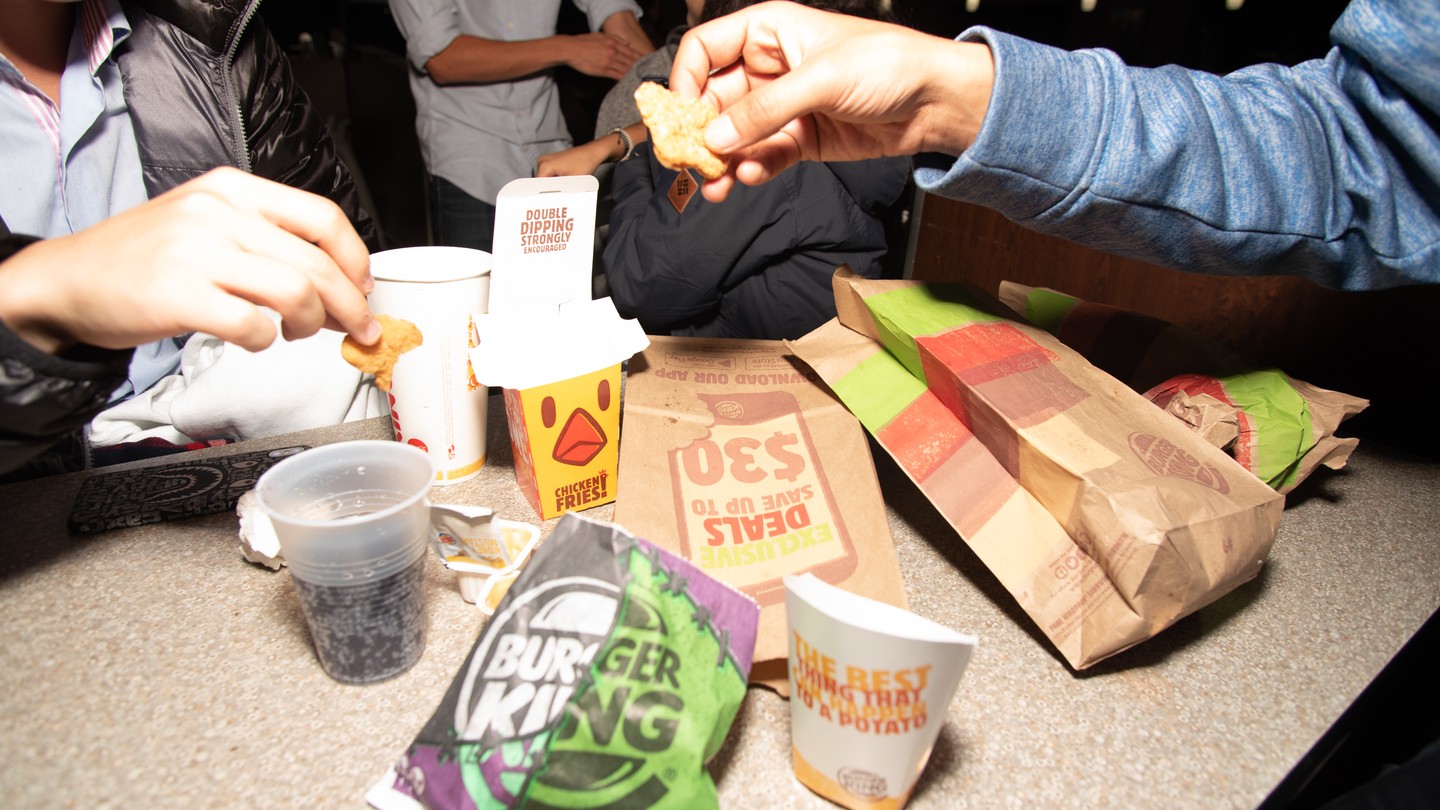 Where America's College Kids Stay Up All Night
Students across the U.S. share their school's version of that place—the one where everyone just winds up late at night, for better or worse.
Neuroscientists describe the adolescent brain—that is, the human brain from ages 10 to 24—as a sort of lawless, hedonistic place: Throughout those particular years of development, "the brain's region-specific neurocircuitry remains … vulnerable to impulsive sex, food, and sleep habits," according to researchers. It's hard to imagine a better place to observe all three of those phenomena simultaneously at work than at any institution open 24 hours near a college campus.
When the national media turns its eye to college campuses, it often focuses on the ways the college experience has evolved in recent years—with regard to, say, free-speech issues, or campus safety, or matters of misconduct and prevention. So it's easy to overlook the fact that one of college's most beloved features—a round-the-clock culture of frivolity and togetherness—has barely changed at all. College students, especially those who live on or near the campuses where they attend class, are uniquely suited to the 24-hour–hangout lifestyle, and that fact has sustained a cottage industry of open-all-hours locations, usually food-centric, kept afloat by students' boundless appetite for friendship and flirting (also, fries). After all, undergrads, being generally around the age range of 18 to 22, are just young enough to consider a 1 a.m. study break with burgers or burritos an appealing, gastronomically nonthreatening possibility, and just old enough to be able to go out into the night to pursue it unsupervised.
Of course, not every college town or campus has a vibrant after-midnight social scene. Students at the University of Hawaii at Manoa, for example, described a party scene that mostly consists of happy-hour specials followed by hangouts in dorms and apartments. But despite the convergence of several forces that threaten the future of the 24-hour college hangout spot—some schools have begun to close certain institutions at night and emphasize the importance of sleep for a healthy lifestyle, while elsewhere bars and restaurants popular among college students have recently been sites of mass gun violence—in many university towns across America, it lives on. Almost every student I spoke with for this story could name without a moment's hesitation where that place was, where everybody just sort of winds up at the end of the night. I've profiled a sampling of those places from across the country below, featuring photos from student photographers at each university.
---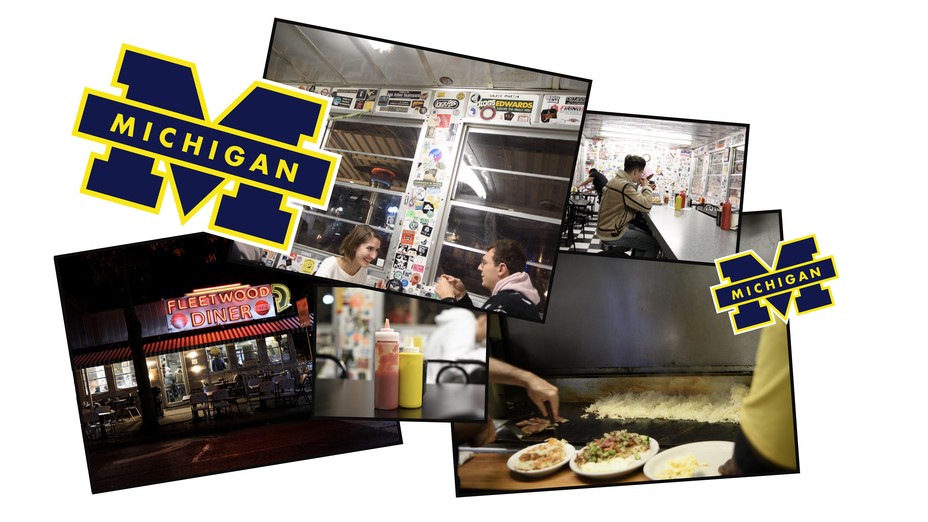 University of Michigan
When wintertime comes to the Kerrytown neighborhood in Ann Arbor, Michigan students often stand in line "commiserating" out in the cold at night while they wait for a table at the Fleetwood Diner, says Jonathan Hull, a senior acting major. During the week, people sometimes wind up at Fleetwood after evening classes, Hull says. But on the weekends, the "small, cramped space" gets a little rowdy late at night as students wander in in search of the diner's famous Hippie Hash: hash browns with mixed vegetables and a generous helping of melted feta cheese.
It's a decently satisfying dinner when you're in an upright state of mind, "but it definitely tastes better when you're drunk. Oh, it tastes way better," Hull emphasizes. (When I spoke with Hull on a Sunday for this story, he was still recovering from a trip to Fleetwood the night prior. After a friend's 22nd-birthday party—"so much tequila" was consumed—they'd wound up at the diner around 3 a.m.) Fleetwood's cozy nature, coupled with the noise levels of its weekend clientele, often makes for a chaotic environment, which Hull says is deftly policed by the waitresses on staff. "When you're just a hammered student, they're trying to get you in and out as fast as possible," he says. "They don't have time for bullshit."
---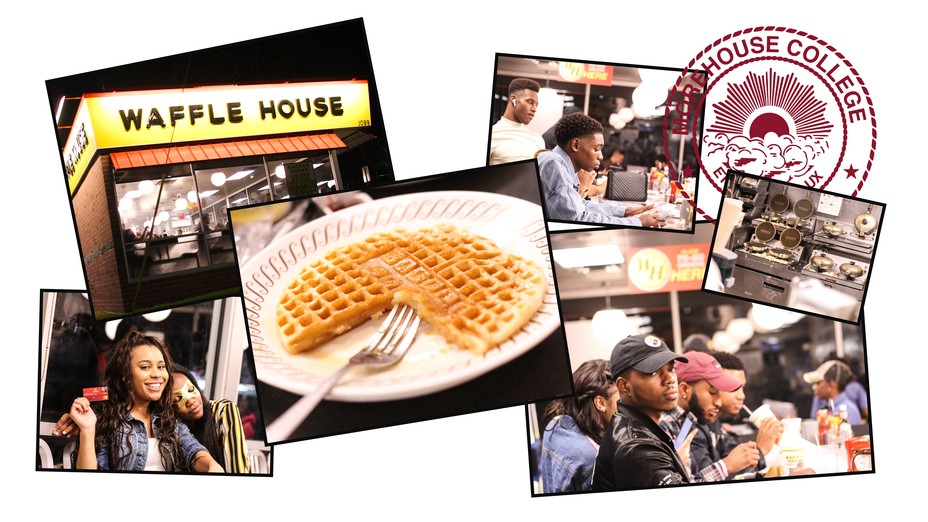 Morehouse College
Morehouse College's most reliable late-night tradition is one it shares with plenty of other communities across the southern U.S.: "Across races, across religions, across sexualities, any demographic in the South—we all end up at Waffle House," says Chad Rhym, a senior studying sociology at Morehouse. For students at Morehouse, as well as at the neighboring Spelman College, Clark Atlanta University, and Georgia Tech, "it's the after-party, I think is the best way to put it."
Waffle House is, all things considered, a more respectable choice for sober dining in the daytime than some of the other open-all-hours spots near campus. At the nearby fast-food chain Cook Out, for example, the line of arriving Ubers gets "crazy" around 2 or 3 a.m. on weekends, "but would I ever, like, ask somebody to go to Cook Out with me before 11 p.m.? Absolutely not. That would tarnish my image," Rhym laughs. "You don't go unless you're inebriated."
Still, Rhym says that Waffle House's prime time is "the real grimy, grungy hours" after midnight. At Morehouse, where much of the party scene consists of student house parties, the "pilgrimage" to Waffle House takes place as a party winds down. "We get our food, but it's also a space to get to know each other, and to kind of convene and deliberate about the party. Talk about Did you get a girl's number? and Who'd you dance with?" It can also be a pretty good place to finish up any unfinished business from said party: "You get to see other people who might have gone to that party go to that Waffle House, so you get an opportunity to get someone's number that you didn't get from the party," Rhym says. "It's the bonus round."
---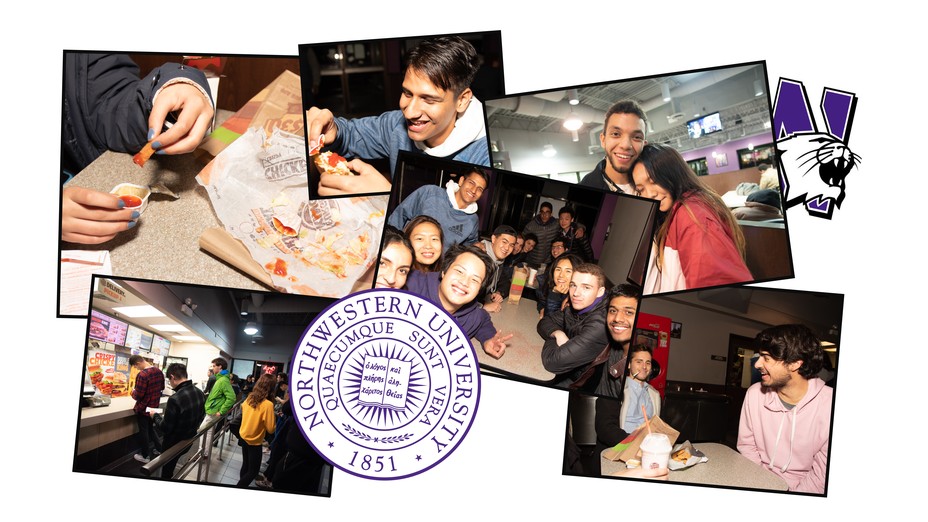 Northwestern University
In Lauren Gold's hometown in northeastern Virginia, "everything closes at, like, nine," she says. So when Gold made her first late-night visit to the 24-hour Burger King just south of Northwestern University in Evanston, Illinois, during her first week on campus as a freshman, "I was like, Oh. So this is college," she says. It was a busy night at BK, she recalls, and she'd trekked over with a group of other freshmen from her dorm. "No one knew anyone. It was a lot of young people talking to, essentially, strangers," she remembers.
Two years later, many of the theater major's fondest, goofiest memories of college have taken place at the Evanston Burger King. Around 5 a.m. one Halloween, after campus celebrations had wound down, Gold was closing out the night at Burger King with a few friends when Cyndi Lauper's "Girls Just Want to Have Fun" came on over the speaker system. "I was like, 'I have to dance to this song!' and my friends said, 'You know, you should probably stand on a chair,'" she remembers. "I was like, 'You're right.'" Another time, she showed up to get a Frozen Coke in cocktail attire after attending a formal at the Willis Tower in Chicago.
And while Gold appreciates that BK is just about the cheapest meal near campus, it's not the food itself that keeps her coming back regularly: Gold, a pescatarian, usually orders just fish sandwiches. "Really not their specialty at all, I know," she says.
---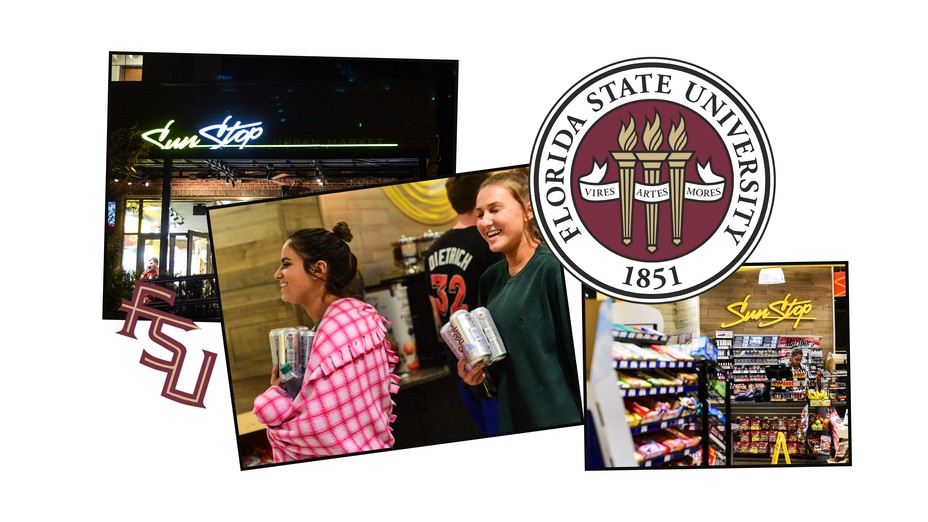 Florida State University
During the daytime, Florida State's Sun Stop Urban Market convenience store is where students like Dani Palazzo, a 2018 FSU graduate and a current FSU masters student in sports management, go to pick up a toothbrush, a six-pack, or maybe a cheap southern-style fast-food lunch between classes. But it moonlights as the place on campus where you're most likely to spot tipsy FSU students in sopping wet, chlorine-scented clothes.
Sun Stop opened in the summer of 2018 and has already established itself as a popular place for students to grab food on weekend nights after football tailgating. "It's loud, everyone's talking over each other, everyone's talking to each other even though they don't know each other," Palazzo says.
But between 1 a.m. and 3 a.m. on, well, just about any night of the week ("I swear people find a reason and a way to go out every single night here"), Palazzo says Sun Stop fills up with students in search of late-night eats after partying at the bars in the nearby College Town neighborhood of Tallahassee. One of those bars is Recess, a rooftop club with a pool. Which used to have a cover over it, Palazzo thinks—but for one reason or another, it seems to have vanished. "Any given night you'll see people swimming in the pool fully clothed," she chuckles. "It's a nightmare."
---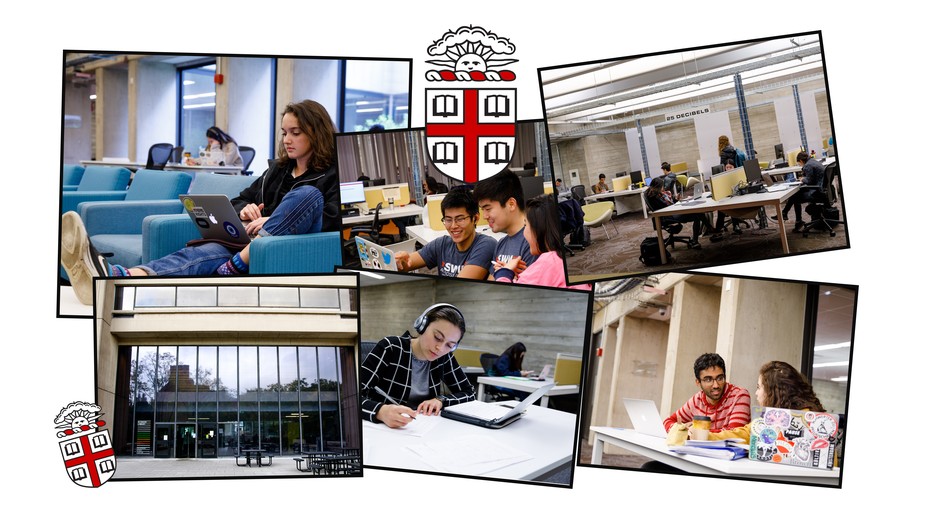 Brown University
At Brown University in Providence, Rhode Island, one of the few places where students can hang out around the clock is the basement of the university's Science Library—or, as it's commonly known to students, the SciLi basement. Separated into sections demarcated by acceptable decibel level, some areas are designated for group work, other areas are for semi-quiet work, and the no-decibels zone is "like, dead quiet," says Subhanik Purkayastha, a sophomore majoring in computational biology.
While the SciLi basement isn't the only study space that's open all night, it's "a lot more chill" than some of the other places students can go to read, or write, or do problem sets, or … watch a quick TV episode or two on Netflix. On nights during midterms and finals season, especially, "it's impossible to get a table," Purkayastha says—so some students park there for hours-long stretches, sometimes in their sweats or pajamas, and take their study breaks right there in the library. "A person will have five cups of coffee, snacks, sweatshirts, all these papers everywhere," he says. "People settle down and they're in it for the long haul."
The SciLi is also, however, a place where students socialize and even flirt. The group study rooms tend to get noisy when conversation eventually strays from homework, and sometimes, Purkayastha says, pairs of students get together to study or do a problem set at the SciLi as a gateway to a real date or social hangout later on. Or sometimes even right after the homework gets done: As Purkayastha says, sometimes an all-nighter at the SciLi can end in a groggy early-morning breakfast at the off-campus, early-hours breakfast cafe Louis'. "Everyone has bags under their eyes, everyone looks so sleepy," Purkayastha says, "but seeing all the nice breakfast food in front of everyone, they're all so happy."
---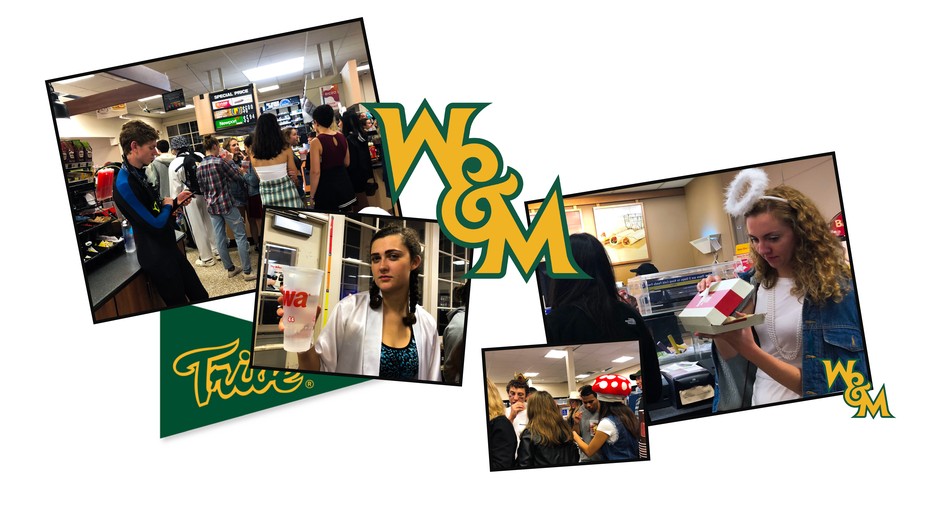 The College of William & Mary
The most popular 24-hour spot on the Williamsburg, Virginia, campus of the College of William & Mary holds a few unusual distinctions: For one thing, it's a freestanding Wawa, unattached to a gas station. For another, it's a site where hungry college kids and on-break Revolutionary War reenactors routinely cross paths. "It's not unheard-of to see people dressed in full colonial garb waiting in line during the day," says Leonor Grave, a senior studying English. "It sort of feels outside of space and time in that way. It's the twilight zone of the William & Mary campus."
According to Grave, the desirability of particular on-campus dormitories is heavily influenced by their proximity to the Wawa. "It's sort of a campus institution," she says. "The water from the water fountain is free, and people like to joke that it's magically the best water in the universe." All day long, students stop in to fill up 44-ounce plastic cups with the enchanted "Wawater." But after midnight, the Wawa—which offers no seating—gets "absolutely packed" with William & Mary students hungry for the local Wawa specialties: macaroni and cheese (served with optional Old Bay seasoning) and quesadillas. While students stand around waiting for greasy, cheesy treats, Grave says, "you run into everyone you've met during your time at college and even forgot that you've met."
---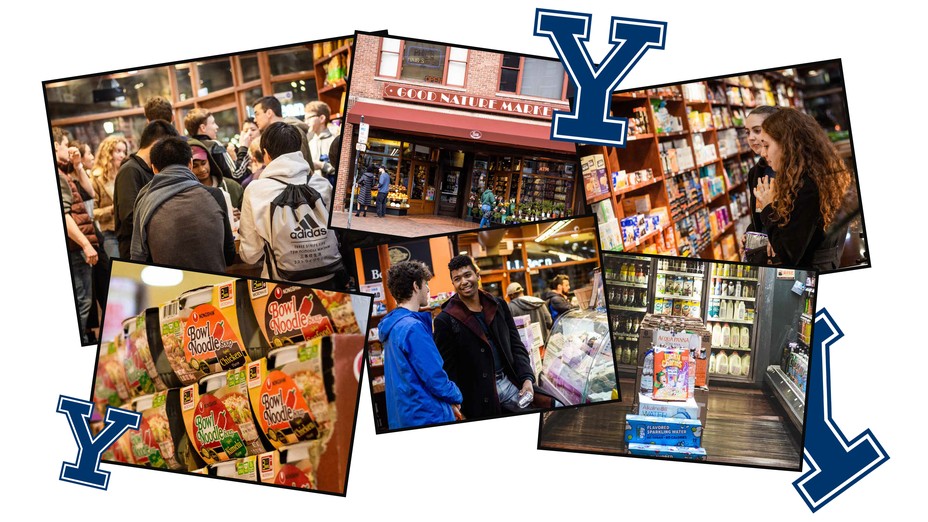 Yale University
It's been a long time since the popular "GHeav" in New Haven, Connecticut, was actually named anything even remotely related to "GHeav" (pronounced JEE-hev). In 2015, the name of the grocery and sandwich shop changed from Gourmet Heaven to Good Nature Market when new management took over. (The previous owner was charged with wage theft.) But like any good college nickname, it's stuck around longer than most people's memory of how it originated.
On most nights of the week, GHeav is populated by a potentially uneasy mix of Yale students, some of whom are sober and trying to get work done in the upper seating area and others of whom have reached "the level of insobriety where all you really want is a gross fried something-or-other sandwich," says Jacob Middlekauff, a senior history major. When Middlekauff finds himself in the former group, he often packs up and heads to the library. And he knows which nights of the week are no-gos for studying at GHeav: "I would not want to be working there at 1 a.m. on a Saturday," he says.
On Wednesdays, when GHeav gets particularly "rambunctious," students wait upwards of 15 minutes in line to order bacon, egg, and cheese sandwiches—the quickest-assembled option on the menu, Middlekauff notes. And generally, that's the last stop of the night for students: Whether you've been pulling an all-nighter of the studious variety or otherwise, "you eat your sandwich, and then you go to bed."
---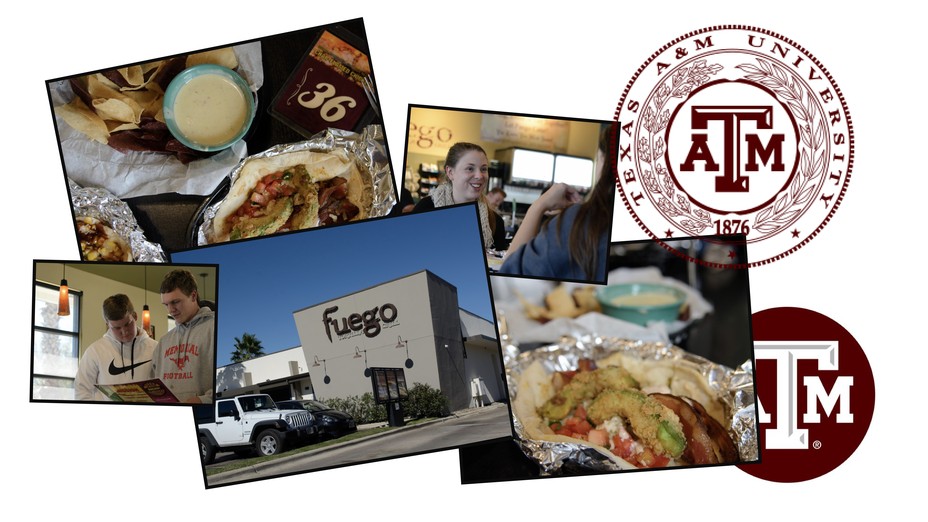 Texas A&M
When Paul Moler opened the Fuego Tortilla Grill in College Station, Texas, in 2010—the first of what's now a three-location taco franchise—he knew he had an opportunity on his hands. The first time that Moler, now 60, visited the town where more than 53,000 Texas A&M undergraduates go to school, "it was October, middle of football season; a cold front was just starting to move in. I'm driving down University Avenue, and there's just this sea of kids," he remembers. "We called them and said, 'Hey, we want to do the deal.'"
His hunch that a 24-hour taco joint on a college campus might be a hit was correct. These days, Fuego is where many a Texas A&M student goes after a football game or at the end of a night out, "just to get some sort of food in us," chuckles Samantha Mahler, an agricultural communications and journalism major. "We get a taco, we split a bowl of queso. We end up just talking about our night, weird things we experienced while we were out." (Moler says the College Station location goes through some 120,000 pounds of cheese every year making the restaurant's famed queso dip.)
Fuego's popularity on campus seems inextricably linked to the school's powerhouse college-football program. "When football players come back to A&M after being [on the road], you can typically find them at Fuego," Mahler says, and friends often inform each other of who they've recently spotted getting Fuego tacos. "We love our football players. They're like family to us."
On game days, Moler says, "it's stupid. The line starts at 10 in the morning and never stops until three in the morning. We've done as many as 4,000 people in a day through that place," he adds. And in 2017, when the NFL first-overall draft pick Myles Garrett wrote in a farewell letter to Texas A&M that one thing he'd miss terribly about College Station was Fuego, Moler's phone blew up with congratulatory phone calls from all around the state.
"I kept saying, 'Okay, great. We're not the story, but great,' and I'd hang up," Moler says. "But, I mean, it is God's grace times 20. College Station is such a blessing."