Why Millions of Teens Can't Finish Their Homework
The push toward technology-focused education overlooks the students who lack the resources needed to complete their assignments.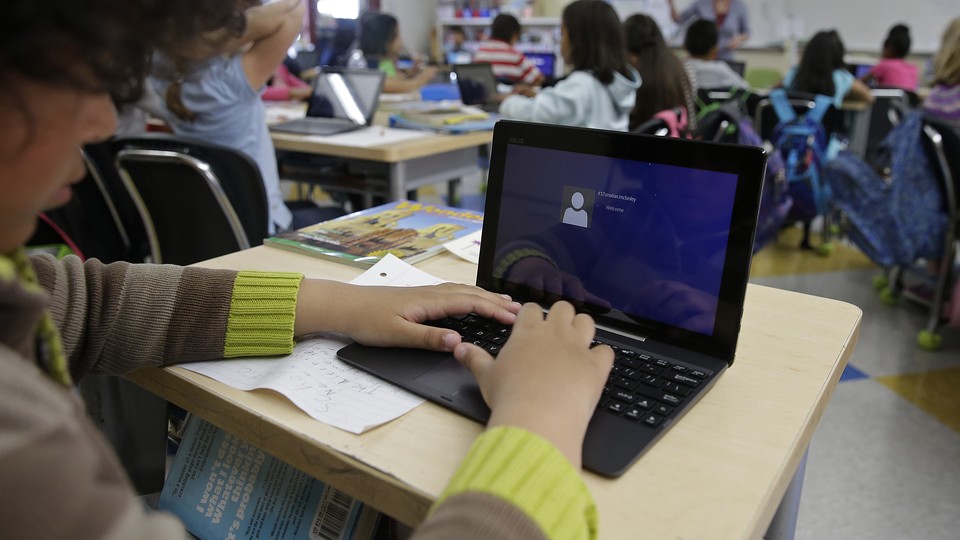 In decades past, students needed little more than paper, pencils, and time to get their schoolwork done. For the vast majority of students, that's no longer the case. Most schoolwork these days necessitates a computer and an internet connection, and that includes work to be done at home. One federal survey found that 70 percent of American teachers  assign homework that needs to be done online; 90 percent of high schoolers say they have to do internet-based homework at least a few times a month. Nearly half of all students say they get such assignments daily or almost daily.
Yet despite the seemingly ever-growing embrace of digital learning in schools, access to the necessary devices remains unequal, with a new report from the Pew Research Center finding that 15 percent of U.S. households with school-age children lack high-speed internet at home. The problem is particularly acute for low-income families: One in three households that make below $30,000 a year lacks internet. This is despite an emerging reality in which poorer students are attending schools that evangelize technology-based learning while their more affluent counterparts, as The New York Times reported this past weekend, are "going back to wooden toys and the luxury of human interaction."
It's a glaring irony that's also a major force behind class- and race-based discrepancies in academic achievement. In what's often referred to as the "homework gap," the unequal access to digital devices and high-speed internet prevents 17 percent of teens from completing their homework assignments, according to the new Pew analysis, which surveyed 743 students ages 13 through 17. Black teens are especially burdened by the homework gap: One in four of them at least sometimes struggle to complete assignments because of a lack of technology at home. And close to half of teenagers in the bottom income bracket have to do their homework on a cellphone occasionally or often.
From a history-class assignment on the political debate over immigration to required participation in an online discussion board for AP Environmental Science, access to a functioning computer and high-speed internet is all but a prerequisite for success in high school. This is becoming especially true as schools gravitate toward software where students file assignments and papers virtually, as well as schools that equip each student with a laptop or tablet; one 2017 survey found that half of U.S. teachers have one device for each of their students, up 10 percentage points from the year prior. Close to two in three teachers use technology in their classroom daily, according to a separate 2017 survey.
The homework gap can have major consequences, with some studies suggesting that teens who lack access to a computer at home are less likely to graduate from high school than their more technologically equipped peers. The "challenge to complete homework in safe, predictable, and productive environments can have lifelong impacts on their ability to achieve their full potential," wrote John Branam, who runs an initiative to provide lacking teens with internet access, in an op-ed for The Hechinger Report last year.
Although the big telecom providers offer subsidies to low-income families, these programs are generally underused. And while disadvantaged students can resort to public libraries and other venues that offer free Wi-Fi, such alternatives are still major obstacles to finishing homework every night. "Your aunt has internet access [at home] but she lives a 40-minute bus trip across town," Branam wrote, illustrating the roadblocks for teens without internet access. "The public library does, but it has a 30-minute computer use limit and, as a young woman, you don't feel comfortable there late at night. McDonald's has free Wi-Fi but it's noisy, you have to buy food and you can't linger there forever."
With a team of researchers, the University of Texas at Austin professor S. Craig Watkins spent a year and a half observing and interacting with high schoolers to better understand the digital divide. The researchers' forthcoming book, The Digital Edge: How Black and Latino Youth Navigate Digital Inequality, chronicles the ways low-income students of color get around not having access to the internet and a computer. In what Watkins calls "social hacking," students often "reengineer their socioeconomic circumstances in order to get access to technology that they otherwise would not have access to." For example, the researchers observed that students without such resources at home were adept at developing relationships with teachers who could, say, give them special weekend access to laptops and software for use at home. They also tended to rely on other needy classmates to find work-arounds, sharing with one another smartphones and tablets that more affluent students often take for granted, for instance. "It was an inventive way of cultivating social capital," Watkins says, "but it also created a kind of sharing economy."
Watkins says the digital divide is an "institutional blind spot" for many school leaders and policy makers. "I suspect that people a pay grade or two above teachers likely don't understand the depth at which this access- and participation-gap divide still exists," he says.
While embedding technology into the curriculum is all the rage in some schools, "oftentimes there's a lack of clarity and vision in terms of what learning should look like with technology," Watkins says. "There's this assumption that just by providing access to technology you're somehow creating a better learning future for kids, but that is not always the case." After all, technology in schools is going to be of limited success if kids don't have access to the internet and a computer once the final bell rings.