What Jewish Schools Are Telling Students About the Pittsburgh Shooting
After the attack, some teachers are reminding students that, as one educator put it, "the vast majority of people are good people who care about us."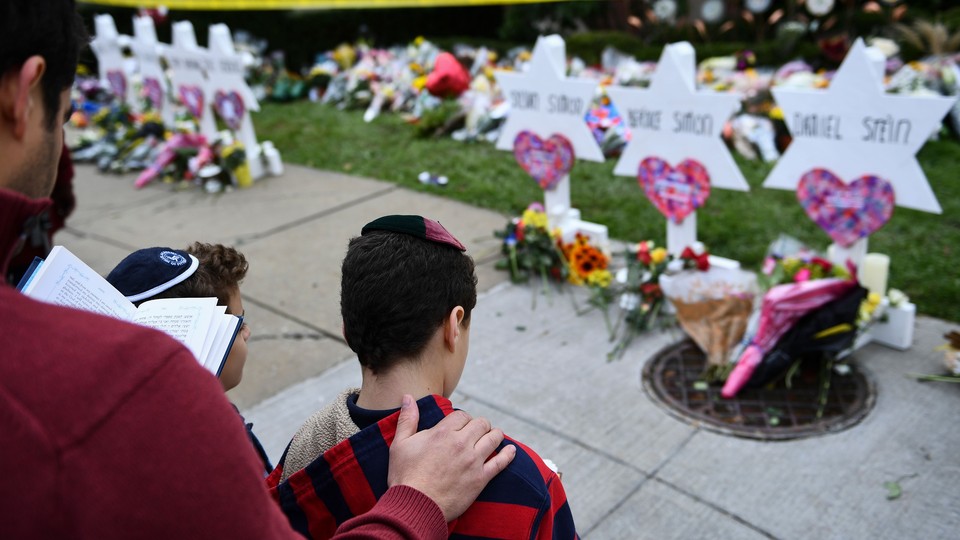 Updated at 3:04 p.m. ET on October 30, 2018.
Besie Katz runs an Orthodox Jewish day school in Northeast Philadelphia. During Sunday classes this week, her students were confused and saddened by the shooting that had taken place at a synagogue the previous day on the other side of the state of Pennsylvania. "The overriding question" they had, she says, "was, in different iterations, how could somebody do something like this? How could this have happened? And of course, that's the hardest question to answer."
She told her students at Politz Hebrew Academy that "hatred consumes people like a fire," and she stressed that Saturday's killings were the awful result of someone who had given up on compassion, kindness, and empathy. "They seemed comforted by that," she told me, "as much as you can be."
Over the weekend and into the week, Katz and other educators at Jewish schools around the country have been considering how best to help their students make sense of the actions of a gunman who reportedly yelled "All Jews must die" upon entering the synagogue. In speeches, smaller group discussions, and all-school gatherings, they attempted to explain the Pittsburgh shooting, even as they sought answers themselves.
Jonathan Kroll, a rabbi and the head of school at Katz Yeshiva High School of South Florida, convened his roughly 350 students before classes started on Monday. Saturday's shooting was particularly resonant on the Katz Yeshiva campus because it's only a 15-minute drive from the city of Parkland, where earlier this year 17 students and staff died in a shooting at Marjory Stoneman Douglas High School. "Unfortunately, we had a little bit of practice last [school] year talking about this and addressing it in the wake of the Parkland shooting, not from an anti-Semitic perspective but from a school-safety perspective," Kroll told me.
After he and his students prayed together, he delivered remarks about the synagogue shooting. "I said, 'We have to be vigilant and careful and realize that anti-Semitism is not a relic of the past. It's not something that lived in Europe 70 years ago' … But I tried to reassure our students that we really have a very safe environment here, and they should be vigilant but feel confident and not scared." Additionally, he reminded them that "the vast majority of people are good people who care about us, who wish us well."
Kroll's audience was made up of high schoolers, and educators elsewhere also calibrated their messages about the shooting based on students' ages. Ari Leubitz, a rabbi and the head of the Atlanta Jewish Academy, a modern-Orthodox school, sketched for me a rough timeline of students' readiness. Because the academy "runs from newborns to high school," Leubitz had thought a lot about what was age-appropriate. "Infants through fourth grade … we don't bring it up," he told me. This was in line, give or take a year, with what other school leaders told me.
Around fifth or sixth grade, Leubitz said, students start to have questions and reflect on their emotions, so they're readier to discuss tough subjects. By seventh and eighth grade, "they want to be able to talk it through and come to a solution," Leubitz said. "When you get to high school, then it shifts from the 'what happened' to the 'why it happened' … At that age, I want to fix it. What am I going to do to fix it?"
That was a question that students had at Golda Och Academy, in West Orange, New Jersey. "Our 12th graders, they're angry," Adam Shapiro, the head of school, told me after meeting with them. "They're angry about the environment of the world they're living in right now, where hate is becoming so prevalent. They were looking at me and saying, 'We want to act—we don't want to be passive.'" He noted that many of them will be voting for the first time next week.
All the Jewish-school leaders I spoke with said that their minds went to campus security—something that is in their control—after the Pittsburgh shooting. "It's hard to get much more secure than we [already] are," Kroll said. "We definitely had something of a wake-up call after the Parkland massacre last year."
Leubitz, of the Atlanta Jewish Academy, said that another issue on his mind was how he was going to give his staff (and himself) the time and space to process and mourn, so that they would be able to do the same for their students. "I think it's very hard for [teachers and parents] to not have the answers," he told me. "We want to say 'There's an answer to this,' and it really hurts because we can't say 'It's going to be okay,' because many of us don't believe that."