How a Teacher in Rural Oklahoma Started a Science-Fair Dynasty
To get her students interested in STEM, Deborah Cornelison shows them how science projects can improve their community.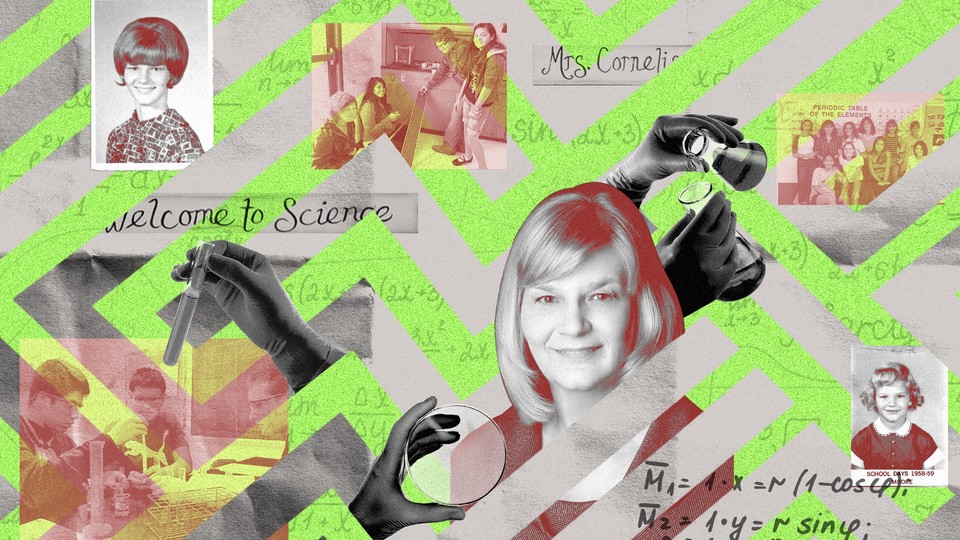 Editor's Note:
In 1988, a teacher most commonly had 15 years of experience. In recent years, that number is closer to just three years leading a classroom. The "On Teaching" series focuses on the wisdom of veteran teachers.
On March 9, a few days after teachers in Oklahoma threatened to walk out to demand more funding for public schools, I was standing next to Deborah Cornelison, a veteran science teacher, in the courtyard of Byng Junior High School. At 11 a.m., the school's only outdoor space was already hot, and a group of teens moved underneath a large beige canopy to catch some shade. The protective canvas—spread over half of the school's only outdoor space—is there thanks to students in Cornelison's physical-science class. In 2008, four ninth-graders investigated the harmful effects of ultraviolet radiation, tested different types of shade materials, and—in a district with limited resources and no wealthy PTA—raised funds to purchase and install it.
One of five schools in a rural southeast school district, Byng serves mostly white and American Indian students in Pontotoc County, the home of the Chickasaw Nation. The district, located in a tiny community of about 1,100 residents, was lucky to be open on a Friday: Nearly one-fifth of public schools in Oklahoma have shortened the school week to four days to help fill the gap caused by the budget cuts. From 2008 to 2015, Oklahoma cut its spending on public schools by 23.6 percent—more than any other state.
The canopy is one of many ways in which students in this rural school serving 320 teens have used science projects for class to improve their community. Cornelison's students have also pressed their school to change heating and cooling practices to reduce the elevated levels of carbon dioxide they found in the classrooms, lobbied for healthier food options in the school cafeteria, and developed stronger school-emergency plans, such as yearly lockdown drills, which inspired a state law that extended them to all campuses in 2007.
Projects like these earned Cornelison, who now works as a trainer of principals and teachers at the Oklahoma Department of Education, national recognition during her tenure at Byng from 1988 to 2014, as well as a spot in the National Teachers Hall of Fame. Meanwhile, her students have traveled across the country, often flying on an airplane for the first time, collecting  more than 300 awards at local and international science competitions, including some of the world's most prestigious. For many students, access to the competitive science-fair circuit also brought acceptance letters to coveted universities, internships, and eventually a career in stem, law, health care, and other fields.
Jobs in the stem fields are among the fastest-growing occupations in America, according to the Pew Research Center. But as with girls and people of color, students from rural areas have been mostly left out of the push to prioritize stem, and many, like Cornelison—a proud third-generation Oklahoman—don't want to leave their hometown for a job at a big company like Google or General Electric. That's why Cornelison's approach to science education sought to orient her stem teaching around students' ability to take what they learn and improve their communities—regardless of what discipline they choose as a career. Science in Cornelison's classrooms was just as much about the future of innovation as it was about values such as self-sufficiency, work ethic, and collaboration.
---
These beliefs run deep in the tallgrass prairies and oak savannas of rural Oklahoma. Cornelison grew up on 160 acres of farmland near the town of Seminole, where she was a straight-A student in a class of just 16 students.
Each year, Cornelison competed in the fall county fair, where locals showed off their harvest bounty, farm animals, and handmade arts and crafts. Whenever the awards were announced, Cornelison's family rushed to the winning entries to see how they could improve their methods. "You learned to view every failure as an opportunity to learn from your mistakes," says Cornelison, who competed for the first time when she was in fifth grade, submitting a hand-stitched handkerchief. "And you internalized the idea that those who won succeeded because of their effort and persistence, not because they were born good gardeners."
A local nonprofit helped students like Cornelison send in submissions for the fair and participate in other regional competitions promoting research and presentation skills, among others. Cornelison later traveled to a nearby town to participate in a speech contest at which she presented a research project on tornado-precaution procedures.
Even though Cornelison was a top student in her school, she credits extracurricular activities like these with the development of important career and life skills such as self-reliance and the value of hard work. These activities, Cornelison told me, connected concepts she learned in school textbooks to the daily concerns of rural life—and served as inspiration for Cornelison to change traditional science classrooms dominated by lectures and formulaic lab work.
At its core, Cornelison's philosophy of teaching science can be summed up in four tenets. One, students should practice what scientists do: Observe the world and ask questions, set up rigorous experiments, and gather and interpret data. Two, young adults will be motivated if they're given a choice over the topics they investigate. Three, learning science through research projects teaches not only academic content but also social and emotional skills such as problem solving and resilience, which research shows are greater predictors of life success than are standardized-test scores. Four, when teachers encourage students to research and implement solutions to problems in their communities, they develop key citizenship skills, such as a sense of agency and social responsibility.
Eleven years into Cornelison's teaching, a ninth-grader named Maghen Petty became the first student in Byng's history to win an award at the prestigious Intel International Science and Engineering Fair. (Last year, the Intel fair had 1,500 competitors from 75 countries.)
In 2004, another of Cornelison's students, Cortney Cowley, placed fourth at the Intel science fair. Now an economist at the Federal Reserve Bank of Kansas City, Cowley told me that she wasn't interested in science until she worked with Cornelison, who gave her the first opportunity to research a topic that she'd been curious about her entire life. Cowley grew up in a home with a wood-burning stove for heat, and wanted to know why ashes discarded in her backyard sometimes worked as a fertilizer and at other times destroyed all plant growth for years.
Cornelison encouraged Cowley to investigate the topic, which Cowley summed up in a 10-page class research paper. Cowley enjoyed the process of researching her own questions so much that she asked Cornelison to mentor her on another project—this time, investigating fungi in indoor air, which landed her at the Intel science fair and eventually as a doctoral student in agricultural economics.
Sometimes students joined the teams participating in science fairs after hearing about them from friends. That's how Sarah Jones, another of Cornelison's former students, joined the shade project in 2008. At first, Jones thought it would be a fun way to compete for a trophy, but she ended up enjoying the challenging process of gathering data using ultraviolet radiation meters, and then promoting the canopy to the school community and fund-raising for it. Now working in the Chickasaw Nation's communications department, she learned the most important career skills through her science research. "In my job, I have to solve problems on my own every day," Jones told me. "I learned that independence and a strong work ethic in Ms. Cornelison's class."
---
Today, Cornelison continues to advocate for the importance of learning through research projects in her current job at the Oklahoma Department of Education. On one hand, the audience for her message has grown much larger as project-based learning has become increasingly popular over the past five years. Yet many resources that contributed to Cornelison's success have withered amid the budget cuts in the state, coupled with increased pressure to prioritize high test scores in math and reading.
Byng Junior High can't afford to offer an elective class that teaches year-long research projects, Kevin Wilson, the assistant superintendent of Byng schools, told me. Last year, investment in stem education had grown so sparse that a retired teacher donated $50,000 to save the Oklahoma State Science Fair from shutting down.
Meanwhile, many skilled educators are leaving for jobs in other states, making teaching through projects—which requires more training and experience than teaching through lectures and exams—less tenable.
The walkout in April resulted in a 5 percent pay raise for teachers in Oklahoma—among the lowest paid nationwide—but no significant increases in funding for public schools. Some teachers took on an additional gig: running for office. In the state primaries this year, 64 teachers filed to run, a higher number than in any other state, according to an Education Week analysis.
Cornelison remains focused on inspiring schools and students to embrace stem in spite of the low priority the state has placed on  education in recent years. The renewed sense of solidarity among teachers keeps her optimistic that, in spite of the budget cuts, her vision of a robust, hands-on stem education in the Sooner State will ultimately prevail.
---
This article is part of our project "On Teaching," which is supported by grants from the William and Flora Hewlett Foundation, the Spencer Foundation, the Bill & Melinda Gates Foundation, and the Panta Rhea Foundation.