The Harvard Case Is About the Future of Affirmative Action
One day before Harvard goes to court to defend its admissions practices, two warring rallies made clear that the trial is about much more than just the university.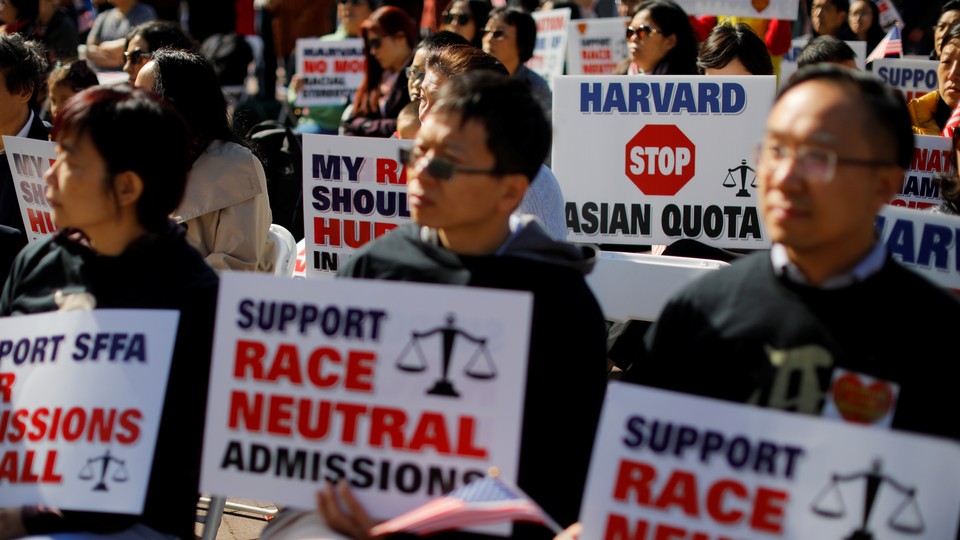 CAMBRIDGE, Mass. — On Wednesday, the newly minted Harvard president Lawrence Bacow delivered a sober message to the campus community. In less than a week, he said, Harvard would be heading to federal court to defend its use of race in admissions. "This lawsuit has the potential to create divisions on our campus and in our broader alumni community," he wrote. And on a brisk Sunday here, those divisions were remarkably clear.
One day before the start of the trial, two warring rallies revealed the deep fissures in the Asian American community over affirmative action. Supporters of Harvard's race-conscious admissions practices—mostly students—began arriving at Harvard Square early Sunday morning. They grabbed prepared signs from a box, hung banners, and slipped on light blue shirts. The message was consistent: "Defend diversity."
It was important that they made their voices heard, they argued, because this is bigger than Harvard. And they aren't wrong. This case, the latest in a string of challenges to affirmative action, seems poised to make it all the way to the Supreme Court, and could fundamentally change if and how race can be considered in admissions. The Supreme Court has upheld race-based affirmative action several times over the past 40 years, but as the court has lurched to the right with the appointment of Brett Kavanaugh, the future of the practice is more imperiled now than at any time in recent memory.
Starting today in federal district court, lawyers for a coalition of Asian American students, brought together by the conservative legal strategist Edward Blum and his group. Students for Fair Admissions, will argue that Harvard unfairly caps the number of Asian American students it admits in order to boost the enrollment of other racial groups. It will also argue that the college has not considered alternative strategies to diversify its campus.
Blum has made a career of challenging race-specific policies. He previously spearheaded a case against affirmative-action practices at the University of Texas at Austin, and before that, he instigated Shelby County v. Holder, the landmark case from 2013 that nullified pieces of the Voting Rights Act. Several students at the rally were aware of Blum and his litigious past, arguing that he is using Asian Americans as a cudgel to advance a personal agenda of ending affirmative action in higher education.
The lion's share of students who had gathered in Harvard Square were themselves Asian American—including students and recent graduates who will testify in support of the university in court. That includes Thang Q. Diep, a senior who submitted portions of his admissions file to the court in an effort to bolster Harvard's case.
"As an Asian American, I do not believe that Harvard's race conscious admissions policy hurt me," Diep wrote in a statement to the court. "I disclosed my race and I did not have stellar grades, but I was accepted to Harvard most likely based on my personal statement, which reflected the diversity that I brought to campus."
And on Sunday, he forcefully declared why he was standing up for Harvard. "My stance on affirmative action is a general reminder to the rest of America—and especially to Edward Blum," he said to a chorus of cheers, "that I, along with so many other Asian Americans, refuse to be tools of white supremacy, and that we stand in alliance with all communities of color."
Diep's argument is one that has resonated with Asian Americans: According to a survey by AAPI Data, nearly two-thirds of Asian Americans support affirmative-action policies. Yet specifically among Chinese Americans, support for the practice is substantially lower.  And some three miles away, across the Charles River, another group—dominated largely by Chinese Americans—voiced their displeasure with Harvard's policies.
Unlike the student rally, that event, held in front of the historic Trinity Church, had the markings of a professionally produced rally, such as a surround-sound speaker system, an elevated stage, and metal barriers. And rather than the signs and shirts vowing to "defend diversity," this rally featured placards decrying affirmative action. "Discrimination in the name of diversity is wrong" was the motto of the gathering, jointly hosted by the Asian American Coalition for Education, or AACE, and Students for Fair Admissions.
Yukong Zhao, the president of AACE, boasted during his speech to a crowd of roughly 250 people that the litigation is sending a message to other schools. "If you don't stop your discrimination," Zhao said, "we will file civil-rights complaints against you, we will take you to trial."
There were notably fewer students at the latter rally. Kelley Babphavong, a junior at Harvard, was a notable exception. Babphavong, whose parents are from Laos, and who spoke at the anti-affirmative-action rally, believes that the Asian American students supporting Harvard aren't considering the other possible alternatives to race-conscious admissions, such as class-based preferences. (Students for Fair Admissions has enlisted Richard Kahlenberg, a policy analyst at the Century Foundation, a left-leaning think tank, to make this point in court.)
But there are doubts that tipping the scales in favor of socioeconomic diversity will do anything to racially diversify a campus, for a simple reason. As Sue Dynarski, an economist at the University of Michigan, put it, "Most poor people are white. Putting a thumb on the scale for low-income students will help far more white students than black or Hispanic students."
The dueling rallies on Sunday revved up both sides for the three-week-long battle over Harvard's admissions practices. "We're not at war with Harvard, we're not at war with higher education," Blum told me. But still, how the case plays out in court could ultimately have major ramifications for whether colleges in places far away from Cambridge will continue to consider race in admissions.