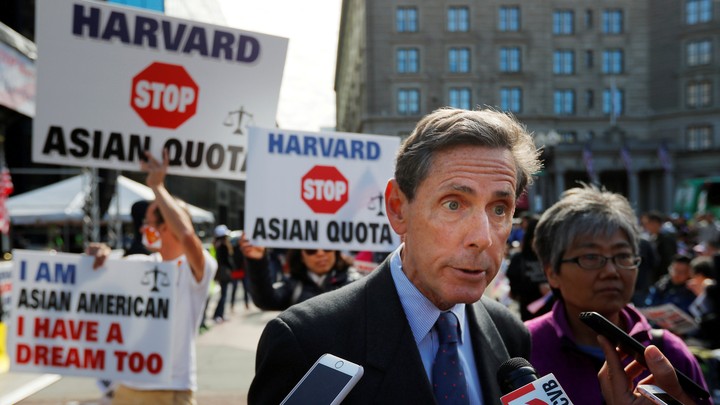 BOSTON—In the days leading up to the trial accusing Harvard of discriminating against Asian American applicants, supporters of the university worried that the group behind the litigation, Students for Fair Admissions (SFFA), would turn the case into a broader attack on affirmative action and race-based admissions policies. It's one thing to say the use of race in admissions is negatively affecting a minority group to the benefit of white students, but a completely different thing to say that the advantage is going to other minority groups.
On Monday, the first day of the three-week-long trial, their fears were realized as the plaintiffs presented their opening arguments in a nondescript Boston courtroom. "The future of affirmative action is not on trial," Adam Mortara, the lead attorney for the plaintiff, said. After all, the Supreme Court has been clear that colleges can consider race in admissions as a way to create a diverse class. But Harvard had gone beyond that, he told Judge Allison Burroughs.
Read: The Harvard case is about the future of affirmative action.
The first 15 minutes of Mortara's monologue were a broad outline of the ingredients that Harvard uses to judge applicants—among them, academic rating, athletic ability, extracurricular involvement, and personal rating. Students are assigned a score for each characteristic. SFFA alleged—and Harvard disputed—that all these characteristics, besides personal rating, are based on objective markers, such as SAT scores and grades for academic ability. And in every objective category, Asian Americans score higher than white applicants. "What we're saying is that Asian Americans do better than white applicants on every single objective rating, outside of the subjective personal rating," Mortara said. The personal rating, he continued, is what is most suspect about the school's admissions process.
By this point, Mortara had spent most of his time comparing white and Asian American applicants. But then suddenly, it seemed, his speech shifted. Asian Americans, he argued, do "dramatically and shockingly" worse than both African Americans and Latinos in the personal ratings.
Then the speech shifted back to a traditional argument that SFFA has been making for months: The university's admissions system discriminates against Asian Americans because of the gigantic incentives that are given to mostly white groups, such as recruited athletes, of whom roughly 80 percent of applicants are admitted, and so-called legacies, students whose close relatives attended Harvard. But sandwiched between that argument, in a statistical analysis compiled by SFFA's expert witness, was another nod to how other minority groups, not just white students, are benefiting from Harvard's admissions policies. A chart compiled by the plaintiffs showed how students with certain characteristics were much more likely than Asian Americans to get into Harvard: High personal ratings, African Americans, and legacy students were the top three.
As the lawyers for the plaintiff shifted back and forth on who is the beneficiary of Harvard's allegedly discriminatory admissions policies, the university toed the line that it is not treating Asian American applicants unfairly. "Harvard never considers an applicant's race in the negative. If it considers race, it's always considered in the positive," said William F. Lee, the lead trial lawyer for the lawsuit against the university. "The fact that it considers race in a positive doesn't mean it's negative in another case."
But SFFA contends that Asian Americans do have a negative penalty—and it's keeping qualified applicants out. The shift toward a broader argument against the use of race in admissions is quick and subtle, but it's there. The case has always hinged on the notion that Asian Americans are being discriminated against, but the answer of who SFFA believes is the undeserving beneficiary was made clear. And the lawyers answered the question of how they would transition to a broader critique of affirmative action: slowly, then all at once.
We want to hear what you think about this article. Submit a letter to the editor or write to letters@theatlantic.com.