Spelling Bees Are Trendier Than Science Fairs
A new documentary seeks to drum up more mainstream attention for STEM competitions.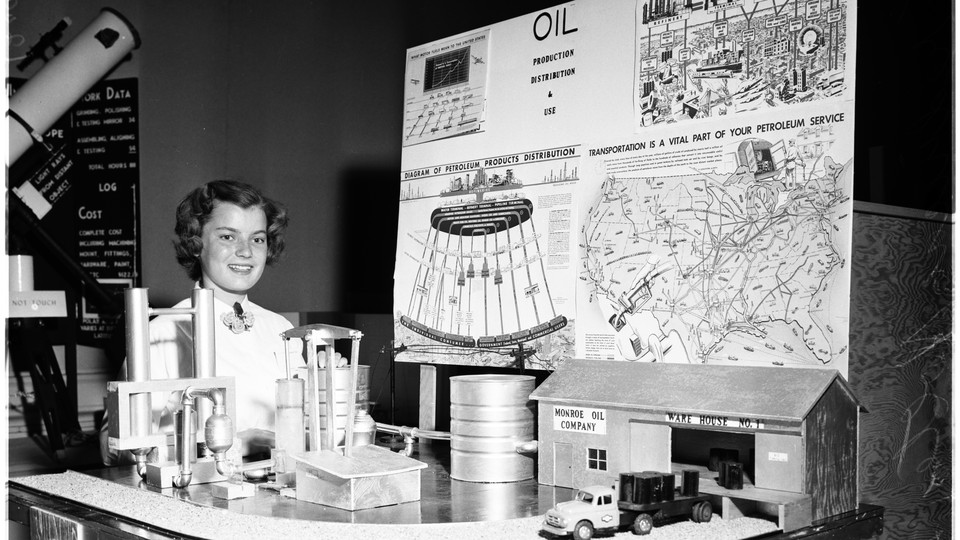 To be nerdy these days is to be cool. Pop culture's adoration of nerds is ubiquitous in this era of high-tech gadgets. You can see it everywhere from The Big Bang Theory to The Bachelorette to the Scripps National Spelling Bee, the latter of which is broadcast on ESPN.
Which is why it's curious that competitions like the International Science and Engineering Fair (ISEF)—whose contestants each year vie for more than $5 million total in prizes, including $75,000 for the top winner—haven't quite captured the public imagination. That may soon change. A new documentary follows a handful of teens who participated in last year's ISEF, along with the no-nonsense Long Island, New York, teacher who managed to help nine of her students qualify for the competition.
Science Fair, which was released on Friday and will be shown in theaters across the country, offers a peek into the otherwise unfamiliar world of science competitions. The filmmakers, the former investigative journalists Cristina Costantini and Darren Foster, shadowed the students as they built prototypes and presented their tri-fold poster boards to judges with precision and poise. But they also caught the teens in more candid and endearing moments of brilliance and awkward adolescence. In one scene, for example, a girl on the Long Island team mocks her coach's expression. In another, a trio of boys from Kentucky, whose project consists of an electronic, 3-D-printed stethoscope that helps doctors better detect heart abnormalities, is shown passed out on the airplane en route to ISEF; they had their senior prom the previous night. Then there's the scene in which Robbie Barrat, an artistic math genius from West Virginia with abysmal grades, shows off his Hawaiian-shirt collection. He started wearing the colorful, printed button-ups to competitions, he explains, "because it's as casual you can get while still having a collar."
These characters and their personalities alone make the world of the ISEF cable-worthy entertainment. Add in the students' scientific accomplishments and public-speaking savvy, and science fairs' second-tier status becomes even more perplexing.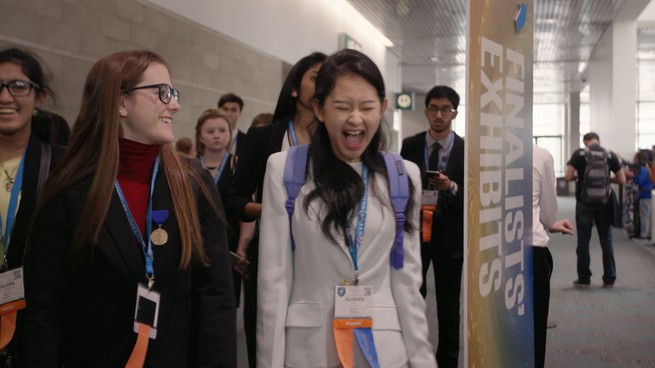 One of the students featured in Science Fair is Kashfia Rahman, a soft-spoken girl at a sports-obsessed school in Brookings, South Dakota, who ends up winning first place in her category at the 2017 ISEF for her findings on the role of repeated acts of risky behaviors in blunting emotional and cognitive functions in adolescence—a project inspired by her surroundings in Brookings, where teen drug and alcohol abuse is common. Toward the beginning, Rahman is shown roaming her school's campus and pointing to all the cabinets filled with frivolous trophies won by its less-than-impressive sports teams. A few scenes later, the filmmakers approach various groups of students hanging out in places like the cafeteria or the weight room—no one had ever heard of Rahman, even though she'd placed third in the ISEF the year before.
Costantini, the co-director of Science Fair, who herself participated in science fairs as a teen, told me that Spellbound, the 2002 film that followed a handful of Scripps National Spelling Bee contestants, was her favorite documentary when it came out; she wants her film to contribute to science fairs the same kind of clout that Spellbound gave spelling bees. "That has always been a driving force for me," she says. "I wondered: Why are these kids [competing in ISEF] not being celebrated? The event is just as fun … They deserve the credit and the celebrity" that spelling-bee contestants enjoy. Constantino and Foster suspect that part of the Scripps National Spelling Bee's mainstream appeal has to do with the competition's relative simplicity—it's much easier to format the one-day event for TV than it would be the multiday ISEF.
In that sense, the directors and Rahman suggested, ISEF's second-tier status likely traces back to something deeper, too: the perception that this type of science is out of reach for all but the whizziest of whizzes. Rahman insists that perception is false—the kind of research she and her fellow contestants produce, she argues, is far more relevant to the mainstream public than it may seem. "A lot of ordinary people are afraid of science because it's such a broad subject with so many complex aspects to it," Rahman, who recently started her freshman year at Harvard, told me in a recent interview. "It's just an issue of accessibility—we just need to get the message out there that science has something to offer to everybody."
U.S. schools in recent years have been swept up in a widespread push to enhance STEM education, and never has the importance of scientific discoveries to everyday people been clearer than it is today. Yet despite polls indicating that most Americans buy into STEM's societal benefits, few Americans are confident about the quality of STEM education in the country's K–12 schools, with 75 percent of respondents in a 2015 Pew survey of scientists attributing the public's limited knowledge about science to schools' underinvestment in such education. But even when educational opportunities exist, many children shun them because they don't think they're smart enough. In particular, some studies have suggested that demographic stereotypes—the belief, particularly in affluent communities, that STEM-related jobs aren't for women, for example, or the message perpetuated among low-income students of color that caring about academics isn't masculine—discourage kids from pursuing those fields.
Science Fair's promise to get that message out is what makes Rahman most excited about the documentary and its broad theatrical release. Maybe schools will consider redirecting some athletics funding toward STEM education, and maybe students who would otherwise be intimidated by science fairs will give them a try. "What I love most about Science Fair … is that it's being screened in a lot of places where there are young elementary-school kids," especially girls and minorities, Rahman says. "They'll be able to resonate with so many of the characters in a way they never could before."