What Kids' Backpacks Say About Them
These bags are one of the most constant material items in a kid's life, and they serve as both status symbols and intimate companions.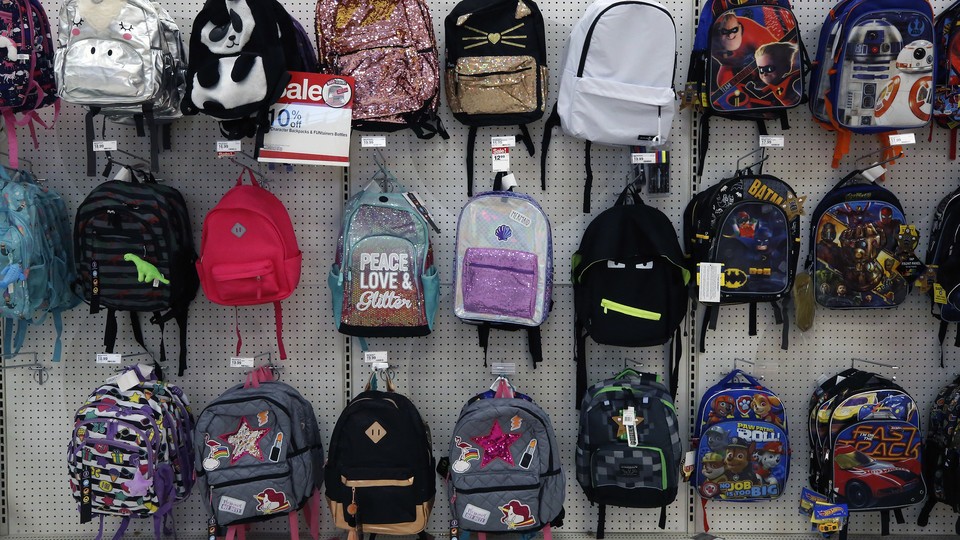 When Eric Ushiroda moved to a tiny Japanese village in the mid-1990s to work as a teacher, there was one thing he learned almost immediately: His middle-school students in this chilly, forested town were obsessed with L.L. Bean backpacks. A recent graduate of the University of Hawaii who'd applied for the teaching job as part of an exchange program, Ushiroda didn't own winter clothing. Mail-order catalogs were the easiest way for him to get what he needed, living in a rural town. So he ordered some thermal underwear and fleece jackets from L.L. Bean.
He also bought the "Original Book Pack," and, naturally, got his name monogrammed on it. Might as well, he thought. It was free.
Little did he know that his seventh-through-ninth-graders would instantly become infatuated with it—something about the shiny reflective strip, the monogram, and the polyester material made it inherently cool in the '90s. So Ushiroda got the school to purchase a bunch more—in red, navy, and black—for his students. Now a 46-year-old human-resources director who lives in Cleveland, he still remembers their excitement.
In the '90s, L.L. Bean backpacks weren't just cool in Japan, where the company had long enjoyed a cult following, but in American schools as well. "That's just what I understood a backpack to be. Like how a [Band-Aid] is a bandaid," Abby Reisner, a 25-year-old New York City-based food writer, explained in a tweet. It was, Reisner admitted, also her go-to bag simply because her mom would hand her the catalog and say "choose." She typically opted for a pink one with both her monogrammed name and an extra butterfly patch.
When I asked on Twitter last week whether people had an L.L. Bean backpack when they were kids, I got many similar nostalgic responses from young adults who were in school in the late '80s and '90s. About half of the roughly 100 respondents to my unscientific poll said "yes," while the other half said "no"; only 1 percent said they didn't remember. Popular colors included lime green, eggplant, and blue camouflage.
It's little wonder people feel such an emotional connection to their old backpacks. Backpacks are one of the most ubiquitous and constant material items in a kid's life. Unlike workbooks and crayon boxes, which have a lifespan of just a single school year, a backpack often travels with a kid from grade to grade, sometimes parting ways with its owner only after she decides it's no longer her style or after its foam straps have disintegrated and its wax-coated canvas is riddled with holes. At school, kids have other opportunities to personalize their learning space, by decorating cubbies or lockers, but backpacks travel with them—to sports practice and after-school tutoring and on the school bus. Backpacks bridge the distance between school and home, shuttling homework and lunchboxes and beloved toys for show-and-tell in between the two most important places in a kid's life.
"We change our clothes each day. But for most of us, the bag remains the same," Andy Fallshaw, a cofounder of Carryology, a bag-review website that is funded by an Australian bag-and-wallet company, said in an email. In that sense backpacks are similar to shoes, watches, and sunglasses, other accessories that are seldom changed and which often also serve as status symbols. But Fallshaw contends that backpacks are a "bigger and more expressive canvas": "You can fail to notice a watch," he said, "but it's hard to not notice a backpack, and it's the same one each day."
Backpacks are, for better or worse, integral to the popularity hierarchy, and to "tribe signalling," as Fallshaw put it. In the earlier grades of the K-12 saga, the trendy backpack tends to feature whichever superhero or cartoon hero children like most, he said. But things get more complicated in adolescence, when the brain grows more dramatically than at any other point in life and kids become more self-aware, and, sometimes, self-conscious. Backpacks' ubiquity and constancy gives them more social signaling power than, say, a cool shirt that a kid wears for one day.
It's not only the backpack itself that signifies coolness or nerddom, but how one carries it. "Most [high-]school kids will want to release the straps right out so the bag hangs low, bouncing around their butt in a way that breaks every ergonomic principle," Fallshow says. These trends come and go as well. According to a 2013 Slate investigation, for decades, the cool thing to do was to sling one of its straps over your shoulder—"one-strapping," as Channing Tatum put it in a scene from 21 Jump Street.  But in the mid-1990s, according to Slate, "two-strapping" began to take over, and by the mid-2000s had solidified its cultural dominance. The way Fallshow sees it: High school is when kids navigate their identities and decide whether to tilt toward "conformity" or toward "rebellion." And for him, this instinct can be leveraged for good: It's an opportunity to explore their growing independence.
Backpacks are "an extension of personality," says Rico Pasqualini, the president of JanSport, though popular styles evolve, and the backpack's coolness has ebbed and flowed over the years. It was briefly eclipsed by items like messenger bags and satchels in the mid-2000s. Right now, according to Pasqualini, it's having a bit of a renaissance in the U.S., in part thanks to heightened interest in "festival bags," small backpacks that have become trendy at Coachella and other music festivals. A little under a decade ago, bold colors and prints were popular in the teen market, Pasqualini says; today, preferences tend to be more conservative, with more teens opting for solid colors.
Still, the backpacks kids initially choose are often just canvases that they then customize even more—with Sharpie-scrawled song lyrics and keychains, patches and pins—to show their idiosyncrasies and signal their tribes. Perhaps that's one reason there was so much backlash to the idea of transparent backpacks earlier this year, when news spread that students at Marjory Stoneman Douglas High, the site of the February Parkland massacre, would have to use them for safety reasons. It was a violation of students' privacy, many said at the time. The fact that this invasion was centered on backpacks—one of students' most personal, intimate possessions—likely intensified people's reactions. After all a backpack goes through with a kid, Pasqualini says, it "becomes a partner in life."