Michigan State's Untouchable Board of Trustees
Members of the board have been accused of covering up Larry Nassar's abuse, and yet they've somehow emerged from the scandal unscathed.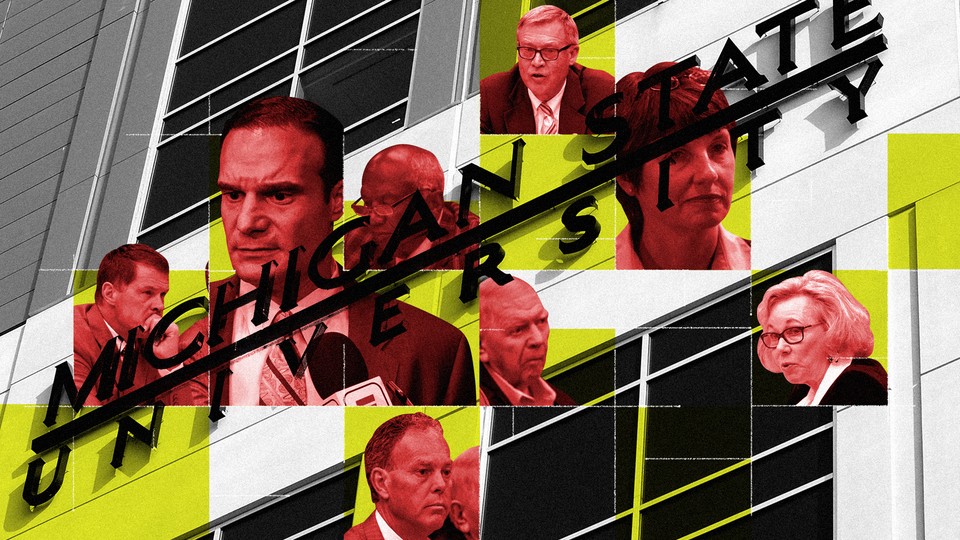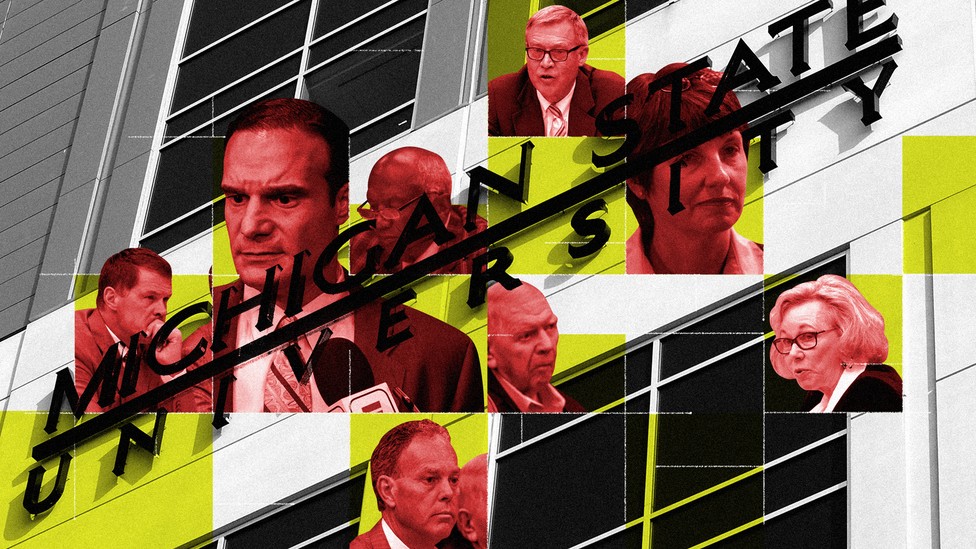 Since sexual-assault allegations against the sports doctor Larry Nassar became public, top administrators at Michigan State University have claimed they didn't know—and could not have been reasonably expected to know—about the systematic abuse that took place on their campus for more than two decades. But according to a new lawsuit, in 1992, 24 years before Nassar was fired from the university, MSU's then–athletic director and head football coach, George Perles, was allegedly presented with perhaps the most damning piece of evidence imaginable: a videotape. The tape, which the lawsuit claims was shot by a cameraman at Nassar's request, allegedly showed the sports doctor raping a drugged and near-unconscious Erika Davis, a 17-year-old member of the MSU field-hockey team. The lawsuit accuses Perles (who has denied the allegations) of making sure the tape went nowhere, returning it to Nassar, and then forcing the coach who obtained the footage to sign a nondisclosure agreement and resign.
Today, Perles is one of eight members on the MSU board of trustees.
It's been two years since the Nassar story broke—and eight months since the sports doctor was found guilty of assaulting more than 150 women, including dozens of former MSU students. For many, there have been serious consequences. Nassar will, in all likelihood, be in prison for the rest of his life. Multiple MSU staff members accused of covering up the abuse, including former President Lou Anna K. Simon, have resigned or been asked to leave. Meanwhile, MSU's top governing body—its board of trustees—has remained entirely intact, despite campus-wide protests calling for all eight members to step down.
Since the Perles allegations became public, MSU students and faculty have begun asking old questions with new urgency: Did board members know about the abuse? Did they cover it up? What could the board have done to stop Nassar, years or even decades before he eventually left the school? "A board of trustees is, at the end of the day, responsible for everything that takes place on campus," says Michael Poliakoff, the president of the American Council of Trustees and Alumni (ACTA). "And the MSU board was not nearly as proactive as it should have been."
In the months since Nassar's conviction, most board members have shirked all responsibility for how the case was handled. This lack of accountability, Poliakoff told me, likely stems from the board's process for selecting new members. Michigan State is one of three universities in the country that chooses its board via statewide elections. (The other two are the University of Michigan and Wayne State University, in Detroit.) The vast majority of boards at public colleges are appointed by the governor of their state, a process endorsed by industry specialists. "That way, the governor is identifiable as the person who has put that particular group of trustees onto the board," Poliakoff said. "If the board is not acting in a proactive, responsible manner, the governor will be called to account." After MSU's board members are elected to eight-year terms—the norm in other states, according to Poliakoff, is four to six years—by a constituency that, for the most part, has no connection to the school, there is very little to compel them to stand up to the administration, or to answer to MSU students, faculty, and staff. "You have to understand, this is a very, very unique structure," the current MSU board member Brian Mosallam told me in an interview. "Because we are elected in this way, we have no oversight—except what we do to police each other."
The MSU board has long been cozy with top administrators, particularly President Simon, multiple staff and faculty members said. "The board seldom met without Simon," Mosallam wrote to me in an email. "There was no fire wall between President Simon and the Board." Mosallam said he privately voiced concerns about trustees' close relationships with Simon to several of his fellow board members. "I know they felt the same way that I did." (Former President Simon did not respond to a request for comment on this story, and neither did any of the other trustees.) After Nassar's trial, when victims began calling for Simon's resignation, the board initially stood by the president, issuing a public statement of support. "That's not going to happen. Period," the trustee Joel Ferguson said in a radio interview, when asked about the possibility of Simon stepping down. "She's not going to get run out of there by what someone else did." Facing mounting national pressure, two trustees, Mitch Lyons and Dianne Byrum, finally called for Simon's resignation in late January. She stepped down four days later.
Most of the staff members accused of covering up Nassar's abuse—or of failing to adequately investigate—are affiliated with the university's athletic department. Nassar himself, of course, was a world-renowned Olympic sports therapist. So the board's close ties to MSU athletics have raised questions about its members' personal biases: the trustees Mosallam and Lyons are former MSU football players, and Perles was the head football coach for 11 years. The school's basketball arena was named after the board chairman Brian Breslin's father.
The trustees continue to be die-hard Spartan sports fans. MSU is one of the few colleges in the country that allows trustees to travel with school sports teams on chartered planes and buses, covering all travel costs for the trustees and one guest each. This kind of perk—which six of the eight trustees have taken advantage of at least once—can sow resentment on campus, said Armand Alacbay, ACTA's vice president of trustee and government affairs."It can lead to the appearance of favoritism," he said. (As of July, the trustee Ferguson had traveled with the MSU football or basketball team 19 times.)
These kinds of close relationships are likely a direct result of long term limits, Poliakoff believes. Four of the current MSU trustees have held their position for 10 years or more—and Ferguson, MSU's longest-serving trustee, was elected in 1986. With these long tenures, Poliakoff said, board members risk becoming too close with the administration. "They can become complacent about the actions of university personnel—and not inquire in the way that responsible fiduciaries should," he said. When responding to a sweeping scandal like the Nassar case, he told me, trustees need to question every administrator who could have possibly been involved, regardless of how well they know them. That includes, as the Perles allegations have made clear, fellow members of the board. "Boards will sometimes say, 'Oh, we know we can trust her, she's been here for 15 years,'" Poliakoff said. "No. No, you don't know that."
When Simon resigned, campus leaders issued clear statements about the kind of person they thought should take her place. The faculty senate recommended they choose an interim president with experience both leading a university and dealing directly with cases of sexual assault and harassment. The board selected former Michigan Governor John Engler, who had neither—and who, as governor, was publicly accused of ignoring female inmates who claimed they were raped and sexually harassed by prison guards. The faculty senate immediately issued a vote of no confidence, calling on the entire board to resign.
Around the same time, several administrators organized a town hall, a public conversation with the board of trustees. More than 600 people—students, faculty, staff, and alumni—lined up outside the campus conference center. But of the eight board members, only one—Mosallam—showed up. Even after the Nassar case, Mosallam told me, the trustees still weren't fully focused on what was happening on campus. "There are some that are disengaged; there are some that are afraid of litigation," he said. "There are some who just want to put their heads in the sand and make sure it all goes away." When I asked him why he spoke to the MSU community alone in February, he replied, hotly, "You would have to ask the other trustees."
After watching the current slate of trustees respond to the Nassar case, several groups want to change the way the board works. James Lower, a Michigan state representative, has proposed amending the constitution to have trustees be appointed by the governor, rather than selected through statewide elections. Other figures on campus, including Mosallam and the leaders of the faculty senate, have called for faculty and student representatives to be added to the board. But that probably won't happen anytime soon. Until the trustee-selection process changes, some Michigan residents may be paying closer attention to the names of the board candidates at the bottom of their ballot. Kellie Dalton, a 44-year-old MSU graduate, says she used to ignore the trustee races. "Not this year," she said in an interview with the Detroit Free Press. "I think I'm going to do more studying on the MSU board than I've ever done in all the years I've been voting combined." (Two of the board's eight positions will be open this November.)
With a current trustee accused of personally covering up Nassar's abuse, campus activists aren't sure of their next move. Students and faculty certainly want Perles to resign, said Anna Pegler-Gordon, a professor of social relations at MSU, but they also want to stay focused on the university's future, particularly the upcoming administrative changes—the two open positions on the board and the search for MSU's next president, especially after one trustee recently suggested the school consider internal candidates for that position. "People seem concerned that this is much broader than just Perles, even though he is the center of attention," Pegler-Gordon wrote in an email. But she said she has no expectation that Perles will step down.