Why the Ivy League Needs to Admit More Students
Harvard's and Yale's intense selectivity is one reason why their affirmative-action policies have come under attack. But these colleges could also easily choose to take in more students.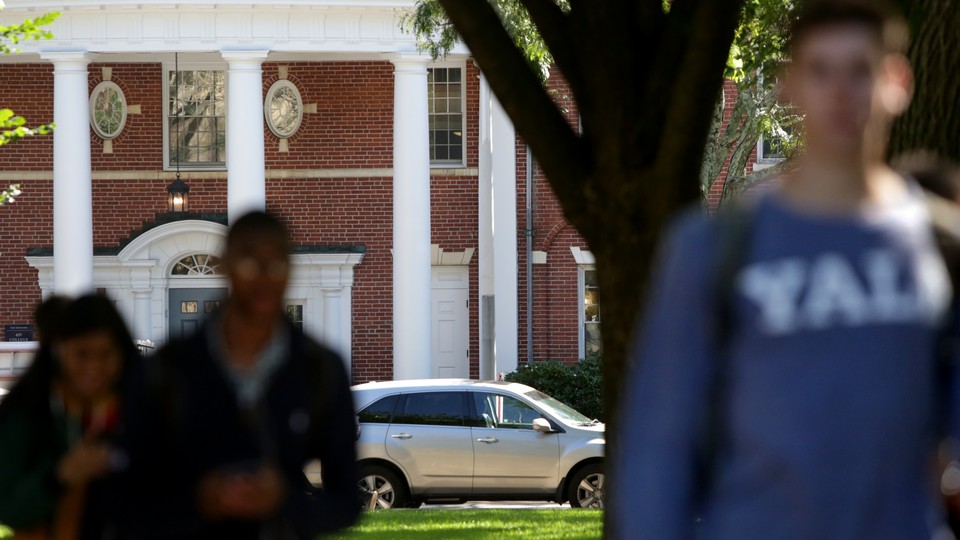 In the spring, Yale sent the last of its rejection letters to more than 35,000 teenagers who had applied for one of the roughly 1,550 slots in its freshman class. Like other top colleges, Yale is extremely selective: Just 6 percent of students who vied for admission in the class of 2022 were accepted.
On Wednesday, The Wall Street Journal reported that the U.S. Justice and Education Departments are investigating Yale for allegedly discriminating against Asian American applicants. The announcement comes just weeks before opening arguments in a court case that similarly accuses Harvard of bias, and is part of a heightened effort on the part of the Trump administration to crack down on race-based affirmative action at the nation's elite colleges.
How these investigations will play out has yet to be determined—both Harvard and Yale fervently deny the charges. But regardless, one thing is already self-evident: Elite-college admissions are in need of reform—a radical rethinking of the process by which these institutions pick whom to admit and turn away. Elite colleges don't have to be so selective that ultimately the way they choose applicants comes under so much public (and legal) scrutiny.
These affirmative-action-related complaints wouldn't have garnered this much traction had the country's top colleges endeavored to be less, not more, selective. Had they not sought to keep their admissions rate consistently low—well beneath 10 percent throughout most of the Ivy League—despite a growing U.S. population and rising college-attendance rates. Had they not, directly or indirectly, conspired to thrive off of and fuel a higher-education culture that, in the words of The Atlantic contributor Matthew Stewart, is a "brand-obsessed system."
The total number of applications received by some schools has soared in recent years, and acceptance rates at the country's top 50 colleges have correspondingly dropped from an average of about 36 percent in 2006 to roughly 23 percent today. In the Ivy League, which continues to set record-low acceptance rates with each admissions cycle, the increase in application numbers parallels the rising number of high-school graduates, which grew from 3.1 million in 2009 to an estimated 3.6 million in 2016. Yet the enrollment at Yale and other Ivies has remained virtually stagnant over the same period: In the 2005–06 school year, the university enrolled 1,321 undergrads, and in 2016–17, that number jumped only marginally to 1,367 students.
Why are elite colleges so hesitant to add students? Part of the reason is the pursuit of selectivity, tied to the quest to top the U.S. News & World Report rankings, which factor in a school's acceptance rate. Stewart warned of this trend in his story for The Atlantic, too. "Plummeting admissions rates of the very top schools," he wrote, have meant that 50 colleges are as selective today as Princeton was in 1980.
But rankings aren't the sole culprit, of course—consumer demand also helps insulate elite colleges from efforts to become less selective. Perhaps assimilating the messages they get from college rankings, many students want to go to a school precisely because it is so selective—students at Yale, for example, are able to boast that they're one of the 6 percent of applicants accepted to the university. As the former Harvard law professor Lani Guinier once wrote, the American notion of meritocracy tends to "associate selectivity with excellence."
Yale President Peter Salovey addressed this very phenomenon this past June on a panel at the Aspen Ideas Festival. "There's a general belief by the American public—typically in cities, but really throughout the country—that even though there are 3,500 or so colleges, it's only eight of them worth going to," he said. "And that's something I think all we education leaders have to push against."
And Yale is making small efforts to expand access by aiming to grow the size of its freshman class by about 200 students, Salovey explained.
Still, that Yale's admissions practices have come under such intense scrutiny is a reflection of the the institution's selectivity—and of its neglect to accept more students.