At Private Colleges, Students Pay for Prestige
In most other countries outside the U.S., the most prestigious universities are public.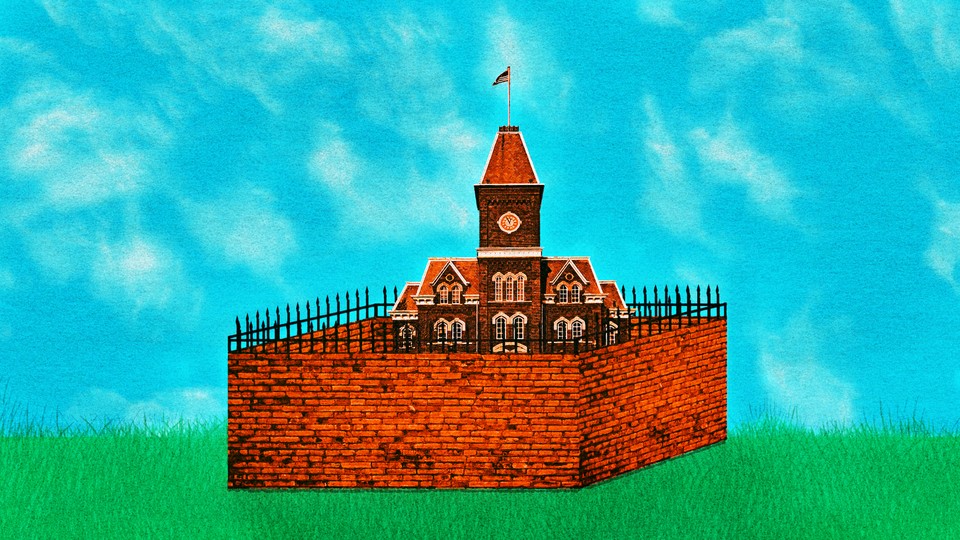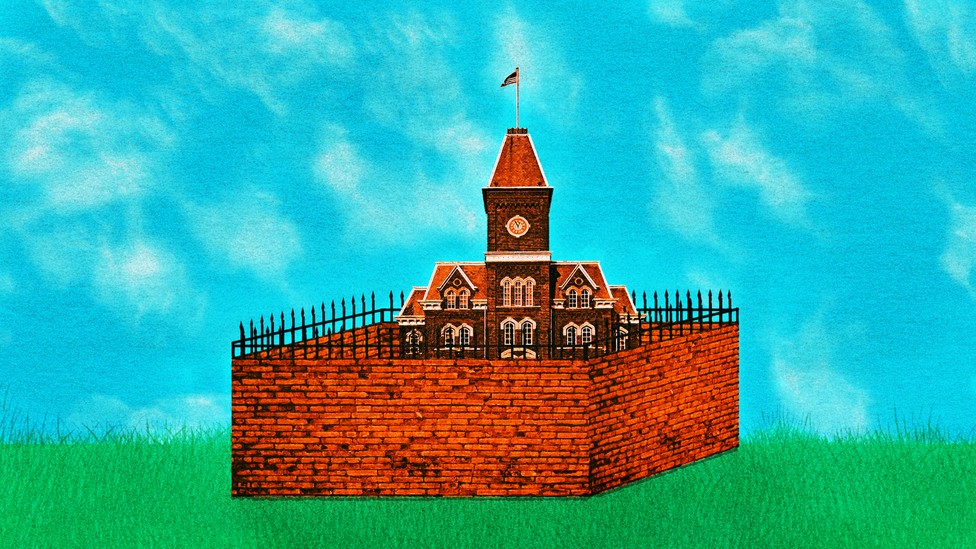 Americans tend to think of colleges as falling somewhere on a vast hierarchy based largely on their status and brand recognition. At the top are the Harvards and the Stanfords, with their celebrated faculty, groundbreaking research, and perfectly manicured quads. Toward the bottom are the chronically underfunded community colleges and obscure state schools, where part-time students and drab buildings are the norm. And then there are the predatory for-profit colleges that pray on the most vulnerable students—like veterans and single moms.
This "prestige hierarchy," as a higher-education expert once put it, isn't limited to the United States. A testament to this trend has been the proliferation of global university rankings, including those released annually by the United Kingdom–based publication Times Higher Education (THE).* To rank the schools for the 2018 list, a team of researchers conducted surveys among a group of more than 10,000 academics across 138 countries, asking them to assess institutions' "esteem" via questions about research and teaching. The THE rankings have their flaws, but they're the most influential when it comes to comparing universities from country to country. Plus, in explicitly treating a university's perceived "esteem" as a proxy for its caliber, THE's rankings offer a compelling look at how the most prestigious colleges vary depending on where that college is located.
And vary they do. Unlike the vast majority of the other 100-plus universities that appear on the list, those located in the U.S. are almost all private institutions. Of the 105 institutions globally on the list, just 21 are private. And all but two of those 21 private colleges are in America. "As far as global perceptions of excellence are concerned, there is a really a stark divide between the U.S. public universities and the private ones," says Phil Baty, a former journalist who's edited the THE rankings for nearly a decade. And this divide could help explain why the U.S. is home to the highest tuition fees in the world.
Among the universities listed in the top 10, for example, eight are in the U.S. They include Harvard, MIT, and Stanford, where the undergraduate sticker prices during the 2018–19 school year are $76,650, $70,240, and $71,587, respectively. (All colleges and universities are legally required to publish the total "cost of attendance," which includes room and board and other fees on top of tuition.) Princeton (No. 7) and Yale (No. 8) also make the list, as does the University of Chicago (No. 9). Just two of the top 10 colleges are public—UC Berkeley (No. 6) and UCLA (tied for No. 9), both of which are highly selective and come with sticker prices that are more on par with those of private colleges than they are state-funded ones, verging on $35,300 for California residents. Meanwhile, tuition at the University of Oxford (No. 5) is roughly $12,000 a year, a fourth of Harvard's.
Scrutinizing the THE data underscores how just about all of the most prestigious American colleges are private. In the top 25, another three Ivy League institutions enter the mix, as do the California Institute of Technology and Johns Hopkins University. But only one more public university made the cut: the University of Michigan, which comes with a total in-state price tag of $30,298, though a majority of undergraduates are from out of state and pay an even higher cost.
According to Baty, at least throughout Europe, private colleges and universities are mediocre at best, typically housed in dilapidated buildings and offering low-cost vocational training. And gaining admission to top public colleges like, say, the University of Oxford is no easy feat. Roughly 17 percent of those who apply for one of its undergraduate seats gain admission to the nearly millennium-old institution.
This anomaly may be a big reason why the price tags of the most prestigious U.S. colleges have soared to near-absurd levels. As private schools, the bulk of THE's top U.S. colleges generally don't receive funding from state legislatures; instead, they rely predominantly on student tuition and research grants. They also benefit from hefty charitable donations that have built massive endowments. (Harvard's $37 billion endowment outstrips the annual budget of Colorado.) That leads to higher price tags.
The prestige gap between public and private colleges isn't a new phenomenon, but it's gotten worse in recent decades. While America's colleges and universities across the board have dealt with economic strife after the Great Recession, elite private colleges have been inoculated from the volatility of state budgets. A 2017 report by the left-leaning think tank Center on Budget and Policy Priorities found that, even despite a small infusion of funding in recent years, state spending on public higher education "remains well below historic levels": Adjusted for inflation, legislative allocations for both two- and four-year public colleges were, during the 2017–18 school year, close to $9 billion below 2008 levels. These cuts have forced public colleges to compromise the quality of their academic programming by reducing faculty and limiting the number of courses available. But the problem traces back to well before the Great Recession, as public colleges and universities have long struggled to obtain adequate funding.
That could, in part, be attributable to the fact that public higher education isn't as integral to the country's DNA as it is to that of other countries in the West. The American higher-education system began in the 1600s as a network of Christian institutions reserved for the elite, and the creation of policies in the early 1800s asserting colleges' freedom from governmental intervention helped solidify the notion that higher learning was a private enterprise. Public universities only started opening en masse in the 1860s, when the federal government set aside resources that allowed for the creation of the nation's land-grant colleges.
These circumstances undermine the ability of public colleges to lobby for more funding: It's difficult to convince an already strapped legislature to set aside funding for an institution that's struggling. And it's also difficult to attract students to an underfunded school. Top that off with the clout of the U.S. News & World Report rankings, in which an institution's wealth—and, relatedly, prestige—influences its standing, and a vicious circle emerges. In 2016, 65 percent of U.S. freshmen said reputation was "very important" when it came to selecting a college. That was the near the highest level ever, according to a nationwide survey of students that's been conducted regularly since 1967 by UCLA's Higher Education Research Institute.
"It's a real shame that some of America's great public universities are suffering this perception gap—it means they're unable to compete for faculty superstars with higher salaries and better teaching and learning environments," Baty says. "The reality is that these [disparities] in resources will lend fuel to disparities in genuine quality, and the publics will struggle more and more."
To be sure, rarely do students who attend private colleges in the U.S. pay the full sticker price. For example, a recent report found that, during the 2017–18 school year, just 11 percent of first-time, full-time freshmen at private colleges in the U.S. paid the full price, thanks to financial aid and other grants that, on average, covered more than half of students' tuition and fees that year.
And as Baty points out, just because European universities have been spared the soaring costs currently dogging America's higher-education system, they have struggled with their own set of headaches. In the many European countries that put a cap on tuition, or charge nothing at all, some say the limits prevent them from doing what they need to compete with, say, Harvard and Stanford; in turn, policy makers have flirted with the idea of privatizing certain aspects of higher education.
Still, the fact that the sticker prices are so staggering draws attention yet again to one of America's key higher-education peculiarities: that America's top colleges are funded through student tuition, rather than the government. And it's contributing to the inexorable rise of through-the-roof price tags—with no end in sight.
---
* This article originally misstated that Times Higher Education releases its rankings in partnership with Thomson Reuters.