The Wisconsin Governor's Race Might Be Decided by Education
Voters are "sick and tired of people playing political games with kids in schools."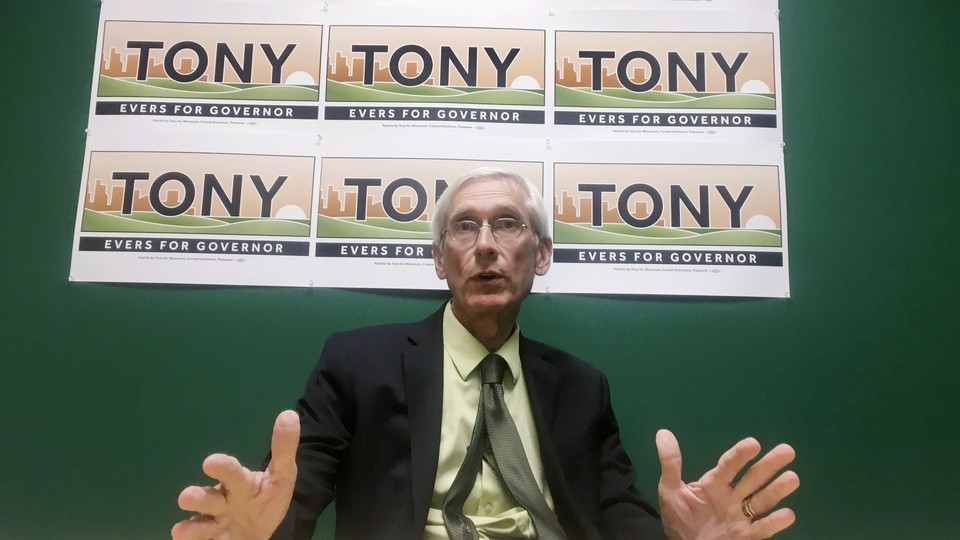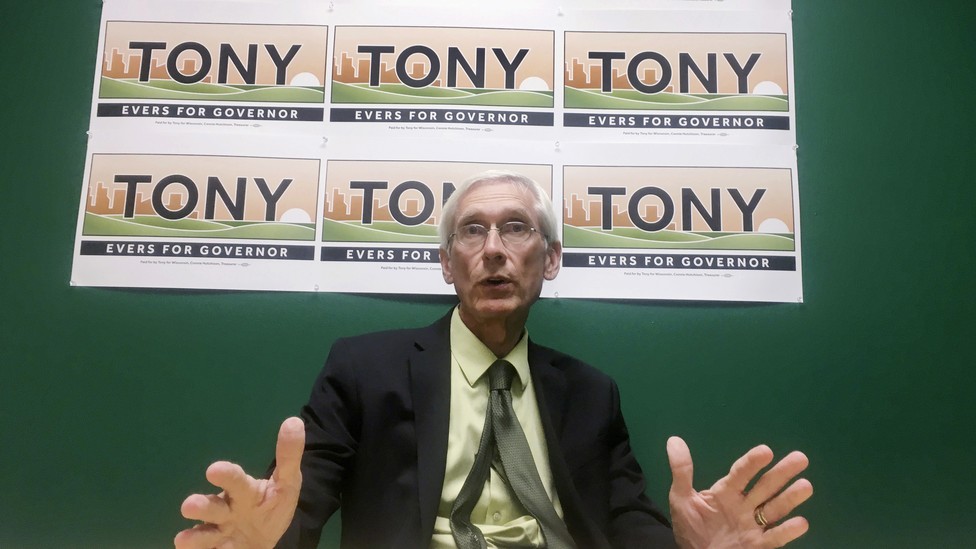 Voters think about a lot of things at the polls: immigration, the economy, health care, gun policy, and—more cynically—party affiliation. But education is an issue that doesn't typically poll near the top of the list, even though it's often thought of as a bedrock of society. Tony Evers, Wisconsin's public-schools chief, and the most likely Democratic candidate to take on Governor Scott Walker in November's gubernatorial election, is banking on the fact that that's changing.
Evers, 67, isn't the only educator who says he's been inspired to seek political office because of the status quo—underfunded schools that have been hit with spending cuts, low teacher pay, and perpetual achievement gaps. Energized by successful teacher strikes in Oklahoma, West Virginia, Kentucky and Arizona, more than 150 teachers—Democrats, Republicans, and Independents alike—are running for state-legislative seats this year, according to an analysis by Education Week. And in New Mexico, as Politico noted, education weighs heavily in the governor's race. Whoever wins that race will immediately walk into a legal fight over funding for what a judge called "an inadequate system," and both candidates have vowed to revamp the state's teacher-evaluation practices.
Each of these candidates across the country is betting that a focus on education policy will be enough to make voters care. The answer to that question has never been quite clear, but in a year marked by teacher and student activism, there is a fresh chorus of optimism that the strategy might work.
Wisconsin, a state where candidates are jumping over each other to highlight the education bonafides of their campaigns, will be a significant test case. In June, Governor Walker told the Wisconsin State Journal that he's "a pro-education governor … I'm going to continue to be a pro-education governor and build off of that." He has boasted that the state has frozen tuition at the University of Wisconsin-system campuses for the last six years. And he has a stated goal of getting Wisconsin to have the highest high-school graduation rate in the country by 2023—it currently ranks ninth, down seven spots from 2011. And the Democratic primary field is no different. All the candidates support increased funding for schools, and Kelda Roys, a lawyer running for the state's highest office, has advocated for guaranteed early-childhood education and free two-year college for all residents.
For his part, Evers has had virtually every school-related job you can imagine: He's been a teacher, principal, and superintendent over his more than three decades in education. Running for governor was the farthest thing from his mind just a short few years ago, he says. But that changed after he won a third term as the state's superintendent of public instruction. "It was clear to me that as much as I love my job as state superintendent—I think it's a very important one—there are things that I just cannot accomplish for the kids of this state in my present role," he told me. "And I don't believe that Scott Walker will deliver on any promise he has around education."
He offered a more blunt assessment of his motivations during his party's state convention. "I am running for governor because I am goddamn sick and tired of Scott Walker gutting our public schools, insulting our hard-working educators, and destroying higher education in Wisconsin," he said during his stump speech. According to a recent Marist/NBC survey, Evers is leading Walker by 13 points—and an Emerson College survey has him seven points ahead of the two-term incumbent—and he holds large leads over the rest of the Democratic field.
Since Scott Walker took office in 2011, education policy has become a point of tension for the state. Most critics point to Act 10—which limited public employees', including teachers', ability to bargain with employers over wages and benefits and was enacted shortly after Walker took office—as the first shot of a seven-year-long battle between the governor and the state's teachers. As many as 100,000 people took to the streets of Madison in protest. Since the law was enacted, median public-teacher pay in the state is down 2.6 percent, districts ratcheted up health-care costs for educators to recoup the millions of dollars that were cut from the state's budget, and Wisconsin teachers are leaving the profession at a rate above the national average, according to the left-leaning Center for American Progress Action Fund. Public schools in the state have yet to return to 2011 funding levels, adjusted for inflation.
And citizens of the state appear to be tired of the cuts to schools too. Nearly three out of every five respondents in a June Marquette University poll of Wisconsin residents said that, if given the choice, they would raise taxes on themselves rather than cut funding to public education.
Higher education has not fared much better under Walker. There was the no-confidence vote in the University of Wisconsin system's board of regents as well as their president. The proposal to eliminate 13 majors at the University of Wisconsin-Stevens Point. Then there was Walker's 2015 proposal to cut $300 million from the the UW-System; the legislature ultimately voted to cut $250 million and remove some tenure protections. But he did an about-face in 2017, proposing an additional $100 million for the system, which was approved. "There are no clear education goals, and because of that context of not really having a north star, this is how we fumble through education policy in Wisconsin," Nick Hillman, an associate professor at the University of Wisconsin, told me. (Walker's office did not return a request for comment on his education policy goals if reelected.)
That's what Evers wants to change. "We have to have a positive vision for the future," Evers told me. "And my positive vision is around education."
Heather DuBois Bourenane, the executive director of the Wisconsin Public Education Network, a non-partisan advocacy group for the state's public schools, told me she thinks that educators and voters alike are seeing Evers' education background as a welcome change. "People view [Evers'] presence in the race with this kind of comforting feeling of relief that there is a grown-up in the room who gets what's going on with our schools and who will do what it takes to protect them," she says.
Still, Evers' rise may be attributable just as much to a name recognition advantage he has over other Democratic candidates as it is to his education platform. Evers has already won statewide office three times, after all. But some say candidates like Evers—those who do not energize the progressive base—have run and lost in the past. Mahlon Mitchell, another  Democratic gubernatorial candidate, for instance, called Evers a "retread" of candidates the Democratic party has run time and again, arguing that though he is a good person, he does not excite voters. And he isn't sold on the fact that education is a winning issue. "There's no doubt that we've got to shore up our public education, but there are so many issues hurting our state besides education," he told Buzzfeed News.
According to a recent Marquette poll, more than a third of voters are still undecided about which primary candidate to vote for. However, for public education advocates in the state, whatever is bolstering Evers' candidacy, it's a good thing.
"The number one thing I hear most as we go around the state talking to school people and parents is that they're just sick and tired of people playing political games with kids in schools," Bourenane told me. "They just want a time back when we can all just agree to be good to our kids as a minimum level of civility in this new America. You can have at each other with whatever political games you want, but let's just leave schools out of it."
People in Wisconsin clearly care about education if they would rather tax themselves than cut school budgets. And the support behind the teacher movements that have swept the country this year show that is the case elsewhere as well. What remains unclear is whether that will be front-of-mind for voters at the polls in November.