The Puberty Book Embraced by Preteens, Parents, and Sex Educators Alike
Since its publication 20 years ago, The Care and Keeping of You has taught young girls about their bodies in a uniquely forthright and approachable way.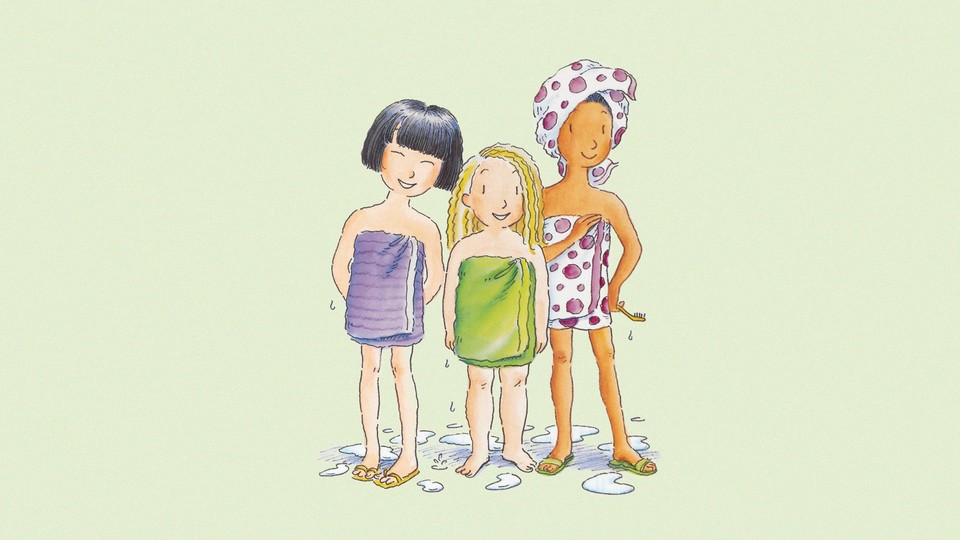 I first learned about periods from a cartoon. Just before I started middle school, my mom handed me a large white book with three cartoon girls on the cover, each wrapped in a towel, dripping wet, as though fresh out of the shower. The book, which was published by American Girl, was called The Care and Keeping of You: The Body Book for Girls. On the opening spread was a letter to readers: "The more you know about your body, the less confusing and embarrassing growing up will seem—and the easier it will be to talk about."
The head-to-toe guide started by explaining that "everybody" goes through puberty, and then broke down into sections on everything from regular body hygiene to getting your period for the first time. Each page featured smiling cartoon girls of all races and sizes demonstrating everything from how to shave your legs to how to shop for a first bra. As my mom and I read the book together, I remember feeling a little less afraid of what my body would become. But after we finished reading about the difference between training and underwire bras, my mom closed the book. "We'll read more when you're older," she said.
I couldn't wait. I snuck the book off of her dresser that night, and, crouched next to the night-light in my room, I read about periods and vaginas, and the hormones that would change my body from "little girl to grown-up woman." I came back to the book many times in the coming years, including when I eventually got my own period two years later.
I wasn't the only one who found solace in The Care and Keeping of You. The book, which turns 20 years old in September, has sold more than 5.1 million copies since its initial release. And as recently as 2016, it was still spending time on the New York Times best-seller list. It has been embraced by preteens, parents, and sex educators alike for its approachable tone and gentle introduction to big bodily changes.
"In terms of just a good, basic, 'This is your body and this is how it works, and this is what's going to happen to it,' this book is one of the best there is," says Heather Alberda, a sexuality educator with the Ottawa County Department of Public Health in Michigan.
The book was an immediate best seller, and Barbara Stretchberry, the executive editor at American Girl, who has been with the company for 20 years, remembers letters pouring in from tweens offering thanks for the book. In 2013, the company updated the book, featuring even more diverse illustrations, and released a second book, The Care and Keeping of You 2: The Body Book for Older Girls, which delved more into emotional changes felt during puberty and is meant for readers ages 10 and up. (The original and its updated counterpart are meant for ages 8 and up). American Girl has also released several other advice books on topics ranging from understanding feelings to friendship troubles, and last year it came out with a puberty guide for boys called Guy Stuff:The Body Book for Boys.
But all of the books are meant to be approachable to young readers, which is why the company says there's no mention of sex. The intended audience, the authors say, is readers "on the front end of puberty." The majority of girls begin to go through puberty between the ages of 9 and 13. But many medical experts agree that today's kids are going through puberty at younger ages than before. A study published in the medical journal Pediatrics in 2010 found that about 23 percent of African American girls, 15 percent of Latina girls, and 10 percent of Caucasian girls had marked breast development at age 7.
Early-onset puberty is what inspired American Girl to publish the book in the first place. The company was—and still is—largely known for its expensive dolls and accompanying books featuring young girl characters living in different eras of American history. It has also published a bimonthly magazine for preteens since 1993. After the magazine debuted, the company quickly amassed a giant folder of handwritten letters from young readers inquiring about their changing bodies. Some letter writers asked whether they were pretty. Others wondered why they hadn't grown breasts yet, or whether they needed to lose weight. Then in 1997, American Girl's founder, Pleasant Rowland, read a New York Times article about early-onset puberty and sensed an opportunity.
"These are very difficult things for girls to talk about," says Valorie Lee Schaefer, the book's author, who had previously been a copywriter for the American Girl Doll catalog. "We were thinking, 'We can normalize this conversation. We can give girls words to use, we can tell them some of the things they're thinking about are absolutely normal, all the things that make young girls feel like, I'm a freak.'"
The company held focus groups, and found that tween girls were curious not only about their periods, but also about when they should start wearing a bra and how they should deal with pimples that popped up out of nowhere overnight. Schaefer says the company took this feedback, as well as the letters, and used it to develop the book's structure, targeting it explicitly toward younger girls about to experience puberty, not preteens already in its throes. It begins with friendly tips on hair care, and then slowly progresses to more advanced physical and emotional changes and other challenges encountered by this age group, including how to identify the onset of eating disorders. "A girl of 7 doesn't wonder about the same things a girl of 12 or 14 does," Schaefer says. "So just meeting a girl right at that place—7, 8, 9—was what we tried to do."
The company consulted a pediatrician to make sure the information was medically accurate, and Schaefer wrote the text in a deliberate, reassuring tone, one she called the "trusted, cool aunt." "It wasn't your mom or dad's older sister," Schaefer says. "It was probably their younger sister, someone with a few years under her belt, but also someone who wasn't so out of touch with her adolescence that she couldn't remember what a confusing time that was."
That cool-aunt tone was also reassuring to parents. Many parents I spoke with for this article said they chose to give the book to their daughters because they recognized the American Girl name and thought the book was age appropriate. Lisa Goldschmidt, an attorney who has two daughters and lives in Wayne, Pennsylvania, remembers standing overwhelmed in front of an adolescent-health section at a bookstore, looking for a good resource for her then-9-year-old daughter. Some books, she says, were written for parents and were too clinical. Others didn't seem detailed enough. But The Care and Keeping of You "struck the right note between chatty and serious in an approachable way." She gave it to her elder daughter, who immediately handed it back to her. She had already read the book and giggled over the illustrations with friends at a sleepover.
Every woman I spoke with who grew up reading the book remembers something a bit different. Jensen McRae, a 20-year-old student at the University of Southern California, first read the book as a 10-year-old and, along with her friends, often flipped back to the breast-development page, which shows five illustrations of a topless girl standing in front of a sink. In the first, the girl is flat-chested, and in the last, she has round, developed breasts. When she learned about puberty at school, McRae remembers her teacher spinning a metaphor about how some students would have "grapes" and others would have "watermelons." "So the book was definitely more informative than that," she says.
Danielle Weisberg, a 27-year-old comedy writer living in Los Angeles, remembers the book's lesson on shaving to this day. "There's this part that says you don't have to shave your thighs because that's 'an awful lot of leg to shave,'" she says. "And I think about that almost every single time I'm about to shave my legs above the knee."
The illustrations, clever captions, and factual information are why Alberda, the sex educator in Michigan, continues to recommend the updated versions of the book to parents. Michigan mandates HIV education for school-age students, but lets individual school districts decide how to handle sex education, including lessons on puberty. Across the country, only 24 states mandate sex education, and even in those states it's likely that many students learn about puberty outside of the classroom.
"When parents think about giving 'the talk,' their immediate thoughts often go to genitals and what we do with them," Alberda says. "And I think The Care and Keeping of You is a great book to get away from the whole sex piece, and focus on what's going to happen to your body, physically, mentally, and emotionally in regards to puberty in those early stages."
Still, there were aspects of the book that some found to be inappropriate for its young audience, such as the two-page spread on how to insert a tampon, which broke it down into four steps, and included an anatomical diagram of the vagina. The company received feedback from many parents who felt the diagram was too advanced—if not graphic—for their young daughters. "That section, that spread of the book, is the one that gave everyone the most sleepless nights," Schaefer, the original author, says. "When I think back on it now, I wonder, why were we so stressed about it? But it was a place many books for girls that age hadn't gone before."
Even though in 2013 the company made the decision to split the books by age, they overlap quite a bit, though the "older girl" book goes into more depth about eating disorders and the emotional changes of puberty. (It also features a more descriptive diagram of the female anatomy, including a labeled clitoris, something nearly every sex educator I spoke with noted was missing from the original.) But there's another noticeable omission in the updated younger-girl book—the tampon spread.
"The tampon information was so critical, but I'm a believer in meeting kids where they are and giving them information they're ready to take," says Cara Natterson, a pediatrician and the author of the "older girl" version of the book. "Because when girls start their periods, the vast majority of them use pads, and there was really no pad information in the original book. So it wasn't to keep the tampon information from the youngest kids. It was just to pace them and give them information for the stage they were at."
But some sex educators say the books suffer from a pretty big blind spot. Perryn Reis is the associate director of Health Connected, a sex-ed nonprofit based in Northern California. Reis has encountered the book in some of the classrooms she's visited, and appreciates some things about it. But, she says, the book is heteronormative. At one point, it says readers "may begin to notice boys in a whole new way." It also frequently refers to changes that will happen to "girls," a generalization Reis avoids when in the classroom so as to better include transgender students. "The language we use in the classroom is 'a person born with a female's body,'" she says. "We go into the difference between biological sex, sexual orientation, and gender in fifth grade. It's really hard because puberty is about the physical changes of getting a period and growing breasts, but there is a lot of variation and variability in our world, and we want to be inclusive of that, and also careful with our language."
The Care and Keeping of You was a formative book for many Millennial women who were in the target audience when it was first published, and for younger generations of girls, but it is just one of many such at-home guides to sex and puberty that kids have learned from over the years. The creators of the seminal Our Bodies, Ourselves, published in 1970 and known for teaching women about their anatomy and sexuality, published a teen version of the book in 1998, the same year as the first edition of The Care and Keeping of You. It went in-depth into topics related to puberty, including eating disorders, teen pregnancy, STDs, and relationship violence. Fictional books for teens have also provided some practical lessons over the years — Judy Blume's classic Are You There God? It's Me, Margaret., a coming-of-age novel published in 1970, tackles puberty, crushes, buying a bra, and, yes, periods.
Then there are books like It's Perfectly Normal, which has been frequently banned from school libraries since its release in 1994. Written by Robie Harris, the book is intended for children 10 and up, and covers puberty, pregnancy, STDs, and sexual orientation, while also featuring full-color pictures of naked people. In 1999, Harris published It's So Amazing, a book for younger children about pregnancy and childbirth. "Those have been controversial, but have some great, accurate information," Reis says.
Many sex educators I spoke to also recommended Sex Is a Funny Word, a comic book for kids ages 8 to 10 released in 2015 that has reached acclaim for being trans-inclusive, and for using diverse representation across race, ability, gender, and sexuality.
Even with all of these options, Alberda, the Michigan-based sex educator, says The Care and Keeping of You still stands out for the way it focuses on questions tween girls have about their bodies. She believes it helped pave the way for books like The Girls' Guide to Sex Education, a question-and-answer book published earlier this year, and Puberty Girl, another illustration-heavy guide to growing up. Alberda also recommends HelloFlo: The Guide, Period., an illustrated guide to puberty that talks about periods, and also gives historical context for society's changing attitudes about ideal breast size and pubic-hair grooming.
Of course, all of these books exist in a world where kids can easily find similar information on Google. But Natterson, the author of The Care and Keeping of You 2, still feels there's a place for books that are introduced at just the right time. And she'd love to publish a book about sex under American Girl's brand name. She just doesn't see that happening yet. "I tell everyone I would love to write that book with American Girl, but that's not what these books were meant to do," she says. "It's funny how this one book is sort of a safe reminder of what it was like to go through puberty. There's something really comfortable about that."