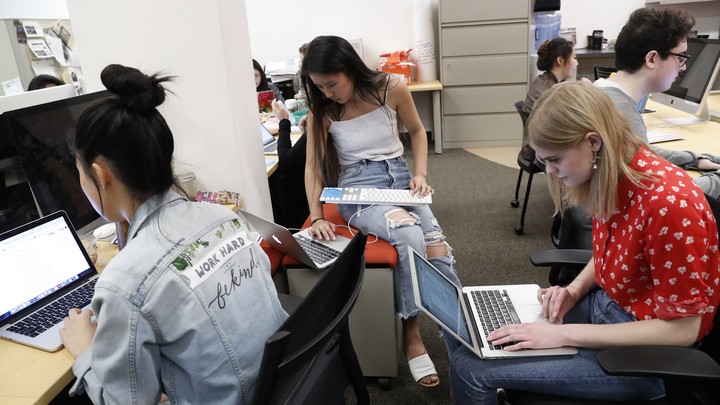 There was a president with an energizing message, then a sharp, seemingly instant, political shift. The new president kept an enemies list that included a number of reporters. And he was knee-deep in controversy—though that only led some people to support him more fervently.
It was the 1970s. President Richard Nixon had been undone by a pair of young reporters at The Washington Post, Hollywood had made a blockbuster movie about it, and the reporters had become celebrities. People were excited about journalism—and that was reflected in massive enrollment jumps at journalism schools across the country. In 1970, enrollment of journalism majors hovered at about 33,000; by 1979, that figure had jumped to 71,000.
The late Ben Bagdikian, who wrote a cover story for The Atlantic in March 1977 on the so-called Woodstein phenomenon, summed it up like this: Bob Woodward and Carl Bernstein "were young, inexperienced, and not particularly promising in the eyes of their superiors. Working in a city and on a paper where the country's most celebrated journalists were in top command, the two beginners beat them all and became national heroes … If they could do it, why couldn't every high school student?"
Woodstein U.: Notes on the Mass Production and Questionable Education of Journalists
Of course, Watergate wasn't the only reason for the spike.  As Bagdikian noted, the growth of interest in studying journalism had started years earlier. Michael Schudson, a journalism professor at Columbia University, explained it to me like this: Journalists' salaries were on the rise, and there was "growing centrality of news media in the culture—from Kennedy–Nixon TV debates, to the TV-centric presidency of Kennedy, to the growing symbolic significance of the evening broadcast newscast (30 minutes long after 1963, instead of 15 minutes), to the Vietnam War and the military draft that had young people tuned into the news more than they usually were." On top of all that, the '60s saw  a series of enormous national news events: the assassinations of President John F. Kennedy, Martin Luther King Jr., and Robert F. Kennedy; protests against the Vietnam War across the country; and the civil-rights movement. The news cycle was, in no uncertain terms, wild.
Fast-forward nearly half a century, and the attacks being made on journalism are too lengthy to list, but they flow from the top. President Donald Trump doesn't keep a list of reporters he finds to be enemies so much as he tries to publicly shame, vilify, and discredit them on social media and in speeches. He has called journalists everything from "the enemy of the people" to "very dangerous & sick" and repeatedly decried the media as "fake news." But just like during the '60s and '70s, there's  a whiplash news cycle. And across the country, students have renewed interest in journalism.
Madeline Purdue, the editor in chief of The Nevada Sagebrush at the University of Nevada at Reno, has taken note of this uptick in intrigue. The rhetoric from the president has trickled down to the campus level, she told me in an email. Some students who are upset with articles the Sagebrush publishes retaliate by calling the paper "fake news"  or trying to personally discredit reporters. Still, she says, "there is a higher interest among my peers in not only reading the news and being up to date on current events, but also pursuing a career in journalism."
Several college-paper editors I spoke with shared similar anecdotes. But it's hard to find good empirical data on the total number of journalism students in the U.S. (The Grady College of Journalism and Communication at the University of Georgia released its last report in 2014.) However, individual colleges have been keeping data, and they say enrollment is up.
Columbia University, the University of Southern California, and Northwestern University are among institutions that have also seen applications to their programs increase. Gail Wiggins, the interim chair of the journalism department at North Carolina A&T University, told me that the department saw a 6 percent increase in enrollment from 2016 to 2017. North Carolina A&T requires incoming students to write about why they chose journalism as their course of study, Wiggins said. More and more students, she told me, write that "they want to tell their own stories … they want to provide truthful information to improve their communities."
But in an era where truth has actively been questioned by an administration that has consistently lied, the school—and others like it—have doubled down on teaching media literacy, fact-checking, and the basic tenets of reporting. "We are reemphasizing truth and accuracy," Wiggins said. "With all of the new digital tools that we have at our hands—being accurate, checking your sources, doing your research: We definitely talk more about [those values] now than ever before."
Rather than pushing students like Purdue away from journalism, the attacks on journalists reaffirm their commitment to the craft. "I want to protect what I love by doing my absolute best work," she told me. "I don't think the industry is perfect," she says, but the consensus among her classmates is that with "honest, hardworking" journalists it can get pretty close."That's what journalism schools are pushing out into the world."
We want to hear what you think about this article. Submit a letter to the editor or write to letters@theatlantic.com.