NYU's Free Medical-School Tuition Could Funnel More Doctors to Primary Care
The United States is on pace to have a shortage of up to 120,000 physicians by 2030—reducing med students' debt might help fix that.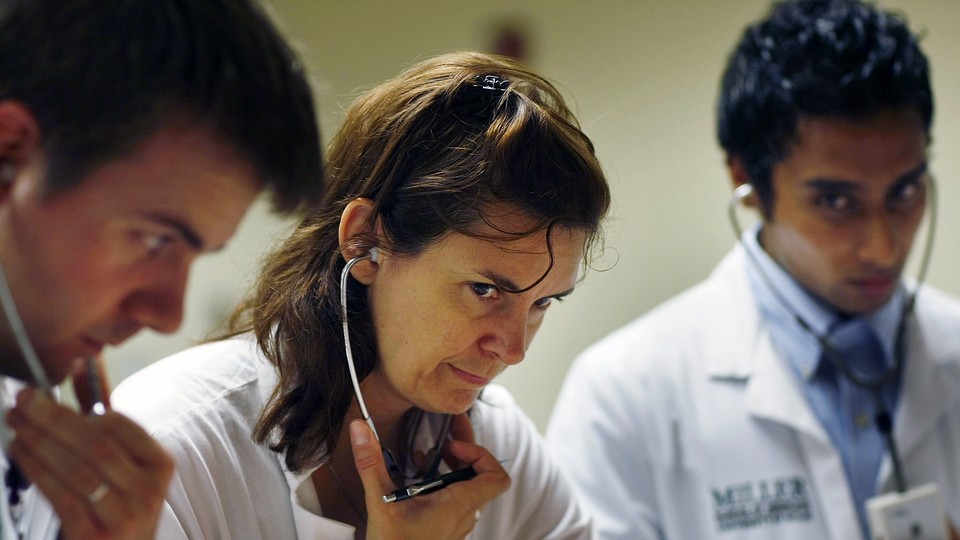 Medical school costs a lot of money that a lot of people don't have. That often means students do a bit of cost-benefit analysis: Is it worth it to take on hundreds of thousands of dollars of debt now for the possibility of making hundreds of thousands of dollars a year later?
New York University's School of Medicine is trying remove that calculation as a factor in students' career decision making. The school announced yesterday that it will provide all new, future, and current students a full-tuition scholarship—financial need and merit aside, meaning wealthy students and low-income students alike will receive it. The scholarship doesn't cover the rest of the costs associated with college—housing, food, child care—but it takes $55,018 a year out of the picture.
"This decision recognizes a moral imperative that must be addressed, as institutions place an increasing debt burden on young people who aspire to become physicians," Robert Grossman, the school's dean, said in a statement. "A population as diverse as ours is best served by doctors from all walks of life, we believe, and aspiring physicians and surgeons should not be prevented from pursuing a career in medicine because of the prospect of overwhelming financial debt." The school will need to raise $600 million to fund the project—$450 million of which it says has already been raised.
But beyond simply making it easier to pursue a career in medicine, perhaps removing at least a portion of the debt associated with medical school—the median debt of a student graduating from a private medical school is more than $200,000—will also allow students to chase less-lucrative yet socially important fields of medicine. And if other institutions follow NYU's lead, that may help put a dent in the dearth of diversity in a field in which a little more than 8 percent of physicians are black and less than 7 percent are Latino.
"Tuition-free medical education goes beyond the merit and financial scholarships, and debt cancellations that other academic centers have traditionally favored," Rafael Rivera, the associate dean for admissions and financial aid at the medical school, said in a statement. "More importantly," he continued, "it addresses both physician shortages and diversity."
According to the Association of American Medical Colleges (AAMC), the United States is on track to have a shortage of up to 120,000 doctors by 2030. Up to 49,000 of that shortfall will be in the realm of primary-care physicians—typically the first doctors patients see when they know something is wrong but aren't exactly sure what, or when they need a routine checkup. Primary-care work, however, pays far less than many other specialties. A recent survey showed that, on average, primary-care physicians make around $100,000 less than specialists each year—the average salary hovers around $223,000, though family doctors and primary-care physicians can make slightly more in rural areas.
Even though some doctors may choose to work in rural areas—where they could make more money—to help chop away at their educational debt, the areas still have a great need for more doctors. And since 2010, there have been 87 rural-hospital closures.
The number of graduating medical students who say they plan to care for "an underserved population," according to an AAMC survey, has increased seven percentage points over the past four years to 34.7 percent. (Though that percentage dropped to 26.4 when the question became, "Do you plan to work primarily in an underserved area?") But research has shown that students with higher debt than their peers at their institution were less likely to practice in underserved locations—and, on top of that, they are less likely to become primary-care doctors, shirking the first-alert field for more lucrative specialities, such as orthopedic surgery or cardiology.
One school's decision to offer free tuition won't fix the primary-care crisis, of course, but if other institutions follow suit, some of those students who might have made different career calculations just to pay off their debt might have the freedom to instead go where they're needed most.