The Developing Norms for Reopening Schools After Shootings
In an age where such tragedies are increasingly common, a shared blueprint is emerging.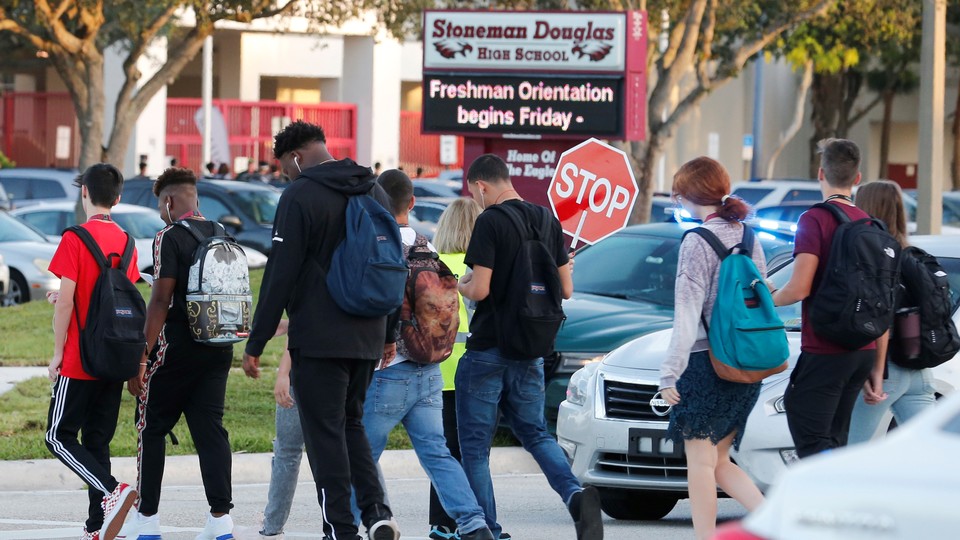 When students from Santa Fe High School in Santa Fe, Texas—where eight students and two teachers were killed in a mass shooting on May 18—went back to school last week, their school looked different from the last time they saw it. Metal detectors and a security vestibule made of bulletproof glass greeted them at the front doors, and every classroom now also contained a "panic button" to trigger an alarm system. Students also passed more police officers in the hallways than before.
The opening of the new, heightened-security Santa Fe High School marked, in a way, the school's second reopening since the shooting. Eleven days after the shooting, students and their parents were welcomed back to campus with an event commemorating the dead; after that, the students went back to class. (The classrooms affected by the shooting were closed off by newly built walls.)
Santa Fe's response to the school shooting closely resembles that at Marjory Stoneman Douglas High School, where students came back to class two weeks after a gunman killed 17 people on Valentine's Day, and at Marshall County High School, where school started back up three days after two students were shot and killed in January. They more or less followed the same three-pronged itinerary: a short school closure, a memorial event to welcome back students and their families, and then a beefing up of security measures during students' summer break.
All told, school shootings are statistically rare; the vast majority of American schools have never been and never will be sites of mass violence. Still, mass shootings at schools are, unfortunately, more common than they've ever been before in the United States: In the first five months of 2018, The Washington Post found 17 incidents of school shootings, the most since at least 1999. Which means a certain set of best practices for when and how to reopen schools is emerging.
It's often no accident that schools tend to follow similar protocols after acts of mass violence: "Very often a school [that's had a school shooting] will call the one that had the one before," says Cathy Kennedy-Paine, who leads the crisis-response team for the National Association of School Psychologists and works with schools to help them recover after  shootings.
She's uniquely equipped for the job. In May 1998, Kennedy-Paine was working as a school psychologist at Thurston High School in Springfield, Oregon, when an expelled student opened fire and killed two students. Eleven months later, after two gunmen killed 13 people at Colorado's Columbine High School—Kennedy-Paine remembers getting a call from the superintendent of Columbine's school district, "asking if we would come and talk." Five days after the shooting, Kennedy-Paine and her colleagues traveled to the district to share how Thurston had responded.
A couple factors determine how long a school initially stays closed in the days following a shooting. "The best strategy is to go back to the school as soon as possible," says Kennedy-Paine, "because we know that one of the best ways to reduce the impact of that trauma is to reestablish the natural social-support systems for students and teachers." But one of the primary reasons schools stay closed for a time after a shooting is that the site immediately and automatically becomes a crime scene, which places the building or campus under the control of local law enforcement.
Even if police wrap up an investigation quickly, however, the extent of the physical damage to the building plays a role in how long its doors stay closed. "We would not send students into a building that had blood stains, or bullet holes, or any visible sign of the damage," Kennedy-Paine says. Often, students can go back within a matter of weeks, or even days, once visible damage from the violence has been removed or repaired. But schools that suffer more extensive damage often stay closed much longer: At Columbine, for example, the school stayed closed for the remainder of the school year after the April 1999 shooting and reopened in August, but the library—the epicenter of the violence there—was permanently closed off to students. A new library opened two years later. "Sometimes that's helpful, because obviously going back into a room that you had been in during a shooting would be traumatic," Kennedy-Paine says. "Your heart races, suddenly you're back to the day [of the shooting]."
This logic, of minimizing spaces that could trigger trauma, led Sandy Hook Elementary School in Newtown, Connecticut, to remain closed for nearly four years after a gunman killed 26 people there in December 2012. Students were sent to an elementary school in a nearby town while the entire Sandy Hook facility was torn down and rebuilt.
Kennedy-Paine believes that schools need to build some time into their schedules for recovery, and re-open with an "open house" of some sort, perhaps on an evening before school starts up again. At Santa Fe, students and their parents were invited back to campus for a two-hour assembly the morning before classes began. At Marjory Stoneman Douglas, an open house was held on a Sunday afternoon before classes resumed later in the week. When students come back, "It's not unlike when you have a home burglary—you feel very violated," she says. At Thurston, Kennedy-Paine remembers, parents and teachers entered with the students, hand in hand. "It gave a very nice sense of taking back the school from this terrible thing that happened," she says.
If there's one big commonality in how schools respond to shootings, it's reinforcing security. When students return to school in the immediate wake of a tragedy, Kennedy-Paine says, "we also want to make sure there are overt signs of physical safety." Often, schools beef up the presence of security officers and parent volunteers, just to have "more eyes on kids, more people watching what's going on." And since schools often have a number of entrances and exits, Kennedy-Paine says locking more doors to limit possible points of entry for an intruder can help students feel safer.
Many schools plan out their security strategy in two phases: First, figure out what to do for the remainder of the current school year, and second, figure out what to do permanently. In both cases, some extra security measures are a given, such as an increase in the number of school resource officers (SROs)—essentially, police officers assigned to patrol a school full-time. Marshall County High School, for example, had one SRO on duty last year but reopened this fall with five, as well as a new set of metal detectors.
While an SRO's primary duty is to protect students in the event of an attack at school, another is to prevent such attacks from happening in the first place, which Mo Canady, the executive director of the National Association of School Resource Officers, says involves building and maintaining trusting relationships with students. Of course, in communities where views of law enforcement are less than favorable, administrators are often less enthusiastic about shoring up the police presence in schools.
SROs assigned to schools in the wake of school shootings and acts of violence, Canady says, are often surprised by the degree to which they end up working to protect students' emotional health in addition to their physical safety. Often, Canady finds, students talk to the officers about more than just potential dangers. Years ago, Canady worked as an officer in a school where one student stabbed another between classes, and the next day, "we thought we would be spending our time keeping the school physically secure, but we spent more of our time in the room where all of the counseling was going on." Granted, not all students have positive experiences with SROs: An officer at a South Carolina high school came under public scrutiny in 2016 after he violently dragged a student across a classroom floor.
There's no one method for schools to improve their long-term physical safety after shootings; Marjory Stoneman Douglas High, for example, now has 52 new security cameras that it didn't when students left for summer vacation, and visitors can now only come in through one entrance, where they're screened at the door by a video intercom system. Canady says what's appropriate for any given school is decided locally, but he believes it's important for schools not to implement measures that just superficially make a place seem safer. Canady's seen some school administrators immediately express a desire to install metal detectors, but he warns against installing expensive technologies without accompanying them with the necessary personnel and policies to make them effective: "You don't want to create a false sense of security by just saying, 'Okay. We've got metal detectors. All is well,'" Canady says.
Some aspects of the experience of returning to school after a tragedy still lack a clear blueprint or set of best practices—like whether and how to evaluate students' academic performance when they're recovering from a trauma. But Kennedy-Paine says she's seen a few strategies she's liked that help take the pressure off students. At one school that suffered a shooting just a few weeks before the end of the school year, she says, "the teachers got together and decided that the students' grades on the day of the shooting could be their grades for the term. They could keep working and do more and raise their grades, if they wanted to, but they wouldn't penalize anyone for not continuing to work for those few weeks."
And at Marjory Stoneman Douglas High School, students were exempted from having to take the Florida Standards Assessment and other standardized tests required by the state for the remainder of the school year.
One of the crucial elements in a good school reopening, according to Kennedy-Paine, is a recognition on school administrators' part that things won't be "back to normal" for a long time, maybe even ever—and that there will be certain days when shooting victims' absences will be felt acutely among the student body. "There's prom that's going to happen, and graduation, birthdays of the victims are going to happen," she says, "and eventually the anniversary of the shooting is going to happen."
No matter how and when a school decides to reopen after a shooting, the key is to help students recuperate from the trauma that they've experienced. "It's important to honor the students who are coming back," says Kennedy-Paine. "Some will be overt about it; some will be crying or emotional. Some will be very introspective about it, and will appear not to even be fazed. But everyone is dealing with it in their own way."