Private Schools Are Becoming More Elite
The decline of Catholic schools is making independent education less accessible to middle- and lower-class students.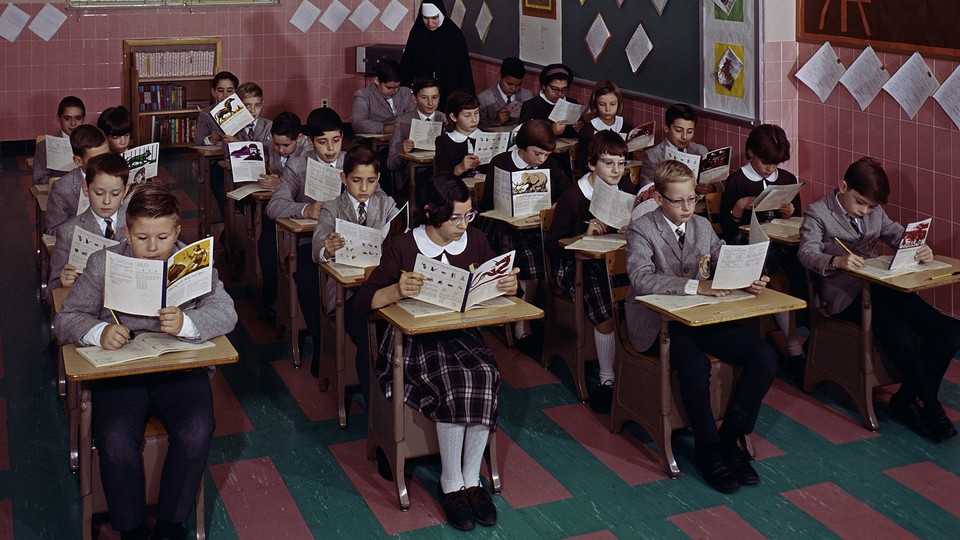 In 1925, the U.S. Supreme Court issued a ruling that cemented the country's thinking on school choice: Families, the justices concluded in Pierce v. Society of Sisters, had the right to decide where to send their children to school and thus could choose private education. Catholic schools, which were the target of the lawsuit, rejoiced. They could continue serving as an alternative to the United States' system of "common schools."
The Catholic Church went on to dominate America's private-school world for several decades. But starting in the 1970s that dominance started to fade—and by the late 1990s, it was clear that the country was witnessing  parochial education's demise. Today, the number of students who attend Catholic schools (roughly 1.8 million children) is fewer than half of what it was half a century ago, according to an analysis of federal data published in the latest issue of Education Next. The National Catholic Education Association says that more than 100 Catholic schools were consolidated or closed altogether during the 2017–18 year alone.
This trend isn't just a source of concern for the Catholic community. It's also troubling to those worried about growing inequality and income segregation in the education system as a whole. As the new Education Next report concludes, the demise of Catholic education correlates with a decline in the share of middle-class students attending independent schools. The authors—including Richard Murnane, a Harvard education and economics professor, and Sean Reardon, a Stanford expert on educational inequality—write that this exacerbates a system in which private education is largely reserved for the wealthy and for the few low-income children who are eligible for and manage to secure vouchers or financial aid.
The tuition charged by private schools—which in the 2010–11 academic year, the most recent year for which such data is available, averaged about $11,000 annually—renders them out of reach for most Americans. Just 10 percent of school-aged children in the United States attend a private school. That number has been largely the same for  decades. What has changed is the demographic makeup of that 10 percent—and that's in part because of the loss of many Catholic schools, which have historically sought to enroll lower-income families by keeping tuition low and providing financial aid. What's more, as Maria Ferguson, who oversees George Washington University's pro-public-education Center on Education Policy, pointed out, many Catholic schools are prohibited from turning students away, meaning there's "no creaming off the best and most affluent students." Between 1968 and 2013, as the number of Catholic schools declined, the proportion of middle-class children enrolled in private elementary schools dropped by nearly half while that of their more affluent counterparts remained steady, the Education Next report found. "The private-school pool is more predictably affluent (and likely whiter) because private schools are usually more expensive than Catholic schools and tend to serve higher-income families," Ferguson said in an email. "As families of color become more affluent, that trend will likely change as they too pursue other non-public educational options for their children."
Parochial education has been shown to have long-term positive effects on kids' outcomes. The right-leaning Thomas B. Fordham Institute, for example, has found that students in Catholic schools exhibit more self-control (keeping their tempers in check, respecting others' property, accepting their classmates' ideas, and handling peer pressure, to name a few) than their counterparts in other types of schools. And students at Catholic schools tend to outscore their peers in other learning environments on standardized tests; on the nation's educational assessment, for instance, the reading scores for eighth-graders at Catholic schools were 7.2 percent higher than the average. Research also shows that exposure to students from different backgrounds—including different incomes—has inherent educational benefits, and that one's schooling can have a profound impact on his or her worldview. These implications are especially noteworthy at a time when the country's political and social divides continue to widen.
A number of factors are contributing to the  phasing-out of Catholic schools. One is a drop in the number of clergy members, who historically taught for relatively low wages. Another is the Church's sex-abuse scandals, whose financial ramifications have undermined its ability to operate schools. In addition, demographic shifts such as falling birth rates, the growing concentration of black and Hispanic families in the bottom tier of the country's income distribution, and a decline in religiosity among Americans, combined with the rise of charter schools, have led to lower enrollment in parochial education.
As a result, many of the Catholic schools that do remain are expensive. The average tuition at Catholic elementary schools in 2010, the most recent year for which comparable data are available, was close to $6,000 in 2015 dollars, six times more than what it was in 1970 ($873 in 2015 dollars), according to the Education Next report. (On the more extreme end of the spectrum, the Washington, D.C.–area school Georgetown Preparatory School—the alma mater of Supreme Court Justice Neil Gorsuch and prospective Justice Brett Kavanaugh—costs $60,000 a year for students who board and $37,000 for students who don't.)
The tuition at other types of private schools has skyrocketed, too—at a faster rate than the rise in median incomes, the Education Next analysis notes. Adjusted for inflation, the average tuition at nonsectarian private elementary schools increased from just over $4,000 in 1979 to close to $23,000 in 2011. It isn't surprising then that such schools have grown even more exclusive. At such schools, the enrollment gap between families in the top income bracket and those in the middle grew from 5.5 percentage points in 1968 to 9.3 percentage points in 2013.
The authors of the Education Next report conclude that these "troubling" shifts are hugely consequential for the country despite the relatively low percentage of students who attend private schools. The United States, as the early-childhood-education expert Erika Christakis has argued in The Atlantic, is witnessing a war on public schools, fueled by politicized notions that their failure to produce substantial gains in academic achievement is evidence that they're dragging the country down. As affluent families gravitate toward expensive private schools that are becoming less and less accessible to students in other income brackets, they could take with them political and social capital that public schools desperately need.