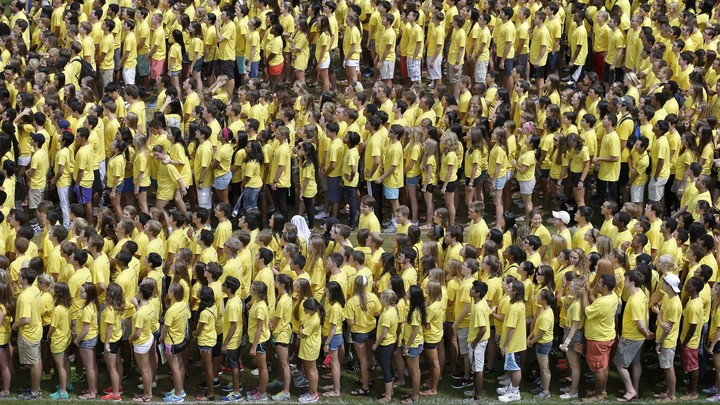 On Tuesday, the Trump administration made its official position clear: Schools should limit their use of race as a factor when determining admissions. The administration is moving to rescind seven guidance documents from the Education Department's Office for Civil Rights and the Department of Justice, according to The New York Times. These Obama-era memos encouraged elementary, secondary schools, and colleges to use race in efforts diversify their student bodies, and outlined how to do so within the law. The Trump administration will break with this precedent, and will not actively encourage schools to diversify, the Times reported.
The move by the Trump administration is the most recent blow to the use of race in admissions decisions, and it comes a week after Supreme Court Justice Anthony Kennedy delivered a similarly grave punch.
When Kennedy announced his retirement from the United States Supreme Court last week, affirmative action advocates worried it would bring about the end of the use of race in college admissions. In the 2016 Fisher v. University of Texas decision, Kennedy had aligned himself with the court's liberal wing, casting the decisive vote to allow universities to continue using race as a factor in their admissions decisions. This was a departure for Kennedy, who had previously shied away from upholding affirmative action programs against constitutional challenges. It is only a matter of time before the issue comes before the Court again. And next time, assuming a Trump nominee gets confirmed to the Court, the decision will likely break the other way.
Together, these two developments swing the momentum on the use of race in admissions firmly towards those who want to prohibit doing so, and amount to perhaps the biggest shift in the government's position on the issue in more than a decade.
Tuesday's announcement brings in line with the policies of previous Republican administrations who have looked unfavorably upon the use of race in admissions. In 2008, the Bush administration issued guidance that emphasized the limited role that race should play in college admissions. The Obama administration defended affirmative action in court. But in the forthcoming cases—such as the lawsuit alleging that Harvard University discriminates against Asian-American students by using race as a factor in admissions—the Trump administration is unlikely to do so.
To be clear, the way that race is legally allowed to be used in admissions is already extremely limited, and not all schools, colleges or otherwise, use it. Some states, such as California, have already made it illegal to use race as a factor for all grade levels. And, across the country, even when race is used in admissions considerations, it is generally used in very narrowly defined ways.
Exactly how narrowly defined —particularly selective private colleges—is unknown, due in large part to the inherently subjective nature of the admissions process. A recent court filing in the case against Harvard has somewhat unmasked at least part of the calculus of that institution, including its use of "soft skills" such as "likeability" and "helpfulness" to determine acceptance, which are thought to disadvantage Asian-American students. Still, for the most part, race, along with everything else about the admissions process is hidden from public scrutiny.
Late last month, researchers at the Urban Institute, Matt Chingos and Victoria Lee, noted that on the 40th anniversary of the Bakke decision, which upheld the use of race as constitutionally permissible, colleges are not ready for a world without affirmative action policies. Most of the institutions that use race-conscious policies—which tend to be more selective institutions—already do not do a good job maintaining a diverse student body.
A look at the numbers makes their point clearly: Even with race-conscious admissions, black and Latino students represent a small fraction of the student populations at the country's most selective colleges—4 percent and 11 percent of elite research universities, respectively. And a report from the Education Trust shows that black students make up less than six percent of students enrolled at public flagship universities. Several people have proposed alternatives to race as a factor, such as socioeconomic affirmative action, but there are concerns that doing so would not significantly increase racial diversity at America's colleges. "Race plays a unique role in American society that cannot be replaced by socioeconomic proxies," Chingos and Lee wrote, "and race-based affirmative action is likely the most efficient path to achieving racial diversity."
All told, what this means is that in the years ahead, the country will almost certainly be entering an era in which affirmative action is without much federal support or guidance. "Colleges and universities continue to live in a climate of fear on this topic," Catherine Lhamon, the former top civil rights official at the Education Department under Obama, told me, "and having the federal government weaken its position on it will discourage the lawful use of race to achieve diversity which will mean that our college and university campuses will become whiter and less diverse."
We want to hear what you think about this article. Submit a letter to the editor or write to letters@theatlantic.com.