Target's Coupon Fix for Cash-Strapped Teachers
The retailer's new back-to-school discount says a lot about the state of education funding in the United States.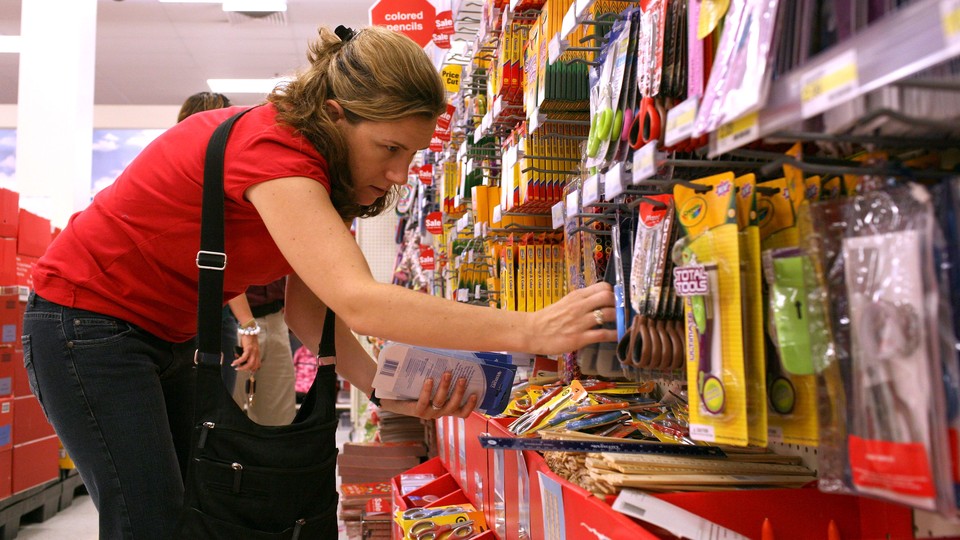 In a textbook feel-good business move, the retail giant Target is offering a coupon to teachers this week that gives them 15 percent off select school supplies through Saturday. The coupon is part of the store's back-to-school promotions, and covers folders and binders, arts-and-crafts materials, and classroom-storage equipment, as well as basics such as disinfecting wipes and food-storage bags.
For many educators, the offer could be a big help. The vast majority—94 percent—of public-school teachers report spending their own money on supplies, according the National Center of Education Statistics (NCES). This is a significant expense for many of them, especially considering the average salary for K–12 public-school teachers is roughly $58,000. During the 2014–15 school year, according to the NCES report, teachers spent an average of $479 of their own money on school supplies. A separate analysis by Scholastic estimated teachers' annual school-supply spending to be even higher. It also found that educators in high-poverty schools are far more likely than those at more affluent schools to fork out personal money for supplies. One out of 10 teachers at high-poverty schools spend $1,000 or more each year. And a separate NCES data set suggests that teachers' school-supply spending rates have been this high for years.
This is precisely why Target is offering the discount, said Megan Roman, a company spokeswoman, in an email, citing the NCES report. "It's a way for Target to acknowledge teachers are going the extra mile for their students."
The fact that Target even thought to do this is indicative of the state of teaching in the United States today. The practice of teachers at underfunded schools paying out of pocket for school supplies is so common and well known at this point that a retail corporation has picked up on it as a socially beneficial revenue opportunity.
Target is hosting its "Teacher Prep Event" the summer after a school year marked by an uptick in teacher unrest. This past spring, public-school educators staged major walkouts in West Virginia, Oklahoma, Kentucky, and Arizona; teachers' unions in many other states considered, or are considering, doing the same. Protesters and their supporters consistently cited the lack of basic school supplies—and the financial sacrifices educators make as a result—as one of their grievances. Striking teachers pointed to their reliance on online fund-raisers on platforms such as DonorsChoose, which allow individuals to donate directly to public-school platform projects.
The experience of Teresa Danks, a third-grade public-school teacher in Tulsa, shows just how tough things had become in Oklahoma, where in 2015, following a series of cuts, per-pupil spending was a little more than $8,000, compared with the national average of $11,400. In an April 2018 op-ed for NBC News, Danks explained that budget cuts over the years had led to her standing beside a highway with a sign asking motorists for donations. "I was tired of not having enough money for my classroom, of being expected to always use my limited cash reserves to pay to enrich my curriculum," wrote Danks, who last year established the school-fund-raising foundation Begging for Education. Failing to allocate money for supplies, she argued, doesn't only strip teachers of their personal cash, it can also have lasting academic consequences. "By forcing teachers to pay for students' supplemental games, activities, art, and musical supplies, the state has taken away our ability to be creative," Danks concluded.
The school-supply trend is one consequence of what the American Federation of Teachers—the nation's second-largest teachers' union—refers to in a new report as a "tide of austerity" that's hit schools in the decade since the Great Recession. In 2016, the report found, 25 states were still providing less funding for K–12 schools than before the recession, after adjusting for inflation.
For the most part, policy makers acknowledge that schools need more funding, and that teachers make sacrifices to compensate for the shortfalls. But state budgets are stretched across the board, many argue, and that forces them to make tough decisions about budget allocations. Some policy makers worry that legislative efforts to address the school-supply issue by issuing stipends, as a bill in Arizona sought to do, are just quick fixes that conflate the problems of teacher pay and school funding.
More generally, some observers are skeptical of striking teachers' demands, and argue that the problem isn't so much with the dollars going to public education but with how that funding is managed. In an op-ed for The Hill on the Oklahoma walkout, the American Enterprise Institute's Frederick Hess and Grant Addison suggested that the strike was "quickly becoming detached from efforts to ensure that dollars are spent responsibly." They cited funding concessions that the state had made even before teachers started picketing and noted that Oklahoma had long provided teachers with health care and other benefits. "Teachers and taxpayers alike will be well-served if the push for more school spending is approached with an eye toward managerial discipline and what Oklahoma's families can reasonably bear," they wrote.
But in many cases, teachers, particularly those at poor schools where parents have fewer resources, have filled that spending void because they feel like they have no other choice, according to John Waldron, a high-school history teacher in Tulsa whose frustration with the persistent lack of investment in education prompted him to run for the Oklahoma House of Representatives. That's in large part because of their intrinsic dedication to the job, but it's also because they don't want to let kids down, Waldron suggested. A furnished, well-designed classroom is a visible manifestation of a school's investment in children. Teachers "do these things out of a sense of virtue but also a sense of guilt," he says. He thinks policy makers and school-district administrators have taken advantage of that. "Teaching is a tremendously rewarding job … but the darker side of it is that because we view it as a missionary role, we expect our teachers to be saints." Waldron, who's taught at the same Tulsa high school for two decades, (he taught in Washington, D.C., before that), estimated that he's spent $20,000 of his own money on supplies over the last decade, including $10,000 on books.
While appreciative of the Target coupon, Waldron worries that it "normalizes" this imbalance—that it signifies a default assumption that the onus is on teachers to ensure schools are well stocked and equipped, as Target puts it, with "a little extra sparkle."
"Our culture is full of these signals that education is disregarded by officials," Waldron says. "We allow massive inequities to develop between rich schools and poor schools. [People think] that teaching is a calling not a profession and it's expected that teachers will sacrifice and legislators will underfund, so corporations will throw a little charity into the mix. When you think about what a good teacher can do in the classroom for a kid—change their lives, change society—why do we make teachers panhandle for the supplies they need?"
Other than initiatives like the coupon discount at Target, teachers don't have many options if their school administrators don't pay for supplies. The tax benefits are limited, too: Thanks to a 2002 law, teachers can deduct up to $250 from their federal taxes for their spending on classroom materials. Pending legislation in Congress that seeks to double the deduction and index it to inflation has 50 co-sponsors, but it has yet to advance past the House of Representatives' tax-writing committee.
Until such legislation passes, or until schools' supply budget increases, every 15 percent off helps.