The Private-School Persuasion of the Supreme Court
Brett Kavanaugh, Trump's latest nominee for the bench, graduated from a Catholic high school. So did four of the current Justices.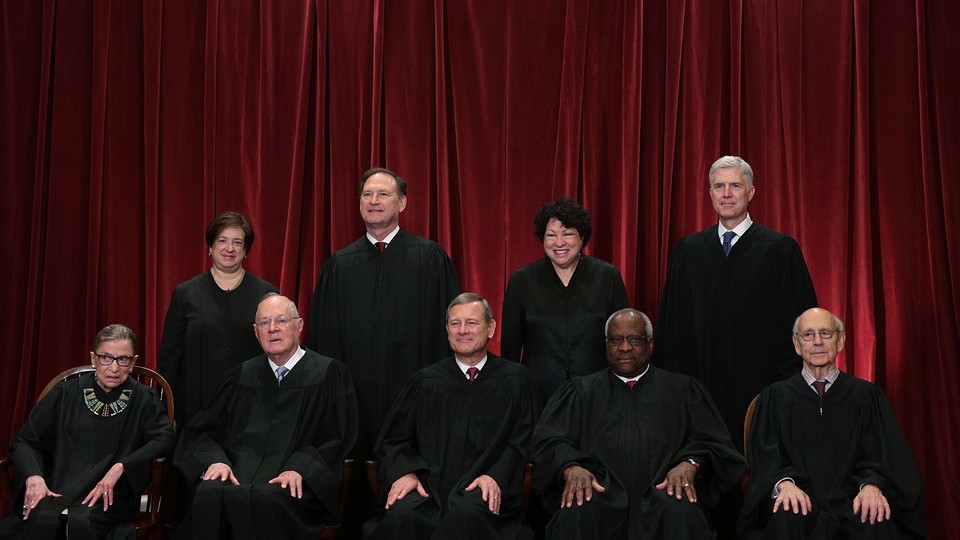 Should Brett Kavanaugh get confirmed as a justice of the U.S. Supreme Court, five of the Court's nine sitting justices will share an experience that is foreign to most Americans: that of attending one of the nation's private high schools. Of the court's conservative block (Justices Roberts, Thomas, Gorsuch, Alito, and presumably Kavanaugh, sooner or later), all but Alito graduated from a private high school. Of the court's liberals (Justices Ginsburg, Breyer, Kagan, and Sotomayor), all but Sotomayor graduated from a public high school. Just 9 percent of American high-school graduates got their diplomas from a private school, during the 2016-2017 school year, according to the National Center for Education Statistics.
Of course, the Supreme Court is an elite institution, and the lived experiences of the justices are not—and need not be—broadly representative of the American public's more generally. One hundred percent of the justices, after all, attended elite law schools—not exactly a common experience. There are two additional facts about the justices' educational backgrounds that are perhaps even more remarkable than the first: All five of the justices (including the would-be justice, Kavanaugh) who attended private school went to schools that were not just private but Catholic. And two—Kavanaugh and Gorsuch—attended the very same school: Georgetown Prep.
Georgetown Prep is not just any private school. It is a private, predominantly white Jesuit high school for boys in a wealthy suburb just outside of Washington, D.C., founded in 1789. Today, its lush and sprawling campus features renovated Georgian-style brick buildings, a glass-roofed campus hub with a full-service café, and stunning athletic facilities including a 200-meter indoor track and an 18-acre golf course, among other amenities. It's one of the country's most expensive private schools, costing more than $60,000 per year for the students who board, and just over $37,000 for the students who don't. That tuition often pays off: Each year, every single one of its 100-plus graduates enrolls in a four-year university, and the school boasts an ever-growing roster of renowned and highly accomplished alumni. In addition to Gorsuch and Kavanaugh, Jerome Powell, who was tapped late last year as chair of the Federal Reserve, attended Georgetown Prep, too.
It was clear from Kavanaugh's acceptance speech last Monday, as well as others' reflections, that his own educational experiences have had a significant impact on his life—that he's someone who loves to learn and be in the classroom, whether as a pupil or a teacher, and that he has a profound appreciation for education's role in society. He's taught "hundreds of students, primarily at Harvard Law School" for the last decade or so, he noted, and continues to engage with the education world in his capacity as a father of two young girls, coaching their basketball teams and attending college-level games with them. And his mother, Martha, was an educator before she went on to enroll in law school and become a judge herself—she taught history, he explained in his speech, "at two largely African American public high schools in Washington, D.C." in the 1960s and '70s. Her example, he stressed, "taught me the importance of equality for all Americans."
Aside from Kavanaugh and Gorsuch, Thomas, Roberts, and Sotomayor also graduated from Catholic high schools. Respectively, they were: the since-closed St. John Vianney Minor Seminary, a boarding school in Savannah, Georgia; La Lumiere School, a college-prep boarding and day school in La Porte, Indiana, that today charges $47,500 annually for those who board; and Cardinal Spellman High School in the Bronx whose current annual tuition is $8,800. (Alito graduated from Steinert High in Trenton, New Jersey; Breyer, from Lowell High, an elite public magnet school in San Francisco; Ginsburg from James Madison High in Brooklyn; and Kagan, from Hunter College High, a publicly funded institution for gifted students in Manhattan's Upper East Side that's affiliated with the CUNY institution.)
There are few definitive takeaways to glean from the justices' similar educational upbringing, however—other than the fact that all enjoyed tremendous success after graduating. Private-school attendance is not a predictor of any political persuasion, for example. Ample evidence suggests that public officials who graduated from the same educational institutions often leave their schooling with vastly different perspectives on the world and the law, and it's difficult to find any research on whether there's a correlation between one's K-12 educational experience and his or her outlook on political and social issues. I've written before about the tendency of public officials, particularly those in Washington, D.C., to send their own kids to private schools, and about the "disconnect that often separates public-school classrooms from the people who decide what happens in them." But even that phenomenon doesn't mean officials are "in a private-school bubble." (As an adolescent, I myself attended an expensive, elite private school in Hawaii—Punahou, the same institution that Obama graduated from in 1979.)
One recent Gallup poll, however, did identify certain characteristics that tend to correlate with the kind of school in which parents opt to enroll their kids, some of which are obvious: Affluent families are far more likely than low-income ones to choose private education, for example, with twice as many families with yearly incomes above $75,000 doing so (13 percent) compared with those whose incomes are $30,000 or less; the breakdown is similar for families that attend church weekly compared with those who have no religious preference. The report also found that "Republicans and conservatives are among the groups least likely to have a child in public school," a trend that it speculated could do with their greater tendency toward religiosity as well as toward disillusionment with the public-school system. A separate Gallup poll found that just 39 percent of Americans who are or lean Republican consider public schools "great" or "excellent," compared with about half of respondents who are or lean Democratic.
Perhaps more revealing than his own schooling is the fact that Kavanaugh, according to his testimony in his 2004 Senate confirmation hearing, previously helped spearhead school-choice-related outreach efforts for the Federalist Society, a legal organization of conservatives and libertarians. He was also one of the attorneys tapped in 2000 to represent then-Florida Governor Jeb Bush in a long-drawn-out lawsuit that sought to end a highly controversial state school-voucher program that Bush had spearheaded. (The Florida Supreme Court in 2006 ruled that the program was unconstitutional, a decision that observers predicted would have major implications for similar initiatives elsewhere in the country.) According to Politico, Kavanaugh also said in a 2000 TV appearance that he anticipated the U.S. Supreme Court would one day uphold school vouchers.
Should he be confirmed to the Court, his views on these matters could be hugely consequential for the country, in part because of how much influence the Court has over education. "The public school has served as the single most significant site of constitutional interpretation within the nation's history," Justin Driver, a professor of law at the University of Chicago, argues in the introduction of his forthcoming book The Schoolhouse Gate: Public Education, the Supreme Court, and the Battle for the American Mind. "No other arena of constitutional decisionmaking—not churches, not hotels, not hospitals, not restaurants, not police stations, not military bases, not automobiles, not even homes—comes close to matching the cultural import of the Supreme Court's jurisprudence governing public schools."
A slew of education cases could make their way up to the nation's highest court in the (near) future, and in particular, affirmative action is almost certain to get another hearing. In its most recent consideration of the issue, the Court found in Fisher v. University of Texas at Austin that higher-education institutions can consider race as one factor among many in admissions decisions. But the issue is, as my colleague Adam Harris has written, far from settled. There's a pending lawsuit against Harvard that accuses it of discriminating against Asian American applicants, as well as Trump's recent decision to rescind guidance issued by the Obama administration encouraging educational institutions to consider race as part of efforts to diversify their student bodies, both of which make the future of affirmative action all the more precarious.
And then there's affirmative action as it pertains to selective-admissions public high schools, an issue that could foreseeably make its way up to the Court at a time when it's more clear than ever, as the sociologists Margaret Chin and Syed Ali recently wrote in The Atlantic, that "there aren't enough great schools and there are too few seats at the best schools." To address this supply-demand mismatch, those best schools have to get picky about whom among a vast pool of desirable candidates to admit; for some, that could come down to considering applicants' race. The Supreme Court has generally ruled that in higher education the right to academic freedom enables colleges and universities to factor race into admissions decisions, but it's hard to say whether that thinking will apply to public high schools. "If anything," said Rachel Moran, the dean emerita of and professor at UCLA School of Law and an expert on education policy, affirmative-action practices in high schools "are already on a more fragile footing than than colleges and universities." In one 2007 case, the Supreme Court ruled that a program in Seattle that considered students' race in determining their high-school assignments was unconstitutional.
That the 2007 case could serve as a harbinger for what's to come with regards to affirmative action at the K-12 level is a reminder of the power of precedent. As the University of Chicago's Driver argues, the Supreme Court can have, and has had, far-reaching influence on the country's education system. And while the Justices share unusual and noteworthy educational experiences, those personal narratives are ultimately less revealing than the legal history itself.