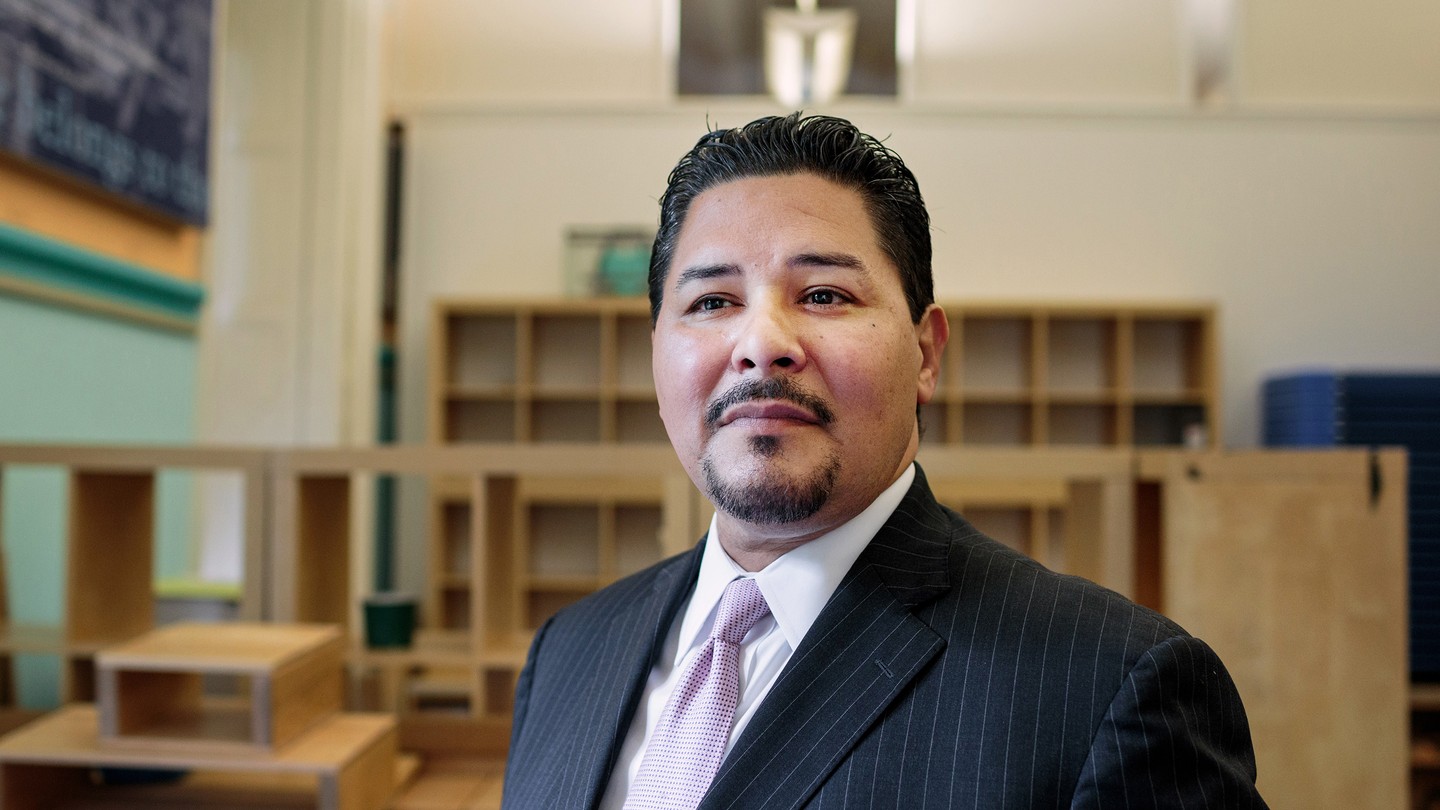 Can Richard Carranza Integrate the Most Segregated School System in the Country?
A new chancellor is talking a big game about making New York City's schools more equal—but that's the easy part.
It was just a hair past 7 o'clock in the evening at Frederick Douglass Academy in Harlem, and Richard Carranza was a little late to the party. The cafeteria was bulging with parents, translators, and a handful of staff. The recently minted chancellor of the New York City public-school system had planned to arrive at 6 to talk to a handful of community activists in advance of a town-hall-style meeting. The topic at hand: diversity in the city's public schools. Or, to put it more pointedly, desegregating them.
The racial makeup of the room was as varied as one might expect for a conversation about desegregation, particularly at such a tense moment in the city's history. The movement to integrate New York City's public schools had gotten new energy in recent months, but it was also met with fierce opposition. There have been viral videos of white parents angrily arguing that changing the schools will unfairly harm their children, politicians who backed reforms and then waffled after public pressure, and protests outside of the city's Education Department punctuated by chants of "Save our schools." In 2014, a study from the Civil Rights Project at the University of California, Los Angeles found that New York State has the most segregated public schools in the country, and that's driven largely by New York City. Carranza, after just a few months on the job, has quickly positioned himself as the leading voice for integration—and he has his work cut out for him.
But on this humid Thursday in late June, Carranza was running behind. His meeting with the activists—which was scheduled to last roughly 30 minutes—was cut to five. He had to get to the main event—the diversity town hall. But even considering the disorganization, there was no sign of hurried concern as Carranza, 51 years old with jet-black, slicked-back hair, strode in through the back of the cafeteria. He has a giant personality packed into a 5-foot-8-inch frame, and was draped in what he calls his urban school-chancellor's uniform—a pinstripe suit, neatly pressed shirt, a cornflower-blue tie, and pocket square to match.
"Good evening, everybody!" Carranza said after being introduced. His booming voice—cultivated from decades spent singing and playing in a mariachi band—filled the room. The crowd responded in kind. "Buenas noches," he added.
Carranza doesn't spend a lot of time reviewing what he's going to say at events like these. He tends not to pre-write his speeches, he says, and keeps it simple. He opens by emphasizing the importance of talking about desegregating schools—not only because it's a conversation he wants to have, but because kids in the classrooms are talking about it. People in the community are talking about it, as well. But with something as complex as dismantling a system of segregation, you could wear out your vocal chords before anything fundamentally changes—and people in New York City, which has one of the most segregated school systems in the country, have been talking about it for a long time.
"Sixty-four years ago, the question of diversifying schools—" Carranza caught himself. He considers diversifying to be weak language.
"—integrating schools," he continued, "was definitively settled by the United States Supreme Court in Brown v. Board of Education." The court said separate is never equal, especially in education, he told the audience—which applauded. But 64 years later, the city, and the country, have little to show for it, Carranza said. And nationally, the United States is resegregating, with the number of schools that are less than 40 percent white doubling between 1996 and 2016.
At this point, the chancellor was preaching. He proclaimed that the U.S. had become complacent after electing its first black president. He expressed dismay about the past 17 months of the Trump administration. And he didn't mince words about the racially coded language people had used to criticize his approach to changing the city's schools. He was standing before a cafeteria table turned pulpit and the crowd found itself attending the Church of Carranza.
"It's important that we put the real issue on the table, and the issue on the table is this," Carranza said near the end of his speech. "In one of the most diverse cities in not America but the world, and in the largest school district in America, a school district that is public," he said, underlining the word public in the air, "are opportunities really open for all people?"
After his remarks, Carranza made his way out of the cafeteria through a swarm of people. A slender black man stopped him just outside the doors. "You're tackling a big tiger, you know that, right?"
Carranza smiled. "You've just got to jump on it," he said.
The man quizzed the chancellor with his eyes. "Okay," he told Carranza, "I've been jumping on it for decades."
Activists have indeed been trying to integrate New York City schools for a long time. The implied question was: What's different now?
"Well," Carranza said, "you've got a new one helping you." But more than 50 years after the Supreme Court definitively settled the matter, school segregation remains a formidable foe, a Goliath that no single David may be able to conquer.
There are a couple of guitars that rest against the back wall of Richard Carranza's office at the Tweed Courthouse in Lower Manhattan—next to City Hall—where the city's Department of Education is headquartered. One of them has traveled with him to every office he's held as an administrator. Carranza, who was inducted into the Mariachi Hall of Fame in 2016, says music is what drew him to education.
He started learning to play mariachi when he was a little kid, maybe 6 or 7 years old, he says. His reason was simple: He didn't want to go to bed. His father, a sheet-metal worker and a first-generation American, and his uncles told him that only people playing music were allowed to stay up late—so he picked up the guitar. Carranza, who didn't speak English until elementary school, quickly fell in love with the instrument.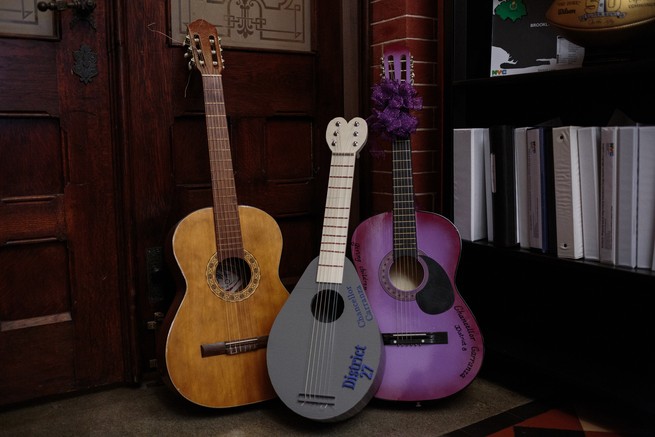 Carranza and his twin brother, Reuben, went to the public schools in Tucson, Arizona. Then, in the mid-'80s, they both went to the public college nearby: the University of Arizona. They participated in a summer bridge program that gave them an early exposure to the campus. They took classes, learned about financial aid, the dorms, student life, the whole nine. The program was full of students like him. "It was fantastic because there were a bunch of kids that looked like me in a sea of a kids that looked nothing like me," he told me. In college, Carranza remembers realizing the extent of the gaps in his education up until that point. Sure, he could keep up, and he wasn't forced to take remedial courses, but there were little things, like books he hadn't read that all the other students seemed to be able to cite. Lessons many of the white kids had learned in secondary school that he hadn't. It was an early lesson for him: Not all public-school educations are created equal.
When it came time to choose a major, Carranza went where the futurists said all of the jobs would be: electrical engineering. Meanwhile, he was still playing mariachi—"gigging," as he says—all around town, and teaching guitar lessons to children, which helped him pay for college.
The engineering program wasn't easy. The math he had to take for his major didn't come naturally, and he was struggling to get C's. He found himself spending more time teaching kids how to play guitar than he did focusing on his classwork. Maybe, he thought, he was in the wrong field. He asked a friend about transferring to the School of Education. He had two years of classes toward an engineering degree under his belt, but he wasn't feeling excited about it. So, he switched his major. It wasn't until Carranza's final semester at the university, however, that he really knew that was the right call. It was time for him to be a student teacher, and he was nervous. It was terrifying, he says, the idea of standing in front of a classroom of boys and girls whose futures depend, at least in part, on the information you give them, and how you give it. But as soon as he stepped into the classroom, all of that went away.
Carranza went back to his old high school to be a bilingual social-studies teacher but when he arrived he was "mortified" to see how the arts offerings had deteriorated during his time away. The school was about 92 percent Mexican American and many of the students were like him: They weren't immigrants themselves, but they were deeply immersed in Mexican culture. One weekend a group of kids saw him "gigging" at a wedding and said they wanted him to teach them how to play guitar. He happily said yes. Then, they wanted to learn to play the trumpet. Soon, the after-school tutoring inspired a student-led petition for a mariachi class—one that Carranza would give up his free period to teach.
But the road to getting the program approved, he says, was lined with "outright racism." Music teachers "would flat out say to my face: 'Oh, I can't support this, this is music played in bars for drunks.' And, 'We can't play this in the public-school system, this is not a legitimate art form.'" Then there were bureaucratic hurdles. "There are a couple of incidents where I ran up against people who had more authority in the system [who] were making decisions not to allow this program to really flourish," he says, still visibly frustrated.
But the class was successful. It grew into a full-fledged mariachi program comprised of hundreds of students a year, and, nearly three decades later, is still in existence. The mariachi program did more than just sustain itself; it also reignited interest in the other arts programs—orchestra, choir, band. "I saw the power of culturally relevant pedagogy," Carranza told me.
That experience led him to wonder if there was more he could do to help underserved students, he recalls. He felt that to make change, he needed more power. "I wanted to have authority over my school, so I became a principal," he told me. "Well, people above me didn't quite get it, so I wanted more authority over portfolios of schools, and eventually became a superintendent." It wasn't what he set out to do when he first got into education, but he says it was the best way to fix what he saw as broken systems.
He became the principal of his high school, then a regional superintendent in Nevada, before landing in San Francisco. In 2009, he was named the first "deputy superintendent of instruction, innovation, and social justice" for the city's school district. And then, upon the retirement of the then-superintendent Carlos Garcia, Carranza was named to the leadership post in 2012. He was responsible for more than 50,000 students. He says the weight of the situation hit him, and he felt like Robert Redford at the end of The Candidate—a movie he regularly showed to his classes.
"What do I do now?" he says he asked himself at the time. "Do I try to be the stereotypical superintendent: political, hard to get a hold of, all of the things that you hear about superintendents? Or do I just be myself?"
Carranza quickly made a name for himself in San Francisco. Three years after he became superintendent, Education Week honored him as one of their "Leaders to Learn From," for his emphasis on bilingual, bicultural education. He had also built a reputation as someone who was willing to tackle inequality in the educational system. For example, before California changed its statewide funding policy for schools, Carranza's district was diverting extra money to schools with high proportions of poor students and English-language learners. "He's brave, he's honest; he's more than just an advocate, he's a fighter for social justice," Eric Guthertz, the principal of Mission High School in San Francisco, told Education Week at the time.
During his tenure in San Francisco, Carranza made a point of focusing on the inequality of the city's school system in his public remarks. When a vocal group of parents—and a pair of politicians—protested a curriculum change Carranza oversaw that removed some of the advanced math courses for middle-school students, he explained that he was not trying to harm students trying to excel, but help those who had been left behind. "We are being accused of only caring about black and brown kids," he told parents gathered at a board meeting, before pointing out that at one high-performing high school, of the 928 students who took Advanced Placement calculus or statistics exams over a two year span, only 21 were Latino, and 7 were black.
"Not 21 percent and 7 percent; 21 and 7," he told the audience. "Now either black kids and brown kids cannot do math—they are biologically, physiologically, genetically not prepared to do math—or something else is wrong. And I would suggest to you that something else is wrong."
But in his four years leading the system, there were some issues he just couldn't crack. There was the dismally low performance of African American students on California's standardized tests. According to a report by Innovate Public Schools, a Bay Area nonprofit, in 2016, at the end of Carranza's tenure, only 19 percent of African American students were on grade level in reading, and 13 percent in math. Similarly, the Education Trust-West, an advocacy group for low-income students and students of color, found that year over year, the San Francisco school district ranked near the bottom of schools in California on measures of black and Latino achievement.
Still, the city of Houston took note of Carranza's personal story, and his message of equality, hiring him away from the Bay Area in August of 2016. After a "listening tour" around the city, he quickly released a pair of ambitious proposals. First, he wanted to change how schools were funded. Instead of funding schools based on enrollment numbers, he wanted to guarantee certain basic resources for every school in the district: a nurse, a social worker, a low student-to-teacher ratio. Then, he wanted to tweak the admissions process for the district's magnet schools—some of the top schools in the state, if not the country. Two of the schools are ranked in the top 50 of the U.S. News & World Report high-school rankings, and he had proposed diverting some of the extra funding those schools received to more resource-poor schools.
Carranza has received his fair share of criticism for his time in Houston—partly because it was so limited. He only spent 18 months there. That's nowhere near enough time to address the sorts of problem the school district faces, and indeed his proposals never came to pass. After all, four years hadn't been enough in San Francisco. Further, during his tenure the district dealt with a looming threat of a state takeover of the school system resulting from a state law that required the Texas Education Agency to control operations of any school district in which one or more schools failed to meet state academic standards for five consecutive years.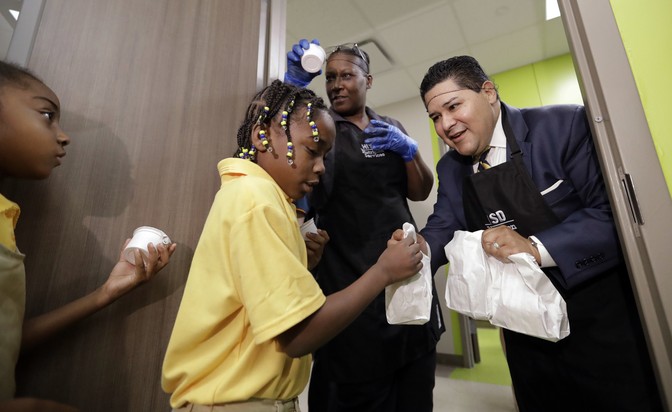 Despite the short duration of his stint in Houston, Carranza nevertheless gets animated when he talks about it. "You would think if you want to integrate schools and really provide a robust push for the entire system, you would place some really sexy magnet schools in those African American neighborhoods," he says, sitting up a bit. "No! They were all concentrated in white, upper-middle-class neighborhoods, so that if you're an African American student, you have to leave your neighborhood to go to those programs."
By the end of his time in Houston, Carranza had an answer for the question he had asked himself when he first became a superintendent:
"I'll be damned if I'm going to turn into somebody [else]. I'm going to be myself."
Carranza wasn't Bill de Blasio's first choice to run New York City's public schools. On the last day of February this year, Mayor de Blasio announced that he'd selected someone to replace the outgoing Department of Education chancellor, Carmen Fariña. Fariña was an experienced and celebrated educator and administrator in the city, but activists had soured on her for focusing on "diversity" instead of "desegregation." In practice that meant Fariña's department didn't want to force integration on the city. That approach, activists said, was too passive.
Alberto Carvalho, de Blasio said, was the right guy for the job. Carvalho, the superintendent of Miami's public schools, checked all of the boxes it seemed the city was looking for. He was an immigrant, the first in his family to graduate from college, a star in the education world. He had experience running a system with a large share of poor, non-native English speakers, and he, himself, was bilingual.
But the plan to hire him broke down suddenly. During a five-hour board meeting in Miami a day later, at which Carvalho was expected to announce that he would be leaving the Miami school district after a decade at the helm, constituents begged him to stay. The superintendent, in a move that surprised everyone, even possibly himself, agreed.
De Blasio's office entered full-blown public-relations-crisis mode. This was an embarrassment for the mayor, who had already been pilloried in the press for taking two months to find a replacement for Fariña in the first place. The mayor and his staff turned to Carranza, whom they had eyed for the job earlier—and the move shocked quite a few people who argued that his track record was too thin to take over a 1.1 million-student school system. "The pipeline for superintendents is very thin," Priscilla Wohlstetter, a professor at Columbia University's Teachers College, told The New York Times at the time. "We are the largest district in the country, and this is the caliber of person we end up appointing?"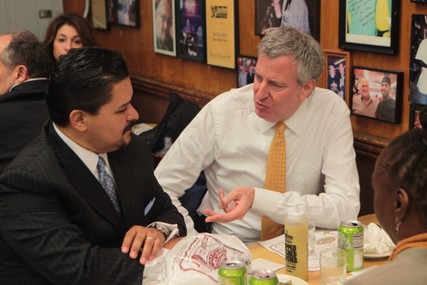 Carranza had been getting national attention for his response to the devastation in Houston's schools after Hurricane Harvey tore through the Texas coast. But he was still fighting an uphill battle to reform the city's inequality. Packed rooms of concerned parents opposed any dramatic upheaval. And the school board didn't rally behind his reform agenda either.
Then he got the call from de Blasio, and Carranza and his wife loaded up the Penske truck to move to Brooklyn. "Unfortunately," he sighs, "all of those proposals [in Houston] went by the wayside. As soon as I left, it seemed like people just didn't have the stomach to take the fight." His ideas for an equitable future in Houston had come to naught—much like they had in San Francisco. But de Blasio still admired his vision. Carranza took the fight to New York. And he walked into a melee.
There are two schools—one in the Bronx, one in Manhattan—that, in some respects, represent the opposing poles of New York City's public-school system: P.S. 277 in the Bronx and Stuyvesant High School, the prestigious "specialized" school, in Manhattan.
I met Carranza at P.S. 277 on a Thursday morning in mid-June—before the town hall later that night. There was a brief rain, and you could nearly drink the air, but Carranza didn't show any signs of dismay. He stepped out of his chauffeured black four-door sedan wearing his usual full smile, greeting every person within a stone's throw. Parents, checking in with the security guard at the front door of the Gothic building, were flooding into the school. It was graduation day.
It was the first full year of 3-K for All—the city's early-education program—and a crowd of 3-year-olds were dressed in their finest for the ceremony marking their move to the next year of pre-K. The auditorium consisted of rows of stadium seats, with a stage capped by an abridged version of the Shakespeare quote "To thine own self be true, And it must follow, as the night the day, Thou canst not then be false to any man." This was a bilingual program, but the students gathered onstage to sing a pair of songs in English. Carranza beamed in the front row as a 3-year-old in a powder-blue plaid suit and pink bowtie sang "You've Got a Friend in Me."
Carranza gave brief remarks, switching between English and Spanish, and announced a book giveaway for every student enrolled in the city's pre-K programs for 3- and 4-year-olds. Both of these programs, early interventions of sorts, are aimed at mitigating the effects of New York City's segregation problem. The highest concentration of students going to "intensely segregated" schools—meaning schools with less than 10 percent white enrollment—are black and Latino.
P.S. 277 is one of these "intensely segregated" schools. It is nearly 75 percent Latino and 23 percent black. A sliver of its population consists of American Indians. Just under 100 percent of students are eligible for free lunch. As has been well-documented, schools with high shares of black and Latino students are placed at a disadvantage. They have worse facilities. The teachers aren't as experienced. The instructional materials are outdated. According to the statistics, students going to P.S. 277 will have fewer, and worse, opportunities throughout their lives.
As we left the school, and Carranza and I rode in the back seat of the city-issued black sedan, this fact was on his mind. "Everywhere I've ever lived and worked, there are systems and structures that promulgate certain outcomes," he told me, slightly squinting and gesturing with his index finger. "The systems and structures give you what you get. And what I've found is that what you get is low performance for kids of color, low opportunities for kids of color, poor kids, kids that have historically been underserved."
A day later, I was at Stuyvesant High School, one of the oldest "specialized high schools" in the city. It is an absolute beast to look at. The building is grand; so too is the foyer. A massive wraparound staircase, with the school's motto—Pro Scientia Atque Sapientia ("For Knowledge and Wisdom")—engraved just overhead, leads you to the second floor. The hallways are plain, like those of just about any high school in the country. But it's what's in the classrooms that stands out. Eric Contreras, Stuyvesant's principal, gave me a tour of the school. It was the day after graduation, so there weren't many students around, but the amenities alone conveyed a lot. There were 3-D printers and robotics labs, green spaces, and giant windows with views of the Hudson River.
But for all it has, there's one thing it lacks: a diverse student body. And Contreras knows it—not only as the principal, but as a parent. When his daughter went to Stuyvesant, prior to him becoming the school's leader, he told me, she was one of fewer than 10 Latina girls in her class. His son will attend the school this fall, and will be one of the few Latino boys. Contreras, who himself went to segregated schools in the city, has seen the conversation about integration ebb and flow over the decades. But there is a new energy with Carranza, he says.
However, it takes more than energy to reform New York City's public schools. Carranza is an idealist, for sure, but there have been a lot of idealists who have held his position—and the realities of the city often won out over their idealism.
To be sure, there have been some chancellors who have persevered despite the city's aversion to sudden, substantial change. Take Joel Klein, for example, who served as chancellor under Mayor Michael Bloomberg for eight years. Klein developed a reputation as perhaps the most effective chancellor in decades, though he was also controversial, especially as a Democrat who fought the teachers' union. He implemented a uniform math and reading curriculum, a plan to phase out poorly performing high schools, and established a training program for aspiring school administrators.
Klein's platform didn't focus on desegregating schools, but activists, alumni, students, and administrators told me Carranza's passion reminds them of Klein. It's not only that he has helped jump-start the conversation, Contreras told me, "it's the action" that has accompanied it. But such action requires additional help from the state legislature, which has been wary of making big changes.
But the bold steps to quickly lay out a vision, Contreras says, are notable. Somewhere around the eighth floor, Contreras—who is a bilingual immigrant, and the first Hispanic principal of Stuyvesant—stopped me. "If we want to be educational leaders," he told me, "we must be constantly imagining what's ahead. And what I see with Richard Carranza is that he's willing to do that."
The "specialized high schools" such as Stuyvesant can be a way for students to get out of the intensely segregated community schools such as P.S. 277. But getting into them is difficult, to say the least.
Students who want to get into one of the specialized schools must pass the Specialized High School Admissions Test, or the SHSAT, which parents often pay exorbitant prices for their children to prepare for. Only about 10 percent of more than 5,000 seats at the eight specialized high schools in the city went to black or Latino students in 2018; 51.7 percent went to Asian students; and 26.5 percent went to white students. Black and Latino students make up 67 percent of students in the public-school system. Three decades ago, the number of black and Latino students at the specialized high schools was much higher.
In early June, Mayor de Blasio introduced a plan that would change that. He wants to do away with the admissions test, calling it an unjust barrier for black and Latino students. And Carranza agreed. "We've got almost 600 middle schools in the city of New York," he told me. "Yet 21 of those middle schools account for 50 percent of the student seats in these specialized schools." The plan, which faces tough odds of gaining support, also laid the groundwork to eventually allow the top 7 percent of students at each of the city's middle schools the opportunity to attend one of the specialized high schools.
The criticism came quickly. One major problem is that changing the structure of admissions could disadvantage Asian students, who make up the majority of the specialized high schools, and who often come from poorer homes than the black and Latino students. Some critics argued that changing the admissions structure, ostensibly to raise the number of black and Latino students, would water down the academic integrity of the institutions. And then there was the fact that this was only addressing a small slice of the bigger problem of segregation in New York City. That's the argument that Larry Cary, the president of the Brooklyn Tech Alumni Foundation, makes. "We believe that the test is a meritorious mechanism for selecting students for these schools—and it has the additional value of being an approach that doesn't pit one group against another the way this proposal has," he told me.
Carranza understands the concern about Asian American students—though, he counters, a lot of the poor Asian American students' families are already being harmed by the test. "You have the people who can least afford to be paying for this test prep that are spending thousands of dollars to do this test prep," he told me. Further, he said, committing to equity means that an overrepresentation of any kind—regardless of what race might be overrepresented—needs to be addressed. Particularly when the underrepresentation of black and Latino students is so stark.
Still, Cary sees the solutions from Carranza and de Blasio as "excuses" for not dealing with the most fundamental issues of inequitable education in the city. It's one thing to pick on the top-tier school, his thinking goes, but what about the system-wide problems?
Carranza admits that introducing a policy change to the admissions process for specialized high schools only fixes a small problem, but for him, it's an important one. He analogizes it to the image of the iceberg—one of his go-to talking points. Specialized schools are the tip of the tip of the iceberg, he says. And when you zoom out, there is 20 times more ice underwater that needs to be addressed.
In late June, Carranza released the results of a "listening tour"—where he went around the five boroughs to schools, town halls, and meetings with activists and lawmakers. His report, "Moving Toward a More Equitable School System," lists the strengths of the city's schools first, then it moves to the challenges. No. 1 on that list? Desegregation.
He's been hammered for going after the top schools when so many other things need to be addressed, but he says this plan is not only symbolic, it's tangible. It's a change the city can make right away. But there are other goals as well: He wants to devote more funding to under-resourced schools to put them on a level playing field. ("I have never, ever, ever, ever, ever, seen a high-performing school that has a majority of privileged students that is under-resourced," he told me.) And he's approving district plans that increase access to high-performing schools for low-income and minority students.
The outstanding questions about how to fundamentally desegregate New York City's public schools still need to be asked and answered. Carranza says he's trying to find those answers, "but as I'm asking questions, we're actually moving policy." The city has been talking about the issue for years. Too many, if you ask him. Brown v. Board was settled more than half a century ago; desegregation is long past due. "Sixty-four years ago," he laughs, with a hint of despair. "We've been admiring this issue for 64 years! Let's stop admiring and let's start acting."
And he's changing minds along the way. "I have renewed faith," Wohlstetter, of Columbia, told me in a recent interview. "Fariña thought the way to make changes in a system was only from the ground up—unless the people, including the elites, wanted change in integration, it shouldn't happen." But Carranza is different—and so is the moment, she says. More and more people now know that New York has the most segregated schools in the country, and that's allowed for an equity agenda to resonate more clearly—an agenda that Carranza, alongside the mayor, has been able to lay out early in his tenure. She reneged on the skepticism of Carranza—and the superintendent pipeline—she had shared with the Times. "This has been an issue for years but it never got traction" until Carranza, she laughed. "Maybe the pipeline is deeper than I thought it was."
But his four years leading the system in San Francisco—with far fewer students—showed Carranza that even with an equity mission, reversing baked-in systemic issues can be difficult, if not impossible. One thing is clear, however: Richard Carranza isn't changing his tune for anyone.
"What I said today is what I was saying in Houston, is what I was saying in San Francisco, is what I was saying in Las Vegas, is what I was saying in that classroom in Tucson, Arizona, to a bunch of barrio kids that didn't think they could go to college," he told me. "Why?" he asked. "Because that's who I am. That's what I believe in."
As many have before him, the chancellor wants to talk about segregation and he wants to talk about genuine equity. But he also wants to do more than talk this time. What's less clear is if the rest of the city is ready.