Conservative High Schoolers Want to 'Own the Libs'
Education Secretary Betsy DeVos and others preached civility at a conference for young Republicans. But the teen attendees connected more with Trump-rally-style raucousness.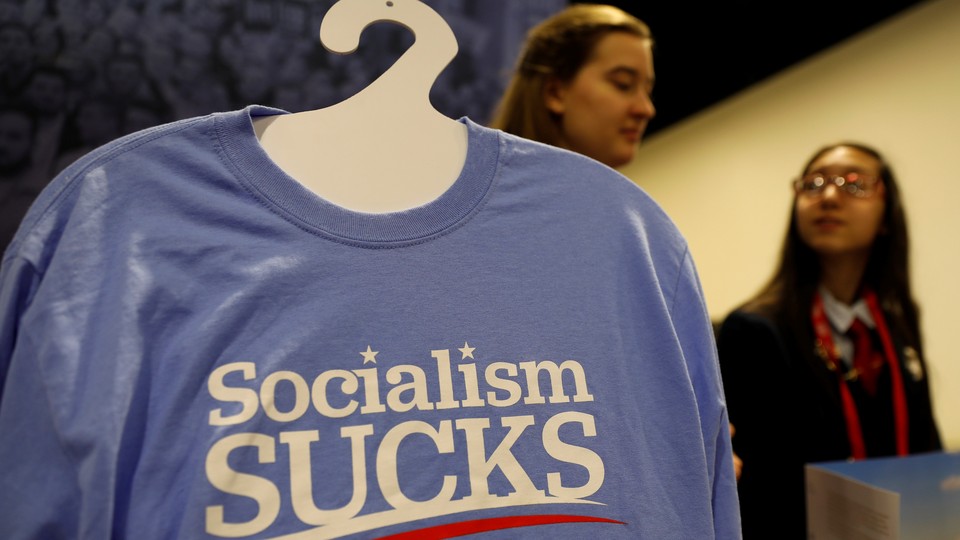 When hundreds of high-school students gathered on George Washington University's campus this week, they may have expected to clash with protesters. After all, they were invited by Turning Point USA, the right-wing group that identifies faculty members who it perceives to be biased against conservative students and shames them on its "Professor Watchlist." The organization also regularly decries the overpolicing of speech by liberals on college campuses.
But there were no speech police present on this dreary day in the nation's capital—the event went on without a glimmer of protest. And for those who are used to protests wherever they go, such as Education Secretary Betsy DeVos, who would be speaking later, it must have been a  welcome change.
GW's Lisner Auditorium  was every bit a Young Republicans conference, with a 2018 twist. There were tables with Ayn Rand literature, pamphlets on "The Case Against Gun Control," "Socialism Sucks" T-shirts, and "I Love Capitalism" paraphernalia. And then there were the students. Some of them were attending because they'd seen the list of speakers—Attorney General Jeff Sessions, Anthony Scaramucci, House Majority Leader Kevin McCarthy, UN Ambassador Nikki Haley, and, of course, Turning Point USA's founder, Charlie Kirk—and they couldn't pass up the opportunity to meet them. Others said they had lost friends when they "came out as conservative" and were there to connect with likeminded peers. And still others said they were there to learn how to "own the libs."
The inside of the auditorium generally reflected that sentiment. The students were alert during every speech, seemingly waiting for cues to chime in. When Rick Santorum said Hillary Clinton's name, they chanted "Lock her up!" He mentioned CNN and they booed; when former President Barack Obama came up, his name got a similar response. One student, during a Q-and-A session, prefaced his question with a statement: "Hillary Clinton is not president!" The crowd erupted in cheers.
Some speakers fed into the rowdy vibes, joining the crowd in disparaging one liberal figure or another. The New York Times reported that Sessions, for one, laughed during a round of "Lock her up!"
The auditorium was dimly lit, and anonymous shouts came from islands across the room. When the president of the Heritage Foundation discussed building bridges with those on the left, a young man in the front yelled, "And a wall!" While several students I met in the lobby were looking for engaging intellectual conversation, the ones in the auditorium seemed more interested in Trump-rally-style eruptions. Dave Rubin, the host of The Rubin Report, a talk show and podcast, remarked that it felt like "Twitter in real life."
This was the energy in the room when DeVos took the stage. It had already been quite a day for the secretary. Her department had issued its proposed changes to the "borrower defense" rule—an Obama-era regulation that helped students defrauded by their colleges receive debt relief. And on Capitol Hill, a reauthorization of the law governing more than $1 billion in grants to states for career and technical education—which received bipartisan support—had just been passed and was headed to the president's desk. Neither of those topics came up during her roughly 30 minutes onstage.
Kyle Kashuv, a survivor of the shooting in Parkland, Florida, and Turning Point's director of high-school outreach, introduced the secretary. The students in the audience had spent the entire day being primed to boil over in bursts of teenage energy. But during DeVos's relatively tame speech, the outbursts were few and far between. She opened by talking about gun violence, and the Federal Commission on School Safety. "School safety is not a partisan issue. It is about protecting students' lives. Your lives," she said. And then she launched into a familiar monologue about batting down a "one size fits all" approach to education in favor of expanded school choice.
Then came an interview with Charlie Kirk, who lavished praise on the secretary for her accomplishments—both personal and as a member of the administration—before lobbing a handful of questions her way: What does school choice mean? How should we be thinking of education after high school? How have her private successes helped with her work at the department? DeVos answered the last question by noting that the private and public sectors are quite different, and that she hadn't been aware just how "formidable" the bureaucracy was in the Department of Education.
And then Kirk asked what the secretary would tell young conservatives who might face backlash on college campuses for their political views. She offered a bit of temperate advice. "I would encourage you all to be curious, learn, study ideas, and frame your opinions from an informed perspective. Listen to others, especially those with whom you don't agree," she said.
Despite the pugilistic attitude among the teenage attendees (and some speakers), civility was a common message onstage. Haley, two days earlier, had encouraged students to focus less on "owning the libs," and a handful of speakers that day had done the same. It's fun, sure, Haley told them, "but step back and think about what you're accomplishing when you do this — are you persuading anyone? Who are you persuading?"
When the conversation wrapped, DeVos was ushered off the stage by Kirk. Students I spoke with had mixed reactions to her session: Some enjoyed her advocacy for school choice; others were a bit puzzled. A large group of students hurried to the stage for a shot at a photo with the secretary. But there would be no photo opportunity, just a handful of disappointed sighs. But they didn't last long. Several speakers will still to come: the billionaire investor Peter Thiel, Congressman Louie Gohmert, the Breitbart News editor Alex Marlow. Compared with the rest of the day, DeVos's appearance was tame—she, and others, came to the students preaching policy and civilized debate, but it's not clear that they were paying attention.