The Trump Administration's Approach to School Violence Is More Style Than Substance
Despite several White House events related to campus massacres this week, the president and his team did little to assure Americans that there are serious policy changes under way.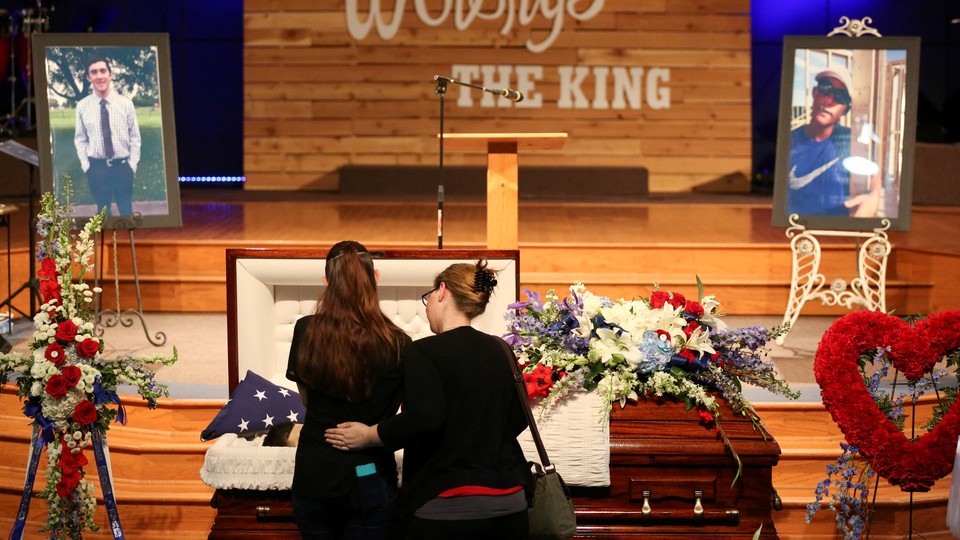 On Thursday President Trump met with residents of Santa Fe, Texas, including family members of students killed in the shooting at the town's high school last month. The hour-long conversation on Houston's Coast Guard base was closed to the press, and Trump left without giving comment, heading immediately to a $5,000-a-plate Republican fundraising luncheon at the St. Regis Hotel. The only thing that was evident was that he'd started his day off in high spirits: "We are going to have a little fun today," he told a gaggle of reporters that morning before boarding Air Force One near Washington, D.C.
There were two other major Trump administration developments related to school shootings within hours of the president's Texas visit, and neither helped to clarify what policy direction, if any, the White House is taking on school shootings and gun violence. At a briefing Wednesday afternoon, White House Press Secretary Sarah Huckabee Sanders was vague in her response to a 13-year-old boy in the audience who pushed her to address "what steps the White House [is] taking to fix this issue." As she held back tears, the press secretary emphasized how much she, a mother of three, sympathized with the boy's fear of being killed and was determined to make schools safer; she didn't, however, offer specifics, simply noting that the White House's school-safety commission would soon be convening to start coming up with a game plan.
Indeed, as Trump spent the day in Texas, that commission—which was formed with the intent of "securing schools" largely in response to the February Marjory Stoneman Douglas High shooting and is being chaired by Education Secretary Betsy DeVos—was embarking on its first field visit. But it's hard to say what the education secretary and other administration officials in attendance took away from their three or so hours at the Hanover, Maryland, elementary school known for its progressive approach to student discipline. The visit was aimed at learning more about strategies for ensuring positive and supportive campus environments in part as a means of preventing school shootings. That's a general approach that was endorsed by the Obama Administration, and one that, as I've previously reported, the new commission was in part designed to review and potentially phase out.
These past few days were an opportunity for the Trump administration to elucidate how it plans to address the scourge of school-based violence that has both ravaged and roused the country. But, taken collectively, Trump's blithe remarks and detachment from the country's latest mass school shooting, Sanders's refusal to offer specifics even during what was perhaps her most tender moment to date in the White House briefing room, and DeVos's continued reticence about what she thinks will make schools safer suggest the administration might not do much in the way of substantive policy—at least not anytime soon.
In other words, this past week amounted to the latest iteration of the administration's style-over-substance approach to school massacres. Coincidentally, that week drew to a close on the fourth annual National Gun Violence Awareness Day. The day kicked off a weekend-long campaign in which advocates across the country—wearing orange, the color hunters wear to protect themselves from gunfire—will be rallying for policy change.
Developing high-quality policy on school shootings certainly won't be easy, and the process shouldn't be rushed. There's little national consensus on what should be done, and much of the research on what works best is extremely mixed. So far, the most the administration has done is backward-looking, though still important: On Thursday afternoon, for example, DeVos approved a $1 million grant for the Santa Fe school district to help it recover from the trauma caused by the shooting. In March, she set aside the same amount in recovery-support aid for the Florida school district that includes Marjory Stoneman Douglas High.
For gun-control advocates, though,Trump's inaction is made particularly egregious by his occasional flirtation with school-safety models that are unproven at best and absurd at worst. Indeed, never has it been more obvious that existing policy solutions—like increasing the number of law-enforcement officers on campus (one of the many strategies included in Santa Fe High's award-winning school-safety plan) or arming teachers with guns (a tactic that Trump and other Republicans popularized after Parkland)—have fallen short. For many of those advocates, the president's casual tone—Trump repeatedly described the gunman as "wacky," according to several news reports—makes the inaction all the more difficult to bear.