The College-Graduation Problem All States Have
Across the country, black and Latino adults are far less likely to hold a college degree than white adults. Can better support for colleges that serve a high percentage of minorities change that?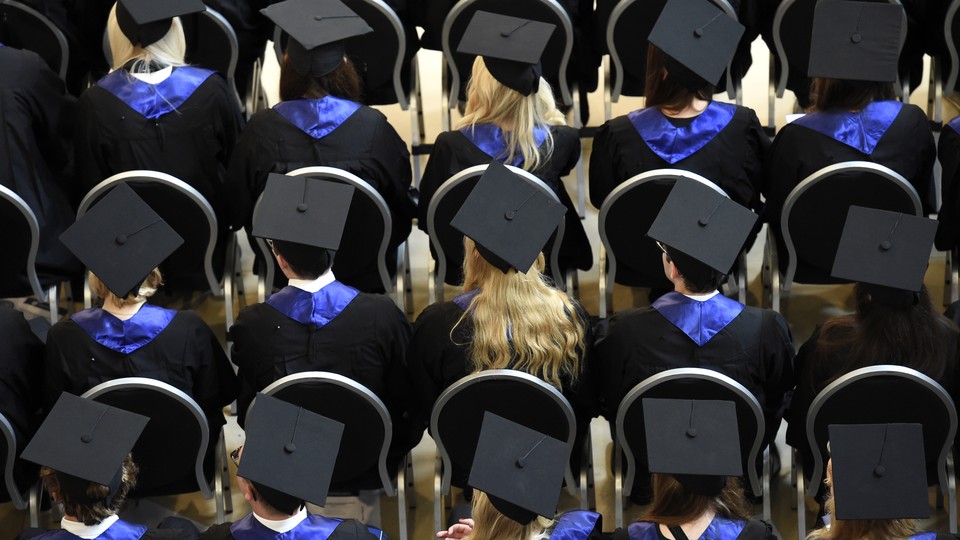 Near the beginning of his presidency, Barack Obama gave a speech to Congress that laid out a goal for the future: "By 2020, America will once again have the highest proportion of college graduates in the world." At the time, America was 12th, according to the Organization for Economic Cooperation and Development.
Almost a decade later, and with 2020 not far off, where do things stand? The percentage of Americans between the ages of 25 and 34 who had earned an associate's degree rose by 7.4 percent between 2007 and 2017—a difference of more than 5 million people, according to the U.S. Census Bureau's American Community Survey. Still, that puts America at 10th in the world, according to the latest available data.
But even though progress has been made, the data remain quite uneven. A pair of reports released on Wednesday by The Education Trust, an advocacy group for low-income and minority students, break down the attainment data more finely. They found that the share of black adults who hold a bachelor's or associate's degree—31 percent—is roughly two-thirds that of white ones—47 percent. And Latinos, at about 23 percent, are just half as likely. Further, the report shows, there is not a single state in the country where black and Latino adults are as likely to have earned a college credential as their white counterparts.
At the root of these differences in attainment rates are social and economic disparities that continue to benefit certain races over others. Still, graduation rates have improved over the past decade, particularly among Latinos, as a report from the left-leaning Center for American Progress shows—and there is a significant difference between the rates of native-born Latino adults and those who were born outside of the United States. (The latter are less likely to have earned a degree.) It's these race-by-race attainment rates that the report advises policymakers to pay attention to—overall graduation rates can obscure how the educational system underserves certain groups.
Andrew Nichols of the Education Trust, one of the authors of the report, explained to me what these changes in graduation rates mean on the levels of individual lives and of society. "We know the value of a college degree, in terms of what it does for wages, what it does for being less likely to be unemployed. We know what it does for the society—having more people who are able to generate higher tax revenues."
More than 40 states have outlined goals for these attainment rates in the past decade, often including specific goal rates for black and Latino residents. What can be done to reach those goals? Well, for one, lawmakers can make sure race factors centrally into policy conversations—and that can look different for different states. For some, it could be as simple as diverting more resources to campuses that primarily serve minority students. A recent report from the American Council on Education, a leading higher-education trade group, found that minority-serving institutions have a special knack for changing students socioeconomic fortunes of students. Such institutions—including historically black colleges and universities and Hispanic-serving institutions—propelled students from the lowest rung of the economic ladder to the highest at at least double the rate of colleges that were not focused on enrolling a particular minority.
Tiffany Jones, a researcher at Education Trust, told me about how it can also help for colleges to assist groups of people with very specific needs. Detroit's Wayne State University, for example, has just launched what it calls the "Warrior Way Back" program (a reference to the school's mascot), that forgives the debt of former students with an outstanding balance of less than $1,500 and no degree, and allows them to return to school. If Obama's goal is to be realized, specialized interventions like this will be just as important as focusing on the top-line attainment rates.