DeVos Says There's One Thing Her School-Safety Commission Won't Be Studying: Guns
The education secretary told senators that the group isn't tasked with studying the role of firearms in campus violence.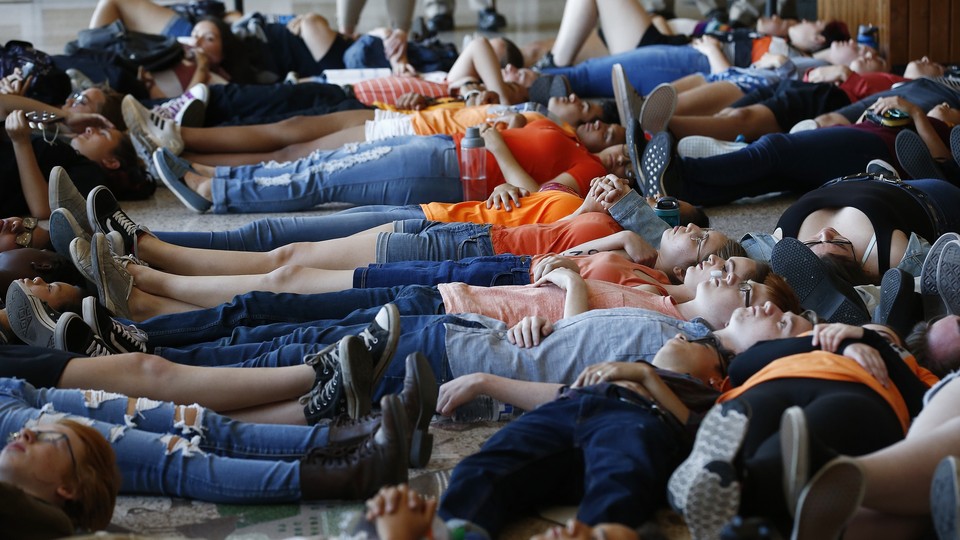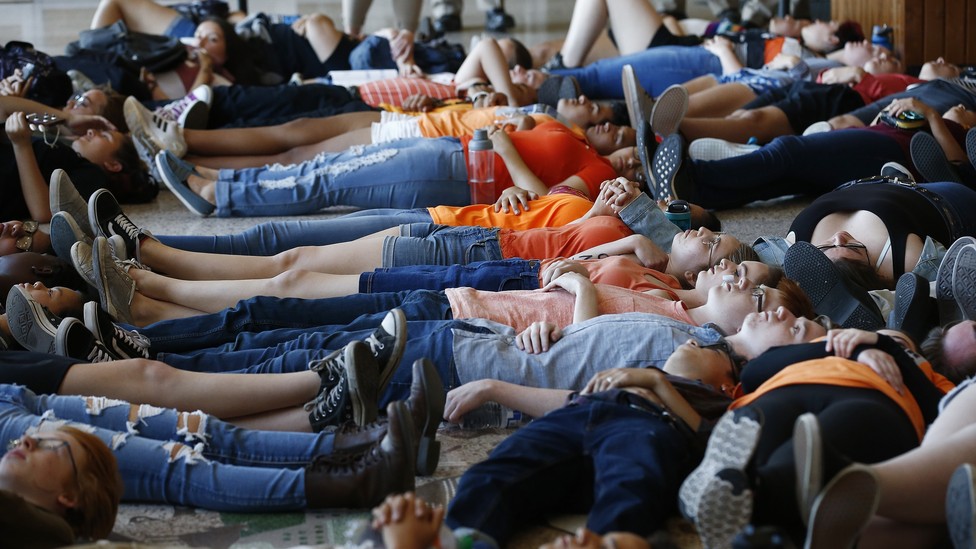 What should be on the list of tasks for President Trump's newly minted school-safety commission, charged with studying what can be done to prevent campus violence?
Perhaps the commission, chaired by U.S. Education Secretary Betsy DeVos, should look at mental-health resources and student-discipline practices. And perhaps it should consider the design of campus facilities. One thing that would seemingly be an obvious candidate for the commission's scrutiny is guns, as guns have been the weapon of choice in every major school-violence incident this year.
And yet it became clear on Tuesday, as DeVos testified in front of a Senate subcommittee to answer questions about the Education Department's fiscal year 2019 budget request, that will likely not be the case. Amid mostly peaceful exchanges about charter-school expansion, the recent wave of teachers' strikes, and Pell grants, among other topics, a handful of Democratic Senators repeatedly asked DeVos how gun policy fits into the commission's duties. She didn't verbalize the G Word once, and at one point—in response to persistent questioning from Vermont Senator Patrick Leahy about the role of guns in school violence—DeVos dismissed that question as outside the commission's charge. It's up to Congress to debate gun control, she indicated; she and the commissioners are instead focusing their research on other potential sources of violence.
"So we'll look at gun violence in schools, but not look at guns," Leahy, the subcommittee's vice-chair, said at the end of his back-and-forth, after unsuccessfully pushing DeVos to opine on whether an 18-year-old should be able to easily purchase an AR-15 rifle and hundreds of rounds of ammunition. "That's an interesting concept."
DeVos's admission stands in contrast with the duties the commission was given at the outset—in fact, examining age restrictions on certain firearm purchases is the first item on the White House's bullet-point list detailing the commission's areas of focus. When the Education Week reporter Andrew Ujifusa asked DeVos's spokeswoman on Tuesday to clarify the matter, she emphasized that, unlike Congress, the commission can't create or amend gun laws but confirmed that it will look into "all issues the President asked the committee to study"—a framing that appeared to contradict what DeVos had said in her testimony.
The responses from both DeVos and her spokeswoman will likely do little to assure the Senators and others who believe gun reform is integral to efforts to make schools safer. For them, the secretary's promise to study the "culture of violence," where it comes from, and how it manifests itself in different ways is incomplete if it's not coupled with a hard look at gun laws.
By relegating gun control to the backburner, the commission could wind up exemplifying what critics say is the Trump administration's half-hearted approach to the country's school-violence phenomenon. After all, the budget DeVos was promoting on Tuesday proposes cutting by $25 million funds designated for national school-safety activities compared with 2017 levels; it also would do away with a $400 million grant program that can be used for violence-prevention efforts.
"This budget is another example of an empty promise made by this administration to address the senseless gun violence devastating our families and our schools and our communities around the country," said Washington Senator Patty Murray, a Democrat, during the hearing. "Your safety commission has yet to take any real action steps and now your budget would eliminate grants used to improve student safety for the second year in a row. After the tragic Parkland shooting, you said Congress should hold hearings on gun and school safety. So, in a show of good faith, I urge you to commit to testify on what meaningful gun safety reform we can enact to help end the scourge of violence in the schools."
When it was her turn to question DeVos, New Hampshire Senator Jeanne Shaheen, also a Democrat, pointed out that the school-gun-violence problem is unique to the United States. She then went on to beg the secretary to tweak the commission's mission to ensure it actively studies gun laws and the role that guns play in school violence.
That DeVos will change course seems unlikely. As striking as her testimony was, it was right in line with her track record on the guns question; DeVos has consistently distanced herself and the commission from gun control. Her responses at the Tuesday hearing were evocative, for example, of those she provided in her widely ridiculed interview with Lesley Stahl on 60 Minutes in March, when she refused to acknowledge that the post-Parkland youth movement was focused on gun control. "They want a variety of things," the education secretary had responded when Stahl stressed the activists' gun-control mission. "They want solutions." That distancing could itself serve as a clue as to what the country can expect from the commission when it announces its conclusions later his year: a litany of solutions in which the word "gun" barely registers, if it gets mentioned at all.