Code Now. Pay Tuition Later.
Coding schools are offering free classes in exchange for a percentage of future income. But at what cost?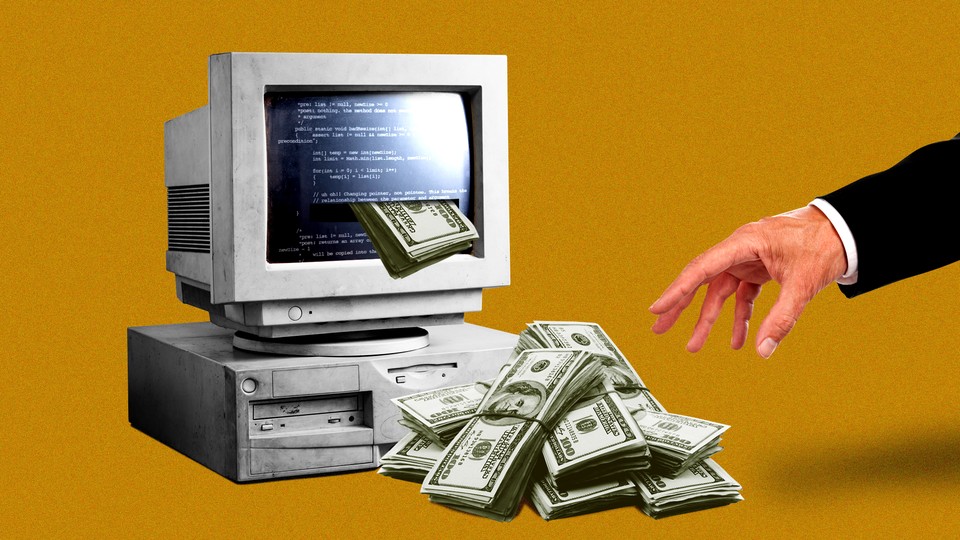 Last year, Lavell Burton decided he wanted to learn to code. He searched online for coding bootcamps, and was surprised to find that many of them cost several thousand dollars upfront. Burton, then 36, was hoping to move from his maintenance job aboard an American naval ship to a career in software engineering in California, where he grew up. He finally came across a 30-week remote program, Lambda School, that was free to attend. The program would provide comprehensive web-engineering training, and would help with job placement. Once employed, graduates would be required to pay back a set portion of their salary under an arrangement called an income-share agreement, or ISA.
Burton made it through Lambda School's rigorous selection process, including an entrance exam covering math and logic. By last fall, he was back in the Bay Area, where he moved in with his ailing grandmother and prepared to begin classes. "They're taking a chance on me," Burton remembers thinking of Lambda School. "If I win, they win."
The concept of ISAs has been around since at least the 1950s, when the economist Milton Friedman outlined them as a hypothetical model of repayment. Yet ISAs were rarely implemented until the past few years, as student-loan default spiked and schools sought to offer other ways to pay. In 2016, Purdue University launched an ISA tuition option aimed at families who might otherwise take out high-interest private loans or Direct PLUS loans for parents to fill the gap between federal student loans and the cost of tuition. Purdue hired Vemo Education, a for-profit startup, to help design and administer the program, which is largely backed by the university's funds. The private schools Clarkson University and Messiah College have since announced plans to follow suit, as has the United States Collegiate Athletic Association, which has partnered with Vemo to create ISA options for its roughly 80 member schools.
Among for-profit programs, in 2012, App Academy, a coding bootcamp with locations in San Francisco and New York, began offering a twelve-week program built around an ISA. Others, like the New York Code + Design Academy, which provides a range of web engineering and design courses, and Holberton School, a two-year program in San Francisco, have similar payment options.
General Assembly, a popular for-profit tech bootcamp, offers tuition financing through private lenders like Climb, but Jake Schwartz, the CEO and a cofounder, said he wants better payment options for students with poor credit. General Assembly recently piloted an ISA option with thirteen students, some of whom are still job-hunting. Once they are making at least $35,000, they will pay back 6.5 percent over five years. Schwartz said General Assembly is soon planning a broader rollout of the ISA option, to see whether ISAs can work on a larger scale and for a broader swath of the population than they currently do. "Right now, it's sort of the Wild West," Schwartz said.
This all comes at an opportune time. There are more than 550,000 open jobs requiring computer-science skills, while fewer than 50,000 computer-science majors entered the workforce last year, according to an analysis of federal labor data by Code.org, a nonprofit that seeks to expand programming instruction in K-12 schools. Leaders of the ISA-based training programs see a business opportunity in the Lavell Burtons of the world—promising individuals without access to cash or credit for tuition. They are betting they can groom them, over the course of a few months, into tech professionals who command competitive compensation in a hot job market. And then take a cut.
The ISA-based programs have generated hype, as well as some early success stories. Yet questions remain about whether they are a good deal for students and if they make for profitable businesses in the long run. For one thing, there's little consensus around how much is fair to reap from program graduates, and for how long. Lambda School, for example, requires graduates earning at least $50,000 to pay back 17 percent of their salary for two years, with total payments capped at $30,000. The terms can vary widely among programs.
Also, while it's clear how programs like Lambda School might help some people improve their prospects, many of them are so new—Lambda School is one year old this month—that there isn't much data about how people do once they get through the programs. That makes it difficult for prospective students to evaluate them.
Pathrise, a remote, part-time program that started offering an ISA option in January, helps software engineers and others polish their job-search and interviewing skills. Graduates making at least $50,000 agree to pay back 7 percent of their salary for one year. The reasoning, according to Kevin Wu, a Pathrise cofounder: "We help you get a job that's at least 7 percent better than the job that you could have gotten." Perhaps—but with just a few dozen graduates to speak of, some of whom are still job-searching, signing on is still somewhat of a gamble for early participants.
Pathrise helped Aaron Ko, a 22-year-old software engineer, switch from a $68,000-a-year coding job to a position at an e-commerce startup called Ipsy, where he makes more than $100,000. The 7 percent payback rate seemed fair to him given the salary bump, he said, and he's satisfied with his new job. But he pointed out that, since California taxes are so high, his Pathrise payments represented about 11 percent of his post-tax income. "That part is a little bit misleading," he said. Wu said he is exploring how the program might be tax-deductible for students as a job-search expense.
Because programs like Lambda School and Pathrise aren't accredited academic institutions and don't have to adhere to external standards, some educators and policy analysts are nervous that businesses might take advantage of students. "I think there's a significant risk that predatory or discriminatory terms could be put on ISAs," said Clare McCann, the deputy director for federal higher education policy at New America's Education Policy program. Two bills were introduced in Congress last year—one in the Senate and one in the House of Representatives—that would establish basic rules for ISAs, like a cap on total payments. They have each stalled, and aren't expected to proceed anytime soon.
It remains unclear, too, whether the programs can consistently recruit enough high-potential students to sustain profitable operations once they exhaust their venture capital. Last year, MissionU, a venture-backed for-profit school, debuted a mostly remote, full-time, one-year program with the bold mission of replacing traditional undergraduate education. The program, founded by Adam Braun, focused on preparing students for jobs at Silicon Valley firms like Uber. MissionU would be free to attend, and graduates making at least $50,000 would owe 15 percent of their salary for three years. But last month, after a little more than a year in operation, MissionU announced it had been acquired by WeWork, which mostly shuttered its operations and released graduates from payment obligations. Braun is now planning to help run WeGrow, a new elementary-school venture WeWork has started.
There are also some student needs that unaccredited programs aren't equipped to meet. As a young teenager in Oakland, California, Burton was arrested multiple times for minor offenses like stealing a dirt bike. He spent a year in a juvenile detention center, followed by two years in a rehabilitation program, where he earned a G.E.D. He later worked odd jobs, and in 2009, he earned a certificate that allowed him to work as a pediatric medical assistant. He enjoyed the work, he said, and took particular pride in putting young patients at ease. After five years, he explored the possibility of becoming a registered nurse, but discovered he'd need to invest in years of additional coursework and training. He balked, and applied for the ship-maintenance job instead.
That Lambda School is free to attend made it a viable option for Burton. But because it isn't an accredited institution, he wasn't eligible for federal student loans to spend on expenses—and Lambda School didn't officially cover them, either. When his grandmother died late last year, her home was foreclosed upon, leaving him without a place to stay. He subsisted on food stamps, bouncing between his father's San Francisco single-room-occupancy unit and friends' couches while on the waiting list for shelters. Soon after Burton began the program in April, Austen Allred, its cofounder and CEO, learned that Burton was homeless, and arranged for him to move into a home shared by several other coders near San Francisco State University. Lambda School, with the help of donors, is covering his rent.
"My goal is to take care of all the things that could be a distraction," Allred said. "If I can do that, I know I can get them to a high-paying job." Allred recently helped a couple of students in similar situations find and pay for housing. He's exploring setting up a nonprofit fund to cover some students' living expenses at scale, and said he might eventually build a brick-and-mortar campus with subsidized onsite housing.
For now, the stopgap solution to Burton's problem made a difference. He said he sailed through Lambda School's early lessons on front-end development. As the course turns to frameworks like React, though, the material has become more complex, so he's lately spent more time going over lessons in online chats and meet-ups with fellow students. By the end of the program in October, he said he hopes to be well-positioned for a high-paying software-engineering job someplace like Google. He said that, whatever the ultimate outcome of his experience, he felt he had little to lose going in. "The educational system is broken," he said. "This is, like, the best option."