Cosby's Honorary Degree Is the First Yale Has Rescinded in 300-Plus Years
The decision highlights the pressure on universities to signal that they're taking the issue of sexual abuse on campus seriously.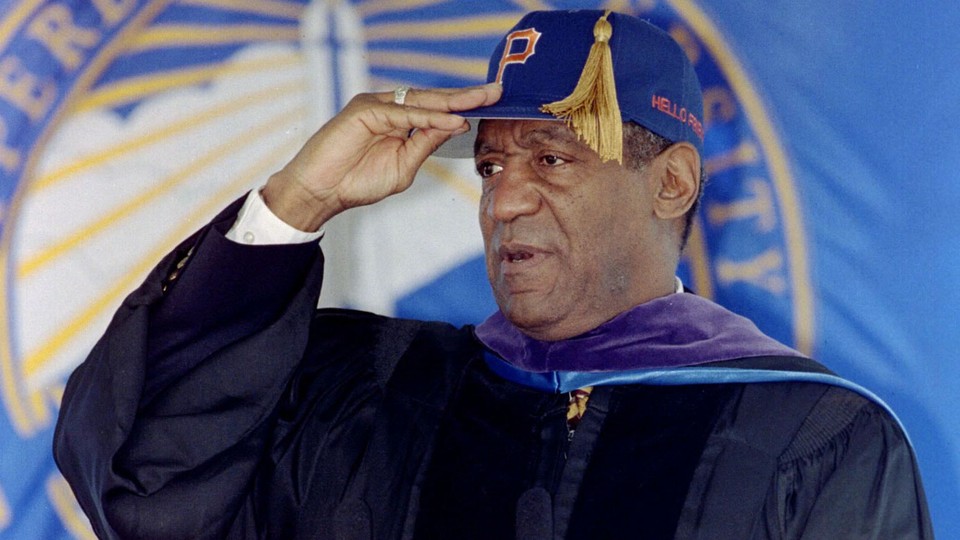 Yale has doled out more than 2,500 honorary degrees since it was founded in 1701. On Tuesday, Bill Cosby, who had an honorary doctorate of humane letters from the university—the kind awarded to people who have made "contributions to society"—conferred upon him in 2003, became the first person in the institution's history to have his rescinded.
The decision was "based on a court record providing clear and convincing evidence of conduct that violates fundamental standards of decency shared by all members of the Yale community, conduct that was unknown to the board at the time the degree was awarded," Tom Conroy, a university spokesman, said in a statement. He further noted that the university "is committed to both the elimination of sexual misconduct and the adherence to due process," adding that the university was reaffirming its commitment to those goals by pulling the honor.
But the decision to rescind the doctorate—and turn back on centuries of precedent—does something else as well: It underscores the gravity of the crimes of which Cosby has been found guilty, and the pressure upon universities to signal they are taking the issue of sexual abuse on campus seriously.
Revoking an honorary doctorate is rare in higher education, so Yale's more-than-300-year streak of never having done so stood out—alongside those of the nation's oldest colleges, Harvard and the College of William and Mary. So it was news last week when Yale announced, after Cosby's guilty verdict came in, that it would consider withdrawing honorary degrees it had given out. Over the years, by Inside Higher Ed's count, Cosby has been the recipient of at least 60 honorary degrees, and dozens of colleges had already revoked the honor before Yale did—including Cosby's alma mater, Temple University, which did so last week. Students had been calling for Yale to yank the honor since 2014, when allegations against Cosby began to resurface.
It wasn't the first time Yale's students had expressed sharp displeasure with someone the university had chosen to honor. In 2001, students protested as George W. Bush, a Yale alum, received an honorary doctorate. And earlier this month, alumni renewed calls for the university to rescind the honorary degree of Stephan Schmidheiny, who was convicted six years ago for his responsibility in the deaths of more than 2,000 people from asbestos-related diseases.
Across the Ivy League—and higher education more generally, which has grown ever more generous with giving honorary degrees to celebrities—the degrees are not often pulled, outside of particularly serious circumstances. For example, the University of Massachusetts revoked one such degree given to Zimbabwean President Robert Mugabe in 2008, calling his leadership "an assault on human rights." And in 1918, the University of Pennsylvania revoked an honorary doctorate it had conferred upon German Kaiser Friedrich Wilhelm II after World War I. Wilhelm and Germany's then-ambassador to the United States, Johann Heinrich von Bernstorff, were the last names stricken from the rolls of honorary degree recipients at Penn prior to Cosby and Steve Wynn, the embattled hotelier, who also lost his degree last week.
As my colleagues Adrienne Green and Alia Wong noted in 2015, "many of the universities who've granted Cosby their highest honor are also struggling to convince the public of their commitment to eradicating campus sexual assault. Retaining any affiliation with an alleged rapist could be seen as disingenuous." In the era of #MeToo and a heightened concern about colleges' commitment to curbing sexual violence—particularly following the Larry Nassar scandal, and the fear of how the landscape for federal policy guiding sexual assault on campus will look after a rollback of Obama-era rules by Education Secretary Betsy DeVos—schools are being forced to make such symbolic decisions with ever more urgency.