Why Walmart Is Paying for Its Employees to Go to College
Subsidizing workers' tuition is a good marketing move—and it should also help with the retail giant's abysmal retention rate.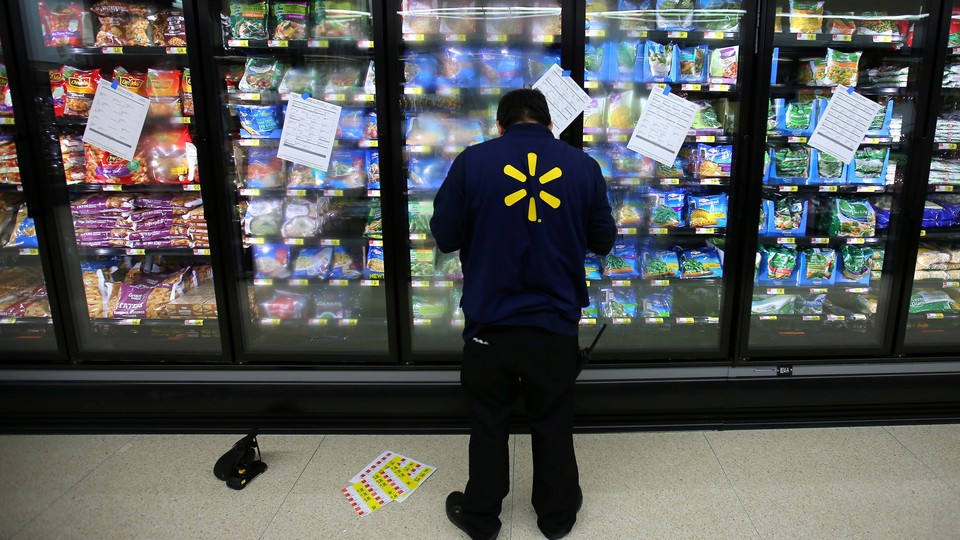 On Wednesday, Walmart announced that it would offer to pay, at least in part, for its 1.4 million employees in the United States—part-time, full-time, and salaried—to go to college, with some restrictions. Though it is not the retailer's first foray into the world of subsidizing education for its employees, it makes it the latest big employer to publicly declare it wants to help its employees get a degree, following Starbucks, JetBlue, UPS, Cigna, Fiat-Chrysler, and others.
Here's what Walmart's plan looks like: Employees will be able to earn their associates or bachelor's degrees in either business or supply-chain management, and Walmart will pay for any upfront costs after financial aid, including tuition, books, and fees, which they say will eliminate the need for a loan. Recipients can attend any of three institutions selected for, according to Walmart, their emphasis on adult students: the University of Florida, Brandman University in California, and Bellevue University in Nebraska.
For their part, employees will have to pay the equivalent of $1 per day to Walmart as a sort of co-pay and there does not appear to be any requirement for employees to stay with the company once they have completed their degree—a feature of several other employer-sponsored tuition-assistance programs. "Investing in the personal and professional success of our associates is vital to Walmart's future success," said Greg Foran, the CEO of Walmart's U.S. branch. "We know training and learning opportunities empower associates to deliver for customers while growing and advancing in their careers."
The move to help its employees go to college looks good for a company that has been pilloried over the years for its low wages, lack of room for career growth, and stingy benefits. That cocktail has made it hard for the mega-chain one-stop shop to retain its workers. But it has tried to change in recent months, boosting its base-pay by $2 to $11 per hour and expanding its family benefits—maternity leave, in particular, which went from six to 10 weeks of paid leave. Offering tuition assistance to employees is another step toward making the company more worker-friendly.
Robert Kelchen, assistant professor for higher education at Seton Hall University, put it like this: "What this shows is—while it's good PR for Walmart—it's getting more difficult for companies to keep employees with the economy improving and they're looking for ways to both keep talented employees and build up goodwill among the public."
But Kelchen says Walmart and the employees aren't the only actors that stand to benefit: The program will also be a good thing for the colleges—as partnering with large employers, for skills that the employers want—is important to higher education's long-term viability. As Kelchen told me, "higher education needs to do a better job of helping students stay connected to higher education while working full-time."
As for Walmart's aim, there's evidence that helping employees go to college pays off. As the economy improves, companies have to work harder to attract and retain workers, and hiring new people is expensive, but these programs can help with retention. As Mikhail Zinshteyn reported in 2016, Cigna posted "a return on investment of 129 percent for its more than 2,200 workers who took advantage of the company's education-reimbursement program from 2012 to 2014." That means that for every dollar the company spent on educating an employee, it not only gained that money back, but saved $1.29 on talent-management costs. And employees who took advantage of the program—entry-level and mid-management, in particular—saw their wages jump by 43 percent over that period compared to their colleagues who did not. On top of that, turnover declined by 8 percent, which saves companies a lot of money. And soon there will be more data about how well it does, as Walmart is partnering with the Lumina Foundation to measure the impact and effectiveness of the new offering.
Maybe Walmart's new program, as Kelchen says, shows that the company has learned from the successes and failures of other employer-sponsored tuition programs, or, more cynically, it's a chance to change the narrative about how it treats its employees. But one thing is for sure: There are a lot of employees who stand to benefit.