American Politics Are a Nightmare for Catholic Universities
Secretary of Education Betsy DeVos's address at Ave Maria University last weekend reignited a debate about the proper role of a Catholic school in a sharply divided time.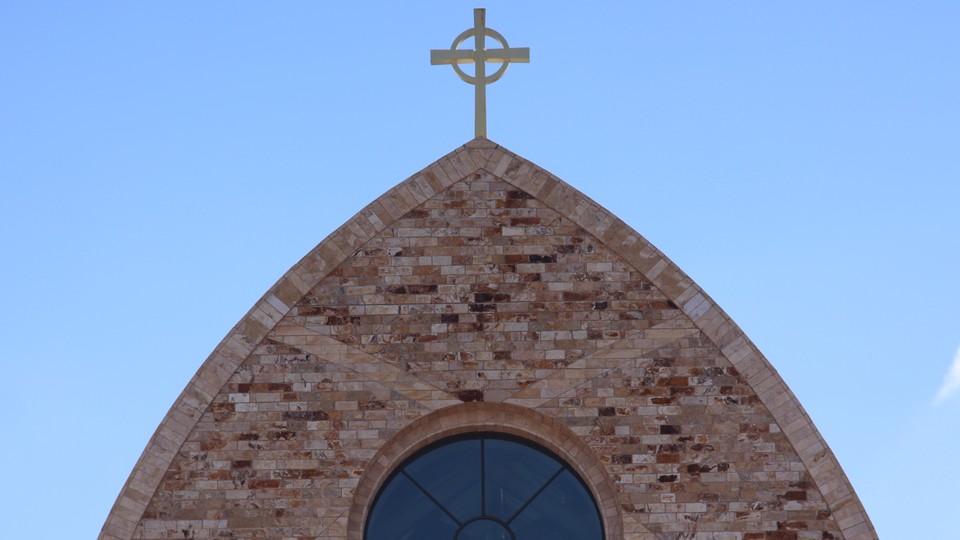 AVE MARIA, Florida—In this enclave in Southwest Florida, the lush, pruned golf course and ritzy subdivisions are eclipsed only by the magnificent church that marks the town's distinctive Catholic character. The town is also home to a similarly named religious institution, Ave Maria University, which was founded in 2003. The institution—and the master-planned community in which it is now located—is the brainchild of Tom Monaghan, the billionaire founder of Domino's, who is originally from Michigan and known for his Catholic philanthropy.
Ave Maria is still in its infancy compared with the big names in Catholic higher education. But Monaghan has a vision. He wants to build a campus that is more religious than the Notre Dames of the world, and this patch of Florida, he decided, was the right location for that. The secluded community feels less like the rest of the state and more like a paradise for those who want to live faithfully. One student, Anne Marie Schlueter, a sophomore, told me the institution's mission of faith-driven education drew her here from Ohio; it was a university where she could build a strong Catholic foundation with which to answer critical questions about the world. But the young institution still has important questions to answer of its own—many about itself—as it grows and navigates debates within its central Catholic identity.
Last week, another religious philanthropist from Michigan drew a spotlight on the conservative-leaning university: Education Secretary Betsy DeVos. And her appearance here animated an ongoing debate about whether there is any good way for Catholic institutions to invite speakers to campus from the world of American politics, at a time when neither political party is perfectly aligned with Catholic teaching, and there is little breathing room in the political discourse for anyone else.
Perhaps it was inevitable that even in an environment as welcoming of DeVos's policies as this, there would be opposition to the university honoring her by inviting her to speak on campus. Though the Church has clear views on a number of matters—such as its opposition to all forms of abortion—others, such as whether the death penalty is ever warranted, are a bit more muddled.
As Miriel Reneau, the valedictorian of the 2009 graduating class at Ave Maria, told me, "there is a trend to equate faithful Catholicism with allegiance to the Republican Party in its current form—which is complicated—that I am convinced is a very misguided trend, and ignores key parts of Catholic social teaching." Those who opposed the secretary's appearance on campus, for the most part, were not upset because of her vocal support of elementary and secondary school-choice, as many who protest DeVos are, but they were concerned about how her policy moves affect the poor and downtrodden, as Catholic social teaching requires. They also expressed unease about what she represents as a member of an administration whose leader, in their view, could be perceived as having a shaky foundation in sexual ethics.
There are unclear areas in what Catholicism recommends—for example, the Church holds that members should care for the poor, but what that means in practice is debated—that make it hard to associate the religion with one party exclusively. But the rigidity of polarized American politics isn't accommodating of a cafeteria-line approach to political positions: There's no taking a little from one party, a little from another, and a little from a third. It's all or nothing. That often means that if someone picks a side in one policy, he or she will be criticized for aligning with the broader agenda of that side.
Richard Garnett, a professor at Notre Dame who writes about freedom of speech and religion, put it like this: "It's going to be a rare politician [who is] going to line up with the catechism on all fronts." So, predictably, when a political figure is invited to speak at a Catholic event, it is going to be divisive. "It's almost always going to be true given American politics and the way our parties divide up," he said.
This has been true for many of the leading Catholic institutions that have sought to honor various political figures over the past decade. When Barack Obama was slated to deliver the commencement address at Notre Dame in 2009—as many presidents have done in the past—students and members of the Catholic community protested. They did so again when John Boehner and Joe Biden were awarded the prestigious Laetare Medal, which recognizes Catholics for "outstanding service to the Catholic church and society." Last year, a group of students walked out as Vice President Mike Pence delivered the commencement address at the university. One way or another—whether it was more liberal Catholics protesting Republicans, or more conservative Catholics protesting Democrats—the Church's moral and social teachings could be used to justify opposing the speaker.
DeVos, this year's commencement speaker at Ave Maria, has gotten quite familiar with protests these last 15 months. Opposition to her presence has become something of a ritual. Since being confirmed in February of last year, her campus visits across the country, from Kansas to Nebraska to Florida, have been accompanied by groups standing—both literally and figuratively—in opposition to her perceived policy goals. Some of the most notable protests of the past year, at Bethune-Cookman University and the University of Baltimore, have occurred at graduation ceremonies—during which students have stood and turned their backs in opposition. Often the protesters have their sights set on issues that extend far beyond DeVos: Students in multiple cities have told me that they are protesting what she represents as a member of the Trump administration more broadly.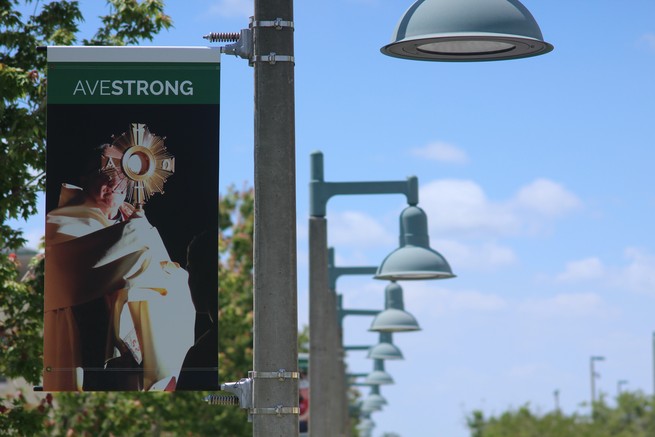 On Saturday, students stood as DeVos delivered her address. But this time it was different: They were standing, alongside their family and friends who joined them for their honored day, in rousing applause for the secretary who delivered an address on the importance of service. "You're blessed to live in the most successful and most free country in the history of human civilization. But there are those who are vulnerable, those who are forgotten right around us," she told the captive audience in a fieldhouse-turned-events-center. "What will you do to put your newly gained skills to work in the service of others?"
The address continued like this, with line after line of ordinary commencement-speak boilerplate. The room was dim aside from spotlights that illuminated the stage. And the crowd was indistinct but for the motion of heads nodding in agreement as the secretary spoke, buoyed by applause, and a handful of laugh lines made it clear she was playing to a friendly audience. There was no honorary degree conferred—the most common way of honoring a commencement speaker—but there was no doubt that the platform, and praise from the university's president, represented some kind of honor.
Weeks before the address, in an open letter to the Naples Daily News, dozens of alumni took issue with their university's decision to honor someone whose actions they found inconsistent with Catholic social teaching. Moreover, they were concerned about what it meant for a university, particularly a Catholic one—in honoring DeVos with the slot of commencement speaker and by praising her in such glowing terms—to essentially align with the Republican Party.
"While we encourage AMU to invite speakers of diverse political, social, and religious backgrounds who are open to respectful dialogue, a public endorsement of an incumbent Cabinet member and her achievements from the University's most senior administrator rings as an endorsement of a specific political agenda," the alumni wrote. "We are concerned that this endorsement degrades AMU's liberal-arts character that allows students to 'become actually free in … mind and judgment' and casts the University in a pointedly partisan light." (In a separate letter, more than 100 alumni responded, defending the university's decision.)
In an opinion column in The Daily Caller on Thursday, Jim Towey, the president of the university, did more than suggest support for DeVos's actions—he explicitly applauded them. The university gained national attention last fall for its response to Hurricane Irma, since it sheltered hundreds of people, including elderly immigrants and children, who had been displaced by the deadly storm. However, it was not only the power of prayer that helped the university through the difficult time, he wrote in the column. "In a strange way," he said, "we also had the Obama Education Department's Office of Civil Rights (OCR) to thank for teaching us how to weather eight years of Category 5 storm conditions."
He argued that the Obama administration had been overzealous in the guidance letters it had issued, particularly the 2011 "Dear Colleague Letter" that outlined how universities should deal with sexual assault on campus. The goal of ensuring colleges work diligently to respond to sexual violence was widely shared, but, he argues, its implementation was flawed. "Enter Secretary DeVos," he continued, "who immediately saw the imbalanced landscape and came to the rescue."
Towey echoed that endorsement during his speech introducing DeVos on Saturday. He thanked her for "leveling the playing field" by lessening the regulatory burden placed on the institution by the Obama administration. And he congratulated her on the work she had been able to do over the last 15 months despite having a scarcely populated political staff at the department. But, most importantly, he concluded, she was invited, and they were grateful to have her, "because Ave Maria has a tradition at commencement of bringing in role models for our students: Individuals of high character and civility; leaders who conduct themselves graciously, and embrace moral principles and moral truth in the pursuit of higher purpose."
The ringing endorsement in—at times—partisan terms, some alumni argue, is exactly the kind of thing that an administration, particularly at a Catholic institution, should avoid.
By explicitly endorsing policies associated with a Republican administration, Reneau, who signed on to a letter opposing the secretary, said, it "raises reasonable doubt about the ability of the university to critically evaluate the relevant political questions." And faithful Catholics well-versed in the social teachings, she continued, "will understand that really neither political party in their contemporary forms in the United States espouses what Catholics are really required to believe and practice on the political front."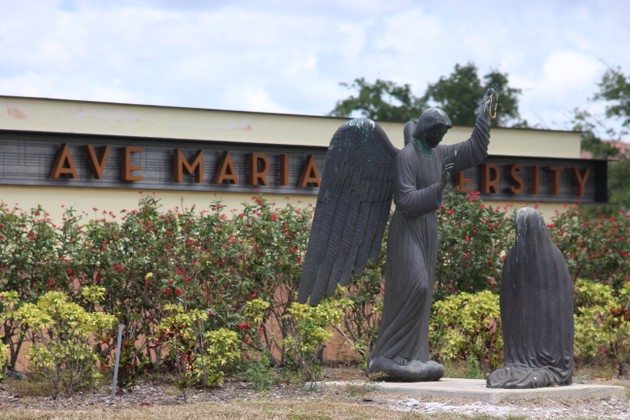 On a more practical front, a de facto endorsement of the Republican Party might isolate politically liberal Catholics who might otherwise have sought to attend the institution but were dissuaded by overt political leanings.
The United States Conference of Catholic Bishops has tried to clarify who in political life—or otherwise—should be honored by Catholics and their institutions. "The Catholic community and Catholic institutions should not honor those who act in defiance of our fundamental moral principles," they wrote. "They should not be given awards, honors, or platforms which would suggest support for their actions." The open-endedness of the statement, however, leaves room for interpretation about the level of "defiance" that would preclude someone from speaking at a university. And it opens the floor for both liberal and conservative Catholics to protest those who are honored on campuses.
Garnett has tried to grapple with the question as well, and, as he put it, "our goal when we 'honor' is not merely to avoid scandal or culpable complicity; it is to hold up for emulation, and to attract others to, actions and actors we admire and think are admirable, because of who we are." In an interview, he told me that the university could have extended the offer to DeVos in terms that were purely in line with Catholic teachings—arguing that she has done a lot to raise awareness about choice-based education reform. In fact, in her speech on Saturday, the secretary called it her "moral obligation to expand educational opportunities for each and every child." And Catholics from across the political spectrum, including Archbishop Blase Cupich, who helped tip the scale in a battle over education reform in Illinois, tend to get behind choice policies.
But even then, there would likely have been opposition, because the lines that divide America divide the Church.