The Selective Westernization of NYU's Abu Dhabi Campus
A new report criticizing labor practices at NYU's United Arab Emirates campus suggests that though the facility bears the same name, it isn't held to the same labor standards.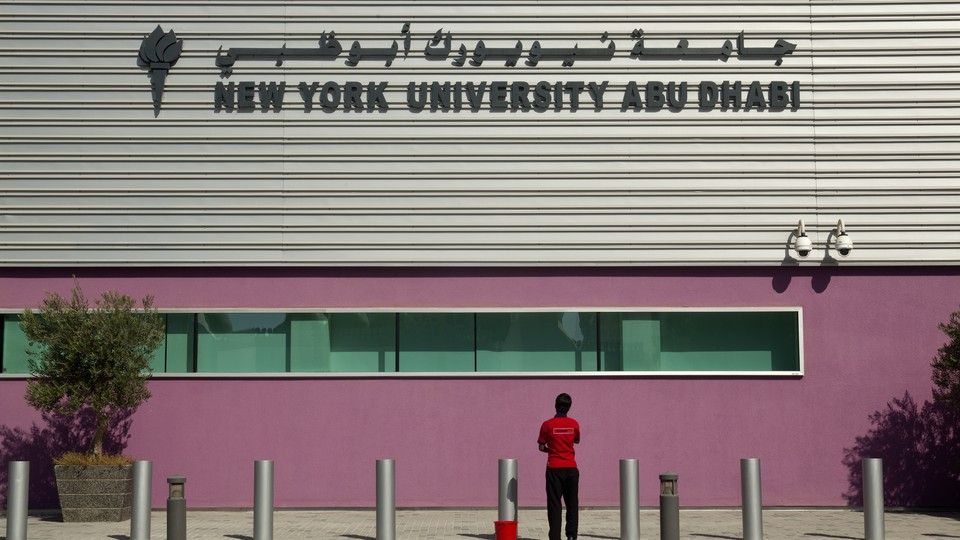 Abu Dhabi's Saadiyat Island gleams in promotional photographs. It is all glittering museums and hotels, green-grassed university campuses and golf courses, and smiling Emirati men and women. It is the home to branches of some of the Western world's premier cultural and educational institutions: the Louvre, the Guggenheim, New York University. Officials in the United Arab Emirates tout the island as an embodiment of their burgeoning cultural influence: "It is no longer sufficient to have military or economic power if you are not able to share your values," said one Emirati diplomat at the opening of the Louvre last year. "Exchange—this is what soft power is about."
But a new report, published Thursday, provides ammunition to critics who argue that the Emiratis are interested in importing institutions that provide the veneer of Westernization, but not the values associated with them. The report, written by New York University's Coalition for Fair Labor, a faculty-student advocacy group, claims that the university may have violated Emirati law by relying on forced labor in the construction of its Abu Dhabi campus.* The report castigates NYU for refusing to reimburse tens of thousands of migrant workers for recruitment fees that they incurred in getting the construction jobs (among other costs), despite, they say, an initial promise to do so, and argues that it failed to put in place adequate measures to protect workers currently employed there.
The author of the report, Sahiba Gill, an NYU law-school student, said that one of the university's main selling points in establishing its branch in Abu Dhabi in 2009 was that it offered students an education in how to be ethical global leaders. Most migrant workers are forced to pay onerous recruitment fees to be hired in the UAE; NYU said it would reimburse any fees incurred by workers building its campus. However, Gill said, NYU has failed to live up to its own standards. "When NYU is out of the spotlight overseas, where it doesn't have the constant media attention on it, it has really dropped the ball in the last three years in rectifying major human-rights abuses," she told me. "And this really calls into question whether NYU is fulfilling its mission of being that global, ethical university that it so wants to be." NYU disputes the report's findings: "We believe the Coalition for Fair Labor's assessment is neither right nor fair," Kate Chandler, a NYU Abu Dhabi spokeswoman, said in a statement. "We disagree with the report's findings, which are not based on primary evidence."
The issue of forced labor at NYU's Abu Dhabi campus came to light after a 2014 New York Times article detailed how migrant workers on the project were housed in dismal conditions, paid lower salaries than they had been promised, and subjected to police brutality upon launching a strike. The vast majority of workers had to pay up to a year's salary in recruitment fees to get the job in the first place, and had their passports taken by their employer, leaving them trapped and with no choice but to continue working. NYU didn't reimburse most construction workers' recruitment fees, interpreting its commitment as applying only to those who paid fees specifically to work on the campus project. Following the New York Times report, NYU released a new set of rules meant to protect workers, and established stronger and more transparent mechanisms for monitoring compliance with its labor standards.
The NYU coalition argues, though, that the measures put in place by the university don't go far enough. Its report evaluates the changes implemented after the New York Times article, and assesses the risks still facing workers on the university's Abu Dhabi campus. It faults NYU for continuing to decline to reimburse workers involved in the construction of its campus for their recruitment fees, and alleges that the university has gone back on its commitment to greater transparency. When it comes to workers employed by the university today, the institution guarantees reimbursement only for those who paid recruitment fees within one year of starting work on the Abu Dhabi campus, leaving those workers who have been in the UAE longer—and paid the fees in the past—without hopes of redress from NYU. Meanwhile, a report by an independent monitor on the university's compliance with its own commitments on labor standards, which NYU promised to make public by 2016, had yet to be completed until this month.
NYU Abu Dhabi officials forwarded the school's new assessment, conducted by its independent monitor, which found "a good level of compliance among contractors and a high level of satisfaction among workers," when it came to labor standards. It reported that while auditors found 87 breaches of NYU's own labor standards—a set of guidelines updated over the course of the project, following UAE labor laws—77 of those breaches had been resolved in follow-up audits. The report monitored compliance only in the period after the campus was operational, so did not include information on alleged labor abuses during the construction process.
Chandler said NYU had delayed issuing a public compliance report because after strengthening its guidelines to protect workers, in 2016, it needed time for the independent monitor to properly assess the effect of the new rules. With regard to its policy to reimburse recruitment fees only for workers who paid fees within a year of starting work on campus, Chandler said the university had been attempting to determine whether any given worker had indeed traveled to Abu Dhabi to work for NYU. For workers who had been employed in the UAE for years before arriving on campus, she said, "We regard a claim to reimbursement as more tenuous, and not appropriate to be directed towards us."
Tamkeen, the Emirati development authority that works as NYU's local partner, did not respond to a request for comment.
It is not only with workers' rights that NYU has struggled, and sometimes failed, to import its principles to the UAE. When the university first opened there, fueled by a $50 million "gift" by Abu Dhabi and the promise of much more, it declared that it would be run as a "cultural free zone"—an area where its standards of academic freedom would be respected. It hasn't worked out that way: Mohamad Bazzi, an NYU journalism professor, wrote last year that the Emirati government had denied him a visa to work at the Abu Dhabi campus, which he believes was in part because he is a Lebanese Shia, a group that Emirati officials might suspect is sympathetic to Iran. In 2015, the Emirati government barred another NYU professor, Andrew Ross, a specialist on labor issues, from traveling to the UAE to conduct research. Meanwhile, an unknown individual or institution hired a private investigator to gather information on Ross and a New York Times journalist who published the 2014 article revealing labor conditions at the NYU Abu Dhabi campus; the article's co-author said Emirati security officials approached him with a promise of large payments and immunity from prosecution if he wrote pro-UAE propaganda.
Chandler said that faculty and students on the NYU Abu Dhabi campus enjoy full academic freedom, and that the university considers it "disingenuous" to conflate academic freedom with a country's immigration decisions. No university, she said, can overrule a sovereign state's decision on who can enter its territory.
The abuses that surrounded the construction of the Abu Dhabi campus could have served as a warning for these continued violations of NYU's understanding with the UAE—but human-rights researchers said NYU ignored it. "I always found NYU to be kind of credulous, really," said Nicholas McGeehan, who authored Human Rights Watch's most recent report on workers' rights in the United Arab Emirates in 2015. "NYU had enormous faith in [the Emiratis], and consistently talked about the fact that their government partners were very sincere about labor reform. And there was a general sense of outrage from them"—toward critics—"when it was pointed out that this was not true."
The new report outlines how other major multinational companies have worked to eliminate the risk of employing forced labor. Apple, it points out, reimbursed $30 million in recruitment costs to workers after it found itself in a comparable situation. NYU has yet to take such a step—and Gill believes the university still has yet to come to terms with the ethical and legal risks it faces in Abu Dhabi. "NYU has to know what its risks are, and it also has to be a law-abiding institution—that's essential for its governance," she said. "What this case suggests is that NYU hasn't fully thought through the implications of operating in a foreign jurisdiction, particularly on politically sensitive issues like this."
---
* This article originally misstated the scope of the allegations against New York University. We regret the error.