The Higher Education Nearly All Americans Love
Despite news reports that Republicans are generally skeptical of college, there are certain programs and institutions that they are quite warm to.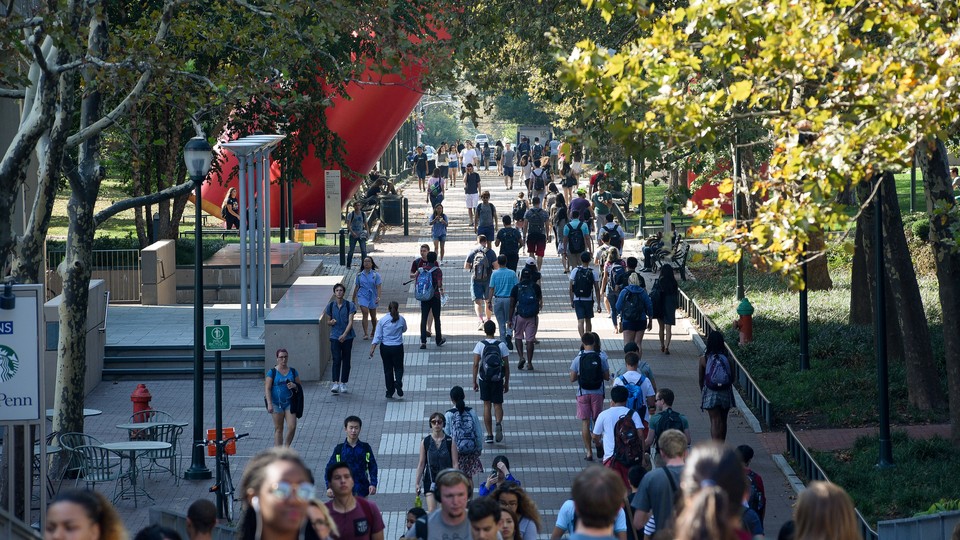 Two surveys last year painted an unambiguous picture: Republicans had soured on higher education. They thought colleges had a negative impact on the country and the "way things were going." But a new survey shows that Americans' attitudes towards higher education—regardless of political affiliation—are a little more complex. Not only do Americans value education after high school, many of them—of both political stripes—are willing to have more of their tax dollars support it.
New America, a left-leaning think tank, released on Monday its second annual "Varying Degrees" survey, which examines Americans' perceptions of higher education. Whether or not people thought higher education was worth the cost varied depending on the type of institution: For-profit colleges fared worse than four-year private colleges among all Americans, which fared worse than four-year public colleges.
But there were some forms of education after high school Americans had no problem getting behind. Eighty-three percent of Republicans and 81 percent of Democrats think community college is worth the cost. And 90 percent of survey respondents—90 percent of those who identified as Democrats and 93 percent of those who identified as Republicans—believe workforce-based skills programs, such as apprenticeships, prepare students for a good standard of living. Fifty-seven percent of Americans on the whole, the survey found, believe that there are good jobs that pay well that do not require college. But when asked whether there are good paying jobs that do not require education after high school, that numbers drops to 47 percent.
What does that mean? Essentially, people see the benefit in higher education, but that doesn't always mean college. Higher education isn't a monolithic enterprise, and Americans appreciate that fact. Despite lukewarm feelings about higher education generally, 80 percent of Americans have a positive view of the institutions near them—that often means community colleges. And a little over 80 percent of Americans believe community colleges are worth the cost—the highest mark among "colleges," according to the survey. On top of that, 90 percent of Americans think that apprenticeships and skills-training programs prepare people for a good standard of living.
There's a good reason why there are such high marks for those sectors of higher education, Representative Virginia Foxx, the Republican from North Carolina, told me in a recent interview. "There is a lot of nostalgia for what we have called 'vocational schools' or 'trade schools' in the past because people could lead very successful lives as a result of gaining skills in those programs," she said. Skilled electricians, plumbers, welders, and so on all served the community and were respected for it, continued Foxx, who is also the former president of Mayland Community College in North Carolina. Those sorts of workforce-education programs still exist, and oftentimes, they are at community colleges—and they are in high demand.
Though, surely, many community colleges have positioned themselves as launchpads to baccalaureate programs, they often offer certificate and credential programs, and are the beneficiary of much of the $114 billion the government spends annually on workforce development and education programs. As my colleague Alia Wong recently wrote, "Community colleges are not just a substantial part of the future of American education—they are also a substantial part of its present."
The price of college is rising, and even if oftentimes the sticker price doesn't equal what someone will actually pay, people are questioning whether or not it is worth it. New America's survey results show that a majority of Americans believe that public colleges, at least, are worth the cost—they are much more skeptical, however, of private colleges. Still, the price may lead people to other, more affordable options with the hope of a good job on the back end.