A Witness to the Desegregation—and Resegregation—of America's Schools
Rebecca Palacios began teaching soon after a landmark court case mandated integration of Latino schools—and watched the case's effects weaken over decades.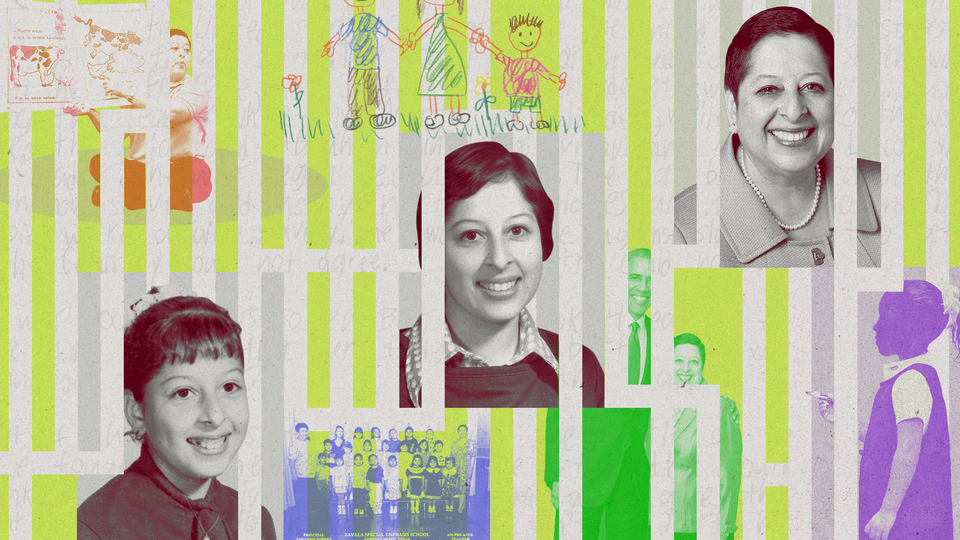 Editor's Note:
In 1988, a teacher most commonly had 15 years of experience. In recent years, that number is closer to just three years leading a classroom. The "On Teaching" series focuses on the wisdom of veteran teachers.
On Rebecca Palacios's first day in front of a classroom, one of her white students picked up his chair and threw it toward her, declaring that he refused to be taught by a "Mexican teacher." It was 1976, Palacios was 22 years old, and many of her first-grade students were at the school because of a recently launched busing program in Corpus Christi, Texas, that the courts had mandated in an effort to racially integrate campuses. Large numbers of white students were now traveling across town to her school—Lamar Elementary—which for generations had served mostly working-class Mexican American children.
Growing up in the 1950s and '60s, Palacios learned about American discrimination against Latinos first-hand. Her father, a World War II veteran who worked for the public-park service in Texas, spoke frequently about the daily humiliations of being a Latino in America—of not being able to eat in certain restaurants or use certain water fountains. He would recount stories of teachers prohibiting him from speaking Spanish in school, sometimes hitting him when he spoke it with his friends.
The use of Spanish was still discouraged in Corpus Christi school buildings when Palacios became a student in the 1950s. Designed to funnel Latinos into vocational tracks such as factory jobs or secretarial work, these segregated schools didn't offer academically ambitious students like Palacios the advanced classes they needed to attend college. But thanks to her high-school teachers—both white and Latino—who created the necessary coursework using their own resources, Palacios became the first person in her family to go to college.
Those teachers had a profound impact on Palacios's life, and, in turn, on the thousands of students she taught in Corpus Christi. Over the three decades that followed that September day in 1976, Palacios would go on to became one of the most distinguished early-childhood educators in the country, renowned for promoting her students' sense of agency, intellectual curiosity, and love of learning. The arc of her career captures some of the major shifts—desegregation, resegregation, and declines in public funding—that have shaped America's schools over the past several decades.
Palacios's first two years of teaching at Lamar Elementary were some of the toughest in her life, she recalled earlier this year, sitting in her office in downtown Corpus Christi. Palacios retired in 2010 and now works as a consultant for the district as a coach of teachers. Behind her, pictures of Palacios's five children, her husband, and their grandchildren dotted a bookshelf.
The Corpus Christi busing program that began around the time Palacios started teaching was the byproduct of a ruling by a federal judge in 1970 that made the city the first in the United States to extend the 1954 Brown v. Board of Education Supreme Court decision to Mexican American students. Prior to the 1970 ruling, Corpus Christi officials argued that Brown only applied to black-white segregation. It wasn't until Jose Cisneros and 23 other fathers—all members of the United Steelworkers union—sued the district for isolating Latino students in inferior, underfunded schools that the courts recognized Mexican American students as a minority group with their own history of discrimination in education. In establishing that Latino children deserve the same protections as their black peers, the Cisneros v. Corpus Christi Independent School District ruling had far-reaching consequences for every school in the nation: It prompted additional rulings that eventually extended Brown's protections to all historically marginalized students of color.
Around the same time that the Corpus Christi district started providing funding for its busing program, the federal government began sending money to schools serving children who'd grown up in poverty. Project Follow Through, which was part of President Lyndon Johnson's War on Poverty, funded intensive coaching of teachers, medical care for children, engagement of families in school governance, and parenting classes. These investments, which at their peak had a budget of $60 million, contributed the most to Palacios's teaching successes as a bilingual early-childhood educator early on.
About half of Palacios's first-graders at the time were white, and many of their parents weren't happy about the new busing arrangement. But many supported the idea of integration and lobbied district officials to bring in new resources to the school, like art and science supplies, and advanced classes. Palacios recalled those years as an intense period of growth that pushed her to go beyond traditional teaching methods focused primarily on content delivery and memorization. She yearned to create engaging learning environments that challenged her students to ask questions, deliberate answers with their peers, and learn how to integrate diverse ways of thinking about the world.
In 1982, Palacios enrolled in the graduate school at the University of Texas in Austin to work toward her doctorate in education, which would, she reasoned, help her ground her innovations in the latest research, and give her more authority to bring those changes beyond the confines of her classroom. The following year, Eduardo Torres, who had left Lamar to become the principal at Zavala Elementary, asked Palacios to join his team as an early-childhood educator, where Palacios ended up working for 24 years, focusing her methods entirely on preschool-age children.
While at Zavala, Palacios developed an innovative curriculum—in collaboration with her colleagues—that the district adopted for all preschools from 2001 to 2010. Palacios's two-week units were based around the theme of families: human, animal, plant, and insect "families." With that change, for instance, rather than reading a book on farm animals, and then developing vocabulary by answering simple questions about the book, and memorizing key words and concepts, Palacios's lessons now integrated multiple disciplines in every hour of instruction, including literacy, math, science, and social studies. As students investigated farm animals—often guided by their own questions about the topics—they could leverage and build on previous knowledge they learned while exploring other families.
Because integration of different disciplines helps children engage with new concepts through familiar themes and patterns, such approaches can make classrooms more inclusive and engaging for diverse children with varying skills and interests. A child who finds certain math tasks, like memorization and repetition, boring or too abstract, for example, forgets that she is engaging in those tasks by counting the wheels of the farm trucks or comparing the shapes of the buildings on a farm.
For Palacios, such approaches—which fall under the rubric of teaching "the whole child," in education jargon—require well-trained educators, sustained funding for learning materials, such as building blocks or paint, and supportive administrators like Torres. "When my teaching partner and I would come to the office of Mr. Torres, asking for something to implement our latest innovation, he'd always say, 'If it's for the kids, we're going to make it happen.' Having that stance was a critical base for my ability to succeed and stay in teaching as long as I did."
Just as Palacios reached a degree of success in her sixth year of teaching at Lamar, the Corpus Christi school district, the courts, and the Cisneros plaintiffs were sparring over the mechanics of busing. District officials were constantly changing bus routes and school assignments, which exacerbated the growing resistance to integration among many parents. By 1982, the plaintiffs agreed to end the court-mandated busing, settling for a district program that would allow students to attend schools outside of their neighborhoods but wouldn't cover the cost of transportation. The court also mandated increased funding to high-poverty schools like Zavala and Lamar as the means of fulfilling the 1970 ruling.
This marked the end of one of the 20th century's most significant civil-rights battles. Corpus Christi schools soon resegregated. Today, 93 percent of students at Zavala Elementary are Latino, and 95 percent are poor. Roughly two-thirds of its students, meanwhile, are labeled as "at risk of dropping out" based on their achievement levels and disciplinary issues. Most of the extra local funding that came as a result of the Cisneros lawsuit also disappeared over time, compounded by the deep state cuts, which have reduced the overall pool of funding for all of Texas public schools.
Meanwhile, Palacios continued to refine her methods, developing "journals" to detect what her 4-year-olds—who typically can't yet read or write fluently—learned every day. Students would respond to Palacios's questions by drawing pictures and telling stories about them, using new concepts and words they'd learned. She also started coaching parents every six weeks, including by modeling lessons on how to teach reading at home, which she said became one of the most effective strategies she'd implemented in her career.
"The hardest part about teaching before I retired was seeing the disintegration of support for public schools," Palacios said over lunch at a local restaurant, during an all-day training session for preschool teachers she organized in collaboration with the district. "What I've seen over time, especially in the last 10 years, [is that] there are so many new, unfunded demands and programs. STEAM [science, technology, engineering, the arts, and mathematics] initiatives, for example, require resources. You can't talk about granite if the kids haven't seen granite. You can't talk about water pressure, water displacement, or buoyancy without water droppers, PVC pipes, or water tables that make up these experiences."
When touring classrooms in the Corpus Christi district a few years ago as part of a teacher-training initiative, she observed that worksheets had replaced the paint, glitter, and building blocks that once dominated preschool learning spaces.
Despite the retreat from integration efforts and anti-poverty programs by the courts and the government, Palacios still views the legacy of the Cisneros case as crucial progress. "Schools resegregated, but the eyes were open: Separate is not equal."
These days, as Palacios coaches dozens of teachers in Corpus Christi, she talks to them about the importance of leadership and advocacy, just as much as she talks about teaching practices. Palacios tells them how she created a pre-kindergarten professional association, which, at one point, convinced the school board not to cut the district's paraprofessional positions. She also hosted a yearly open house in preschools for school-board members and administrators across the district to show them the promise of effective and engaging teaching through sustained funding.
"I know it takes a lot of energy to do all that, but if you're going to complain about it, it's never going to make a difference," Palacios said at the end of a long day of coaching teachers. "You've got to be in there, be the advocate, and make the changes for the children."
---
This article is part of our project "On Teaching," which is supported by grants from the William and Flora Hewlett Foundation, the Spencer Foundation, the Bill & Melinda Gates Foundation, and the Panta Rhea Foundation.