The Ivy League School That Won't Talk About Its Most Famous Graduate
The University of Pennsylvania wanted a president. Trump was the one it got.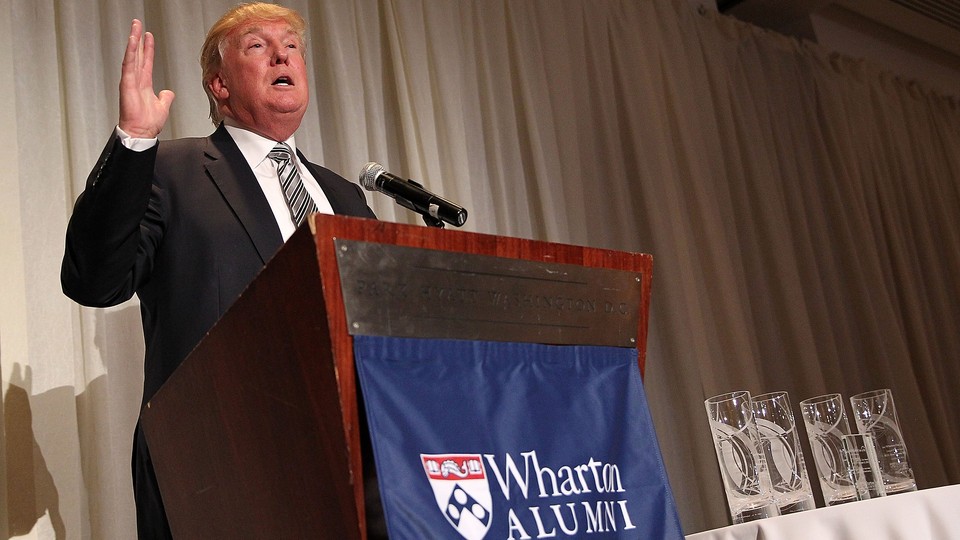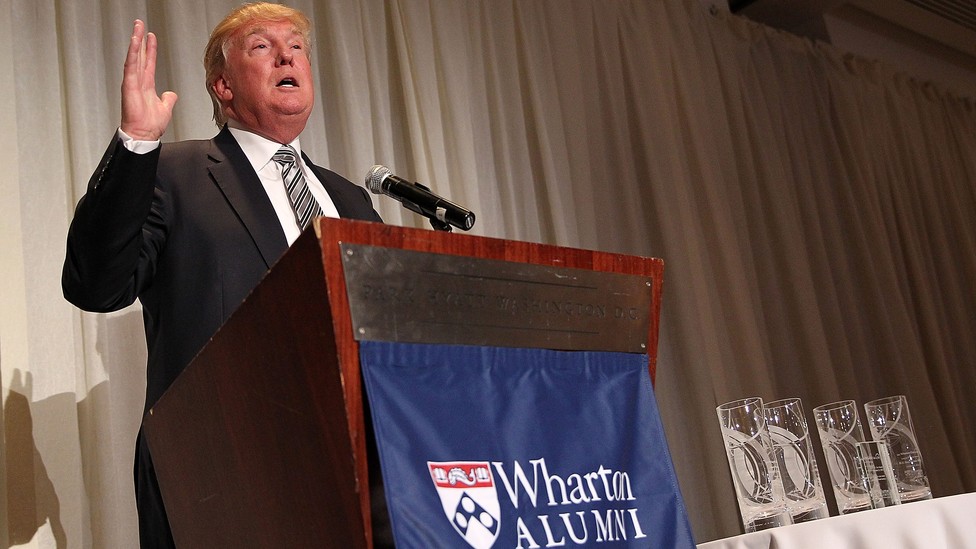 For 176 years, William Henry Harrison was the only president the University of Pennsylvania had any kind of claim on, and even then it was kind of a stretch. As a student, Harrison did a brief stint at Penn, but he didn't stay long enough to get a degree. And he only lasted a month in office, dying of pneumonia in April of 1841. Ever since then, Penn has waited, as Harvard, Yale, and other of its Ivy League peers sent alumnus after alumnus to the Oval Office.
Then, in November 2016, Penn's fortunes changed, when Donald J. Trump, class of '68, won the presidency. The university, though, has never formally celebrated this accomplishment. On Monday, Penn's administration convened upward of 20,000 undergraduate and graduate students for commencement, and did what it has been doing for most of the past three years: not talk about Donald Trump. Other things it did not do include having Trump deliver a speech or giving him an honorary degree.
Penn's officials have been mostly silent about Trump, perhaps because he is not necessarily beloved on campus. Michael Williams, a rising sophomore at Penn studying political science, told me, "All of the conversations, or most of the conversations that I've had, and that my peers are having, is, 'This guy's a mess.'" Another student I talked to, Eric Hoover, an undergraduate at Wharton who founded a campus pro-life group, said, "I know probably all the people on campus who are pro-Trump, or openly pro-Trump, and it's not many."
With the school's officials reluctant to talk, unease about Penn's Trump connection has revealed itself in limited but telling glimpses. Shortly before the Republican National Convention in 2016, nearly 4,000 Wharton students, graduates, and relatives signed a petition telling Trump, "You do not represent us." And The Daily Pennsylvanian, the student newspaper, published a slide late last year that it said the student group responsible for giving tours had used in order to advise guides about navigating potentially fraught interactions with prospective students. The slide, titled "Trump Reminder," anticipated eventualities such as "Visitor asks about his views" and "Visitor pushes further." (A student tour guide I talked to told me that visitors had asked questions about Trump before, but that he hadn't heard of any of those conversations turning sour.)
When I reached out to Penn, the school declined to discuss Trump. (Wharton, one of Penn's four undergraduate schools, and the one from which Trump graduated, did the same.) "We just don't comment on individual politicians," Stephen MacCarthy, Penn's vice president of university communications, wrote to me in an email. "We are non-partisan, and try to limit any comments in the political sphere to specific issues that have an impact on the University." That said, in the past, Penn hasn't hesitated to wade into presidential politics at its graduations. Gerald Ford and Joe Biden both delivered commencement speeches while in office, and Barbara Bush and Hillary Clinton did while their husbands were. Penn officials declined my request to speak with someone about how the school chooses commencement speakers and honorary-degree recipients. The White House didn't respond to an interview request.
I'm not the only journalist who's had trouble getting an official comment. Dan Spinelli, who reported on Penn and Trump for The Daily Pennsylvanian, told me about his struggle to get officials to talk on the record. (I went to Penn too, and worked for a magazine that was part of that newspaper.) Spinelli wrote a piece in Politico magazine that described, among other things, an email that administrators sent to Wharton faculty, asking them not to speak to any reporters who wanted to discuss Trump.
Penn's silence on its most powerful alumnus stands in contrast with how other universities have related to their own presidential (or near-presidential) graduates. George W. Bush was invited to give Yale's commencement address just months into his first term. And Columbia, the alma mater of Trump's predecessor, features on its website a giddy post titled "Our Top 10 Obama Highlights." ("3. Any moment Obama displayed the incredible partnership, respect, and love he has with and for First Lady Michelle Obama.") And then there is Wellesley's warm embrace of Hillary Clinton, class of 1969. She spoke at commencement last year, and a page on the school's website is dedicated to her time at the school.
That it is Penn and not any other Ivy League school now navigating this terrain is additionally awkward—for Penn, perhaps more than its peers, has long had status anxiety. (Its campus bookstore used to sell "Not Penn State" T-shirts, and the school's rivalry with Princeton, of which the student body is aware but also skeptical, seems aspirational and unrequited.)
Contrast other schools' webpages with Trump's digital footprint at upenn.edu. The university only updated its "Penn's Heads of State or Government" list to include Trump after a Daily Pennsylvanian reporter inquired about the omission three days after Trump's inauguration. Speaking of which, the school didn't put out a press release marking that occasion (as Columbia did to mark Obama's inaugurations in 2009 and 2013). Wharton did, however, publish a post a day ahead of the festivities headlined "Dressing-down: The Fashion Industry's Reaction to the Trump Inauguration."
Still, the university hasn't been completely silent during Trump's political career. Amy Gutmann, Penn's president, issued a statement after Election Day in 2016, remarking on the campaign's divisiveness but not mentioning its newly distinguished alum specifically. "It is my hope that ideals that we hold dear at Penn—inclusion, civic engagement and constructive dialogue—will guide our nation's new administration," she said. Gutmann has been mostly silent on Trump since then, but did criticize his order temporarily banning residents of seven majority-Muslim countries from entering the U.S. in January of 2017 and his September 2017 announcement that he planned to end the Deferred Action for Childhood Arrivals (DACA) program.
In her comments on Trump, Gutmann has refrained from drawing directly on her own area of academic expertise—she's a scholar of democratic discourse. "One of the things that does make Penn unique is that its president is a political philosopher, and a giant in her field," says Jonathan Zimmerman, who teaches at Penn's Graduate School of Education. He added, "Most of her work has been about the question of deliberation and discourse in democracy." Zimmerman noted that he understands the political dynamic that university presidents must navigate, and appreciates why Gutmann has been careful not to say more.
Before Trump became a serious contender for the presidency, Penn made more of its connection to him. He was appointed to Wharton's Board of Overseers in 1987, and the following year appeared in a video promoting the business school. Trump received an award from Wharton in the fall of 2014, just eight months before announcing his candidacy, and the most favorable recent mention of him as an alum comes in Wharton's list of "125 Influential People and Ideas" from 2012. In it, Trump's prominence as a businessman is remarked upon, if not exactly endorsed. ("Trump's style has produced doubters, but no one could deny his ability to brand his products, and to rise, phoenix-like, from everything from corporate travails to satire.") But these days, his presence on Penn's website is limited to short posts promoting professors' political takes, like "It's not just that President Trump lies—it's how"—the sort of regular political commentary that could come from any school, a connection to their particular campus notwithstanding.
Other alumni with notable political careers have received a different sort of treatment from the university. Jay Clayton, who holds a bachelor's and a law degree from Penn and is the Trump-appointed chairman of the Securities and Exchange Commission, is still listed as an adjunct professor at Penn's law school. Neel Kashkari, who now runs the Minneapolis branch of the Federal Reserve and has an MBA from Wharton, delivered a speech at a graduation ceremony at the business school's San Francisco campus in 2014, when he was a candidate for governor in California. And Deputy Attorney General Rod Rosenstein, Wharton Class of '86, gave a talk on campus last fall titled "Ethics, Business And The Rule Of Law."
Penn's lukewarm feelings toward the president are not, apparently, reciprocated. Trump regularly talks up his connection to Wharton: By the Daily Pennsylvanian's count, he publicly mentioned the business school more than 50 times between the beginning of his campaign and January 2018. As Barbara Perry, the director of presidential studies at the University of Virginia's Miller Center, told me, Wharton's prestige is useful to Trump, as it supports the narrative that he is intelligent and only settles for the best.
Other modern presidents have made similar calculations about the stories they want to tell. "For [Bill] Clinton, at Georgetown, that works for his narrative of the boy from the other side of the tracks of Arkansas, raised Southern Baptist, but goes to Georgetown"—which has an excellent reputation for political science and foreign relations—"in order to work in government," Perry said. The relationship between Obama and Columbia is not as straightforward. "Obama's time in New York didn't have the impact on him that Chicago or Hawaii did," Perry said, and Columbia did not play as well with the "up-by-his-bootstraps community organizer" image he wanted to promote. So, she said, "He didn't talk about [Columbia] much in his memoir."
Perry says that she'll be interested to see, years down the line, if Penn adjusts its stance toward Trump, a question that will surely turn on how he is viewed by scholars and the public more generally in the years and decades ahead. "What will [Penn] do?" she wonders. "Will they not want to claim him because of all these personal and professional foibles of his?"
It's the example of another president with a few foibles that may prove the most instructive here: Whittier College's relationship with its own most famous alumnus, Richard Nixon. Nixon graduated from Whittier, a small liberal-arts school in Southern California, in 1934. He was beloved on a campus of then only about 400 students, excelling at debate and drama. He joined the school's board of trustees in his 20s, when he was an attorney, and then delivered two commencement addresses in the '50s as vice president.
Many students and alumni were thrilled when he was elected president, and the town of Whittier vied to be the location of his presidential library. The school's pride was enduring: "Even while the Senate Watergate Committee hearings were being televised live in May of 1973, more than 1,000 of Whittier College's 1,600 students signed a petition for the Nixon Library to be located in Whittier," said Ken Hughes, a historian also at UVA's Miller Center.
But in the years after Nixon's resignation in 1974, alumni, faculty, and students grew ambivalent and generally became less vocal about the connection. Joe Dmohowski, a serials and electronic-resources librarian at Whittier, told me about how, in the '80s, the school's president was stuck trying to figure out a way to solicit donations from both alumni who despised Nixon and alumni who remained loyal to him.
But now, perhaps because Nixon's downfall is so distant in time, the school has cautiously laid claim to his legacy. It awards Nixon Fellowships to promising undergrads, and Dmohowski said the school's current president has attended events at the Nixon Library.
At Penn, one has to look hard for any indication of Trump's one-time presence. The only marker on campus bearing his name, according to Spinelli, the Daily Pennsylvanian reporter, is a plaque in a nondescript study room in the school's main library; Trump's name is listed among other donors from the class of 1968 who funded it. Nixon's presence at Whittier is rich by comparison. There is a small memorial to him near the library; inside the building, the Nixon Room contains gifts he received while traveling the world as vice president, including daggers from Morocco and a 17th-century suit of armor from Japan. A half century is a long time—and perhaps Penn will someday find the right space for the dedication of a Trump Room. Or, depending on how things go, an enormous tower, taller than anything else on campus.