A World Where School Shootings Feel Inevitable
"It's been happening everywhere. I've always kind of felt like eventually it was going to happen here, too."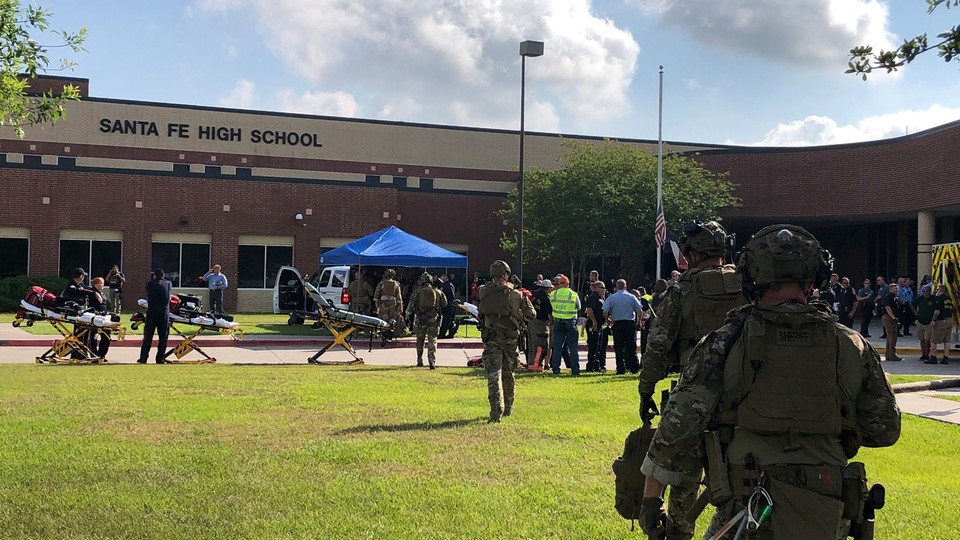 The school year at Santa Fe High School in Santa Fe, Texas—roughly 30 miles outside of Houston—was winding to a close. The seniors would be honored on Saturday during a baccalaureate ceremony, and they were just weeks away from graduation. Then, on Friday morning, a 17-year-old male student allegedly opened fire on campus, killing 10 people, according to Governor Greg Abbott, and wounding several others. There is one suspect in custody, and at least one other person of interest who has been detained.
Many high-school students live with a constant feeling of uncertainty about school shootings—not if there will be another one, but when and where. Such shootings are rare, but each new one, each breaking-news alert announcing several more children who have been killed, can trigger widespread fear. If it can happen there, it could happen here, the thought goes.
In a clip that has gone viral in the aftermath of this morning's shooting, a student put that feeling plainly. When asked by a reporter if she was surprised that there was a shooting at Santa Fe, she replied: "It's been happening everywhere. I've always kind of felt like eventually it was going to happen here, too." Her peers agree: A majority of teens—57 percent—say they worry that a shooting could happen on their campus, according to a Pew Research Center survey released last month. For nonwhite teens, the fear is even more pervasive, with 60 percent of black teens and 73 percent of Latino teens sharing it. Parents, too, are worried, with 63 percent saying that they are at least somewhat concerned about a shooting on campus. Still, mass shootings at school are quite rare, and the likelihood of one actually occurring at any one particular school is minuscule, but they happen, often enough to stir a strongly felt anxiety for millions of students, teachers, and their families.
And of course, it's not just school shootings themselves that perpetuate this anxiety, but all the attendant consequences, such as false alarms and regular drills at schools across the country. That is true of Santa Fe High School, where in late February—weeks after the deadly shooting in Parkland, Florida, where a gunman killed 17 people—students and teachers reported hearing "popping sounds" outside of the building. The noises sounded like gunshots, so, as they had been trained to do, the campus launched into its crisis plan, and went on lockdown. The event was concerning, wrote Leigh Wall, the superintendent of the school district, in a memo to the community, especially in light of the Parkland shooting.
Emergency lockdown drills have become more common in the years that followed the shooting at Sandy Hook—in some states they are required by law. It's unclear how many, if any, lives these drills save, but one thing is certain: They normalize preparing for something that should be abnormal, re-writing curricula to include reading, writing, arithmetic—and staying alive in the event of an active shooter.