The Teachers' Movement Goes Virtual
Following teacher walkouts in West Virginia and elsewhere, educators at California's biggest online charter school chain threatened to stop showing up.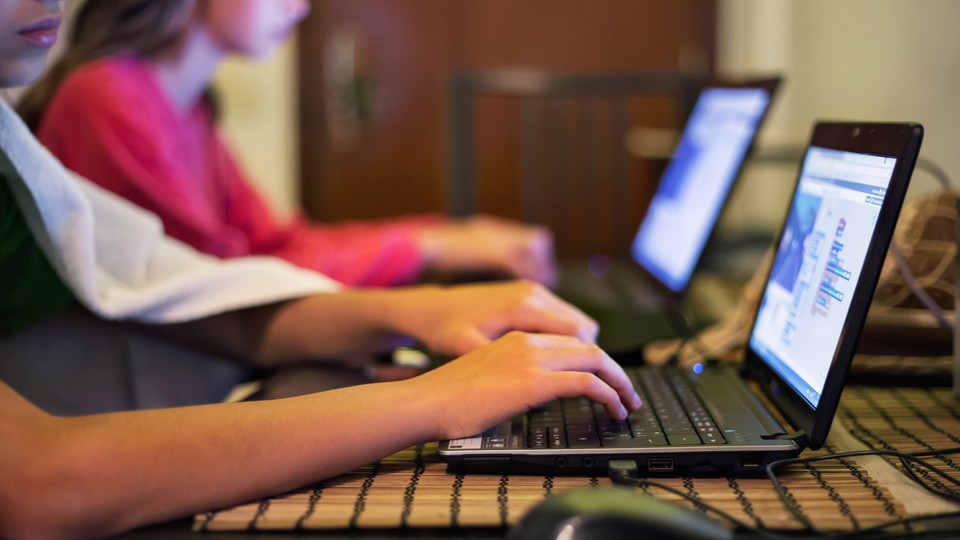 When West Virginia teachers initiated a nine-day labor strike this past winter, they secured national attention and a 5 percent pay raise. Oklahoma and Kentucky educators followed suit, with Arizona teachers threatening to do the same. Amid all this organizing was another strike threat, not previously reported, last week in California: between teachers in online classrooms and the organization that employs them.
Students enrolled in virtual schools (sometimes called "cyber schools" or "virtual academies") take their classes online. It's a small phenomenon, representing less than 1 percent of students, but a fast-growing one. According to the National Education Policy Center, about 279,000 students enrolled in virtual schools in 2016, up from roughly 200,000 in 2012. Education experts have been concerned by the growth of virtual K-12 education, especially virtual charter schools, which are publicly funded and privately managed. U.S. Education Secretary Betsy DeVos has touted virtual charter schooling as a particularly ripe area for expansion, emphasizing its flexibility and potential to offer courses that a student's traditional school might not have. But, in practice, virtual schools, especially charters, have tended to deliver significantly lower academic results than brick-and-mortar ones. "Academic benefits from online charter schools are currently the exception rather than the rule," wrote the authors of a 2015 report from the Stanford Center for Research on Education Outcomes.
While some teachers gravitate to virtual charters because of the flexibility it offers, salaries can be low, and class sizes are, on average, much larger than in brick-and-mortar charter schools or traditional public schools. (Though virtual teachers don't have to manage physical classrooms, large class sizes still equate to a heavier workload.) The overwhelming majority of virtual teachers are not unionized. But in 2014, educators at California Virtual Academies (CAVA), California's largest network of online charter schools with more than 10,000 students and about 450 teachers, decided to create a union, California Virtual Educators United, under the umbrella of the California Teachers Association. After two years of legal battles, CAVA recognized the teachers' union, and starting in September 2016, the parties began negotiating their first contract over salaries, class sizes, and other issues.
The negotiations represent an important test case of how educators might wield power in a future where online education becomes even more common. According to Brianna Carroll, a high-school social-science teacher in Livermore, California, and president of the teachers' union, bargaining had been slow-going, especially in recent weeks, when negotiators hit an impasse over class size. Educators said the number of students under their supervision had spiraled out of control, with some teachers stuck overseeing virtual classrooms exceeding forty students, and demanded class sizes be capped. "Either you have teachers who are burning themselves out because they're trying to meet the needs of everyone, or you aren't meeting the needs of everyone," Carroll told me. "It's really one or the other."
April Warren, CAVA's head of schools, declined to comment on many details of the negotiations. "CAVA is dedicated to working together with CVEU to reach a fair and equitable settlement so that we may continue to build upon CAVA's unique and special achievements in support of the students and families across California," she told me in an email.
While virtual schools across the country face some of the same struggles roiling traditional public schools, namely decreased state funding per pupil even after local economies have rebounded since the recession, virtual teachers also have to reckon with a newer threat: the involvement of for-profit companies that seek to deliver profits to their investors. CAVA, for instance, is a nonprofit network, but its operations are deeply intertwined with K12 Inc., a publicly traded company based in Virginia. K12, founded in 2000 by William Bennett, the education secretary under Ronald Reagan, and Ronald Packard, a former Goldman Sachs banker, is the nation's largest supplier of management services and curriculum for virtual charters. The company, according to Education Week, has built a powerful lobbying operation in more than 20 states.
While CAVA describes its schools as independent, Jessica Calefati of San Jose's The Mercury News, who investigated the arrangement back in 2016, found tax records showing that K12 employees themselves had established more than a dozen online schools in California. CAVA contracts with K12 for all sorts of services: The company provides the schools' curricula, oversees their budgets, trains teachers, offers technical assistance, and even handles media communications. Calefati wrote, "Accountants and financial analysts interviewed by this newspaper, including several who specialize in school finance, say they've never seen anything quite like the arrangement between K12 and the public online academies." (A CAVA official called The Mercury News investigation a "gross mischaracterization" of the organization's work.)
CAVA teachers say they organized a union in part to push back on K12's corporate influence over their schools. "For so long it's been focused on how to use this charter-school concept to turn a dollar, rather than how to use online tools to support more students," said Carroll, the union president. "We're really using the union to push CAVA to have different goals."
The virtual charter network might benefit from some new goals. In 2016, then-state Attorney General Kamala Harris alleged that K12 and CAVA had used false advertising and inflated their student-attendance numbers to collect extra state funds. Harris also alleged that K12 had trapped the network in debt by saddling CAVA with an unfair contract. CAVA and K12 agreed that year to settle with the state for $168.5 million. K12 emphasized it had admitted no wrongdoing, and said the attorney general "grossly mischaracterized the value of the settlement just as it did with regard to the issues it investigated." In an email to The Atlantic, the K12 spokesperson Michael Kraft disputed the AG's characterization of the schools as indebted. Also in 2016, The Mercury News reported that fewer than half of CAVA's high-schoolers earned diplomas, and almost none were qualified to attend the state's public universities. (K12 disputes this, noting the state does not always have reliable data for nontraditional schools with higher student mobility rates.) CAVA was also hit with a nearly $2 million fine in 2017 after California's Department of Education found continued issues with attendance reporting and other practices. (CAVA disputed this, releasing a statement that CAVA schools "demonstrated they were consistently operating in full compliance with all state laws and regulations" and planned to appeal the financial penalty.)
Last fall, faced with a stalemate with CAVA over salaries, workday length, and class size, the teachers authorized a strike: More than 90 percent of the 450-member union voted to back their bargaining team if it called for walking off the job. Shortly after that, CAVA administrators tentatively agreed to some new concessions, according to copies of signed agreements provided by the union: a pay raise, a shorter work year, and fewer employment duties, among others.

Still, the fight around class size remained unresolved. CAVA teachers argued that class-size limits would improve academic quality. Carroll said the charter network maintained during negotiations that caps would hinder their needed flexibility. (CAVA declined to comment on its position on class sizes.) When they were still unable to reach an agreement, following a two-day fact-finding mediation last week, union leaders announced they were preparing for a first-of-its-kind strike. A virtual-charter strike would have meant that all online classes would be canceled, and teachers would meet in person to picket at locations such as the CAVA offices in Simi Valley. The strike was to be held in late April or early May.
But the day after the teachers' strike announcement, April Warren, CAVA's head of schools, proposed a compromise resolution: Classrooms could be capped at about 30 students, according to a copy of the signed agreement provided by the union, and if a classroom were to exceed that threshold, the teacher would be compensated accordingly. The teachers agreed. "I think the strike played a huge role in helping us resolve this, because that's what CAVA was constantly saying—'well, we don't want a strike,'" Carroll said. Warren declined to comment on the strike threat, but on Monday, she confirmed the parties had reached a tentative agreement and were "working on a timeline for full ratification." A spokesman for K12 declined to comment.
Carroll says teachers at other virtual charter networks have been reaching out to her, intrigued by her and her colleagues' union work. While the West Virginia and Oklahoma teacher strikes demonstrate how educators at traditional public schools can still assert formidable collective power, just 11 percent of charters in the United States are currently unionized, and among virtual charters, that number stands at 9 percent. There are several reasons for this: Most charter-school backers and funders take a relatively anti-union stance, asserting that unions will impede a school's flexibility, and therefore its ability to deliver the best education possible for students. Unions have also been slow to organize charter-school teachers, long viewing them as scabs who threaten their livelihoods. Labor groups have softened their stance towards charter teachers in recent years, but tensions remain as unions continue to work politically to halt charter-school growth.
A successful contract negotiation for CAVA teachers, though, could help ignite similar efforts elsewhere. The anything-goes approach to virtual education has made it alluring to operators trying to cut costs or make a buck. But if their workers have any say in the matter, online charters' freewheeling days may be numbered. That would be good not just for educators but for the students entrusted to them.