The Post-Parkland Unity Is Officially Over
The national student-activist movement is dealing with fractures—but that could mean it's stronger than ever.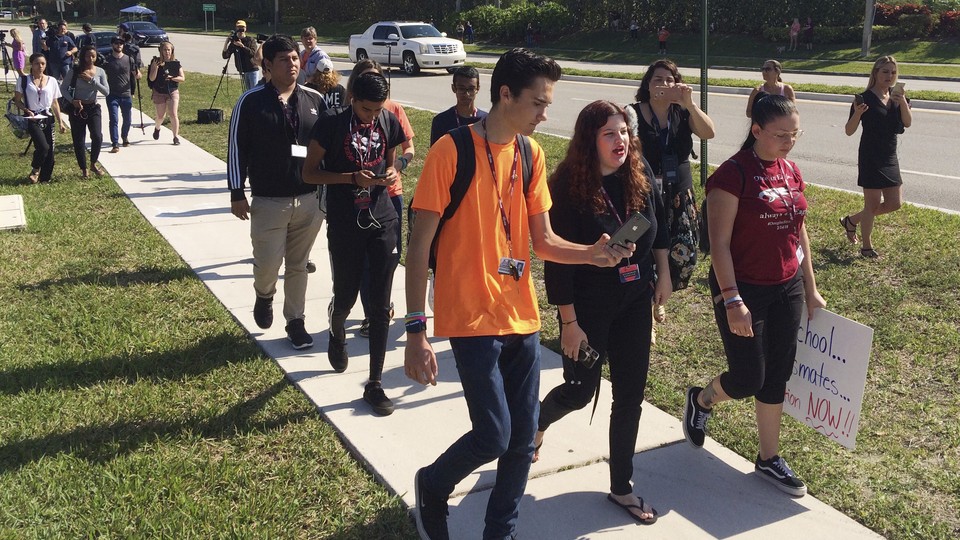 At 10 o'clock on Friday morning, thousands of students across the country commemorated a moment that not one of them was alive to experience: the shooting at Columbine High School in Colorado that killed 13 people 19 years ago today. Kids walked out of their classrooms on Friday to remember and to protest in the latest iteration of the student-led movement against gun violence that burgeoned after February's Parkland, Florida, school shooting.
It's fitting that the student who organized Friday's walkouts—the first protest of its kind pegged to the massacre that happened nearly two decades ago—is a history buff. Lane Murdock, a 16-year-old from Ridgefield, Connecticut, had spent her early life reading about protests and walkouts in history books, she told me, and always wondered what she'd do in the face of injustice. She started a Change.org petition immediately after learning of the Parkland shooting, laying the groundwork for Friday's demonstration, which included participants from at least one school in every state. Murdock lives 20 minutes from Sandy Hook Elementary School, where 26 children and staff were killed in 2012, but she has no other personal connection to gun violence. In fact, she was motivated by what she worried was her detachment from the problem: "I was desensitized," she said. "This country was desensitized."
That Friday's walkouts were organized by a student with little connection to gun violence shows  how post-Parkland activism has morphed into a thriving national student movement. But as the movement expands, it's also becoming clear just how hard it is to find a unified student voice. A student's personal background—including race, class, and past connections to gun violence—shapes his or her relationship with the movement, and youth are navigating the difficult task of finding common ground. A movement that first framed itself as a call to action from young people to adults is now just as much a dialogue among different factions of the country's youth.
When the post-Parkland movement first sprung up, some observers questioned whether the tremendous attention it garnered was attributable in part to the students' relative affluence. Friday's walkouts are another case of large-scale activism organized by students from privileged schools: Fewer than 4 percent of students at Murdock's Ridgefield High receive free or reduced-price meals. Youth organizers have certainly endeavored to make their protest inclusive, demonstrating their solidarity with communities that suffer from daily gun violence in part by encouraging walkout participants to wear orange, a color that has come to symbolize gun reform after teenagers used it to memorialize a 15-year-old shot and killed in Chicago in 2015. For their part, students in Chicago planned a citywide school walkout in conjunction with Murdock's campaign. But despite their efforts to involve schools in neighborhoods with varying income levels and racial makeups,  organizers—who attend Walter Payton College Prep, a selective-enrollment magnet school, and the private Francis W. Parker School—struggled to bring the walkout to fruition at most of the city's schools.
Several of the 22 Chicago schools participating in today's walkouts are located on the city's South Side, where gun violence is particularly prevalent and poverty is rampant. But hundreds of schools are not on the list of participants. That's in large part because of the practical challenges of planning a student protest. Many of the schools organizers reached out to, they said, were hesitant to participate because administrators had threatened them with disciplinary action. Organizers encouraged students to stay out of school for a full day following the 13 seconds of silence to remember those killed at Columbine; students at many schools are hosting rallies, speakers, and voter-registration drives throughout the day. The organizers said letters they sent to administrators urging them not to punish students in some cases resulted in schools easing their policies. But the full-day walkout is a tough sell—that's six or more hours of missed classroom learning. Chicago Public Schools for its part has stated that students won't be disciplined for holding walkouts or group protests on school grounds, as long as the events follow district guidelines and do not exceed 30 minutes; students whose protesting exceeds that will face disciplinary action.
Practical challenges aside, many students have sought to complicate the narrative attached to the walkouts—including some who've distanced themselves from them—in an effort to raise awareness about the diversity of youth experiences when it comes to gun violence. Yesterday, 20 organizations representing more than 1,000 students of color released an open letter in advance of today's walkouts, demanding that conversations about school safety take racial-justice issues into account. The letter emphasizes that efforts to strengthen school security affect students of color at disproportionate levels.
Rosa Florez, a 17-year-old student from Oak Ridge, Florida, who helped draft the letter, told me Thursday that she was still deciding whether to participate in Friday's walkouts. "I feel kind of disconnected from the issue at hand," she said, stressing that school shootings deserve attention. But she worries that the walkouts could lead to school-safety measures, like more campus police, whose negative consequences disproportionately affect disadvantaged students. "The community that becomes more vulnerable with the legislation that is proposed will be my community," she continued. "If I walk out, what legislation am I supporting?"
It's also worth noting that students at Columbine High School are not participating. The school has commemorated the day annually by having students engage in community-service work rather than attend classes—an approach that its principal promoted this year as an alternative to walkouts. Some Columbine students expressed disappointment that the Connecticut organizers chose the anniversary of the 1999 massacre for their national protest. "This is the worst day for our community," said Kaylee Tyner, a junior who believes in the protest's cause and helped organize Columbine's participation in the March 14 student walkouts. "It was like using our anniversary to push this political agenda … It could've been on the 19th or something," she said. A student at Marjory Stoneman Douglas High School in Parkland told The New York Times that MSD administrators are urging students not to walk out out of respect for the Columbine students.
For Murdock, who said many in the Columbine community expressed support for the Friday walkouts, this iteration of the youth movement is ultimately aimed at celebrating today's students and the movement that's empowered young people across the country. And perhaps these debates among young people over how and when to make their voices heard are a manifestation of that empowerment.
In discussing last month's walkouts, the student-activism scholar Dawson Barrett told me that these national youth demonstrations function as a kind of civics education for all students, whether or not they decide to participate. "By May," he told me then, "every high-school student in the United States is going to have contemplated protesting."
Now, in April, it seems that students are doing more than contemplating: They are debating, arguing, and reframing the conversation. Maybe that's a sign that the movement is the most powerful it's been yet—or maybe it's a sign that it's turning into something less unified and more complicated.