Women in Prison Take Home Economics, While Men Take Carpentry
Decades after a government report on deep inequity in the vocational offerings of the nation's criminal-justice system, little has changed.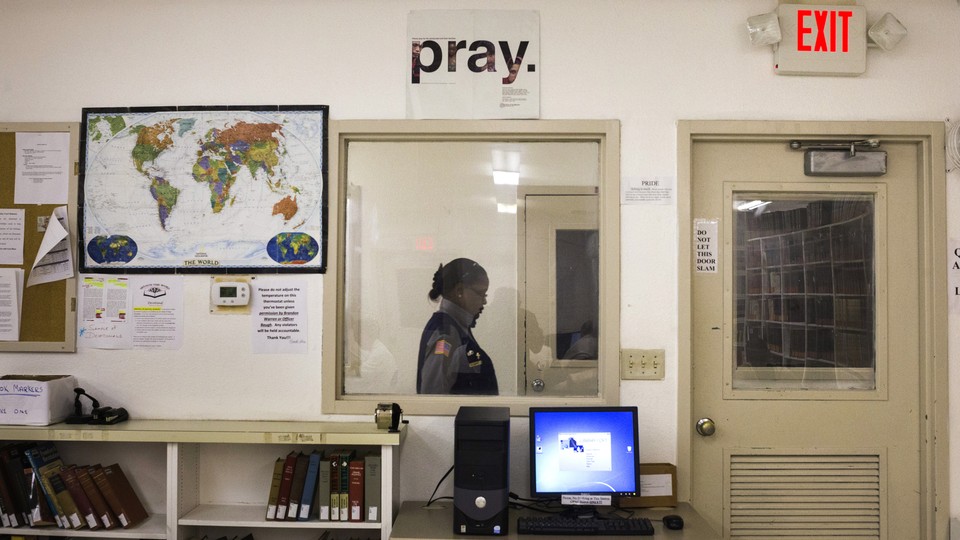 The Government Accountability Office did not mince words in the top line of a 1980 report to Congress on inequitable treatment of women in prison: "Women in correctional institutions are not provided comparable services, educational programs, or facilities as men prisoners."
Incarcerated women had been filing lawsuits—and they had been winning. Their conditions, they argued, violated their constitutional rights: Indifference to medical needs was cruel and unusual punishment, courts found. In some instances courts found that male guards' contact with women constituted an extreme invasion of privacy. And at a more fundamental level, courts said that failing to provide parity in vocational programming was a Fourteenth-Amendment violation. Those victories forced the government to take notice. That unfair treatment, the GAO said, required action.
Today, nearly four decades after that GAO report, the disparity in educational offerings between women and men is still immense. The Texas Criminal Justice Coalition (TCJC), an advocacy group, released a report last week on the treatment of women in Texas's criminal-justice system showing how the needs of incarcerated women continue to go unmet. One of its findings: The state offers 21 job-certification programs for men, and just two for women. The programs are as different in kind as they are in number. Men are offered programs such as construction carpentry, electrical technology, and advanced industrial design. Meanwhile, women are offered office administration and culinary arts.
Prison programs that reinforce gender roles have been around as long as women have been a part of the prison population, Brenda Smith, a law professor at American University, told me. "In the earliest prisons," she says, "women washed, sewed, cooked, and cleaned—more often than not for the male staff, and also for male inmates."
The number of women in state prisons has ballooned since the late '70s, but it is still small compared to the amount of incarcerated men. The fact that there are fewer women than men does contribute to the difference in programming available, according to Smith. After all, it makes financial sense to offer the bulk of programs to those who makes up the majority of the prison population. However, by not offering similar educational programs at women's facilities—particularly those that provide skills that are useful to potential employers—women's prospects once they are released from prison are hampered. So advocates argue that prisons should come up with another approach, perhaps, at the very least, allowing women to take vocational courses at the men's prisons.
But critics have argued—in court, and elsewhere—that it would be dangerous to have women go to men's facilities to participate in vocational coursework. As a former warden of one of the men's prisons in the District of Columbia, Vincent Gibbons, put it to the court in the early '90s when incarcerated women in D.C. filed a class-action lawsuit against the district, it would be "an absolute nightmare" for women to be escorted to the men's prison for educational programs. His main objection was, he said, the security concerns that come with the mixing of men and women. However, when remarking upon his staff's reaction to the presence of women at the facility for vocational training, Gibbons said, according to court records, everyone was "very impressed with how few problems there have been."
Still, the inequity in men's and women's educational offerings in prison has persisted—and not only in Texas. In Louisiana, men are offered certificate programs such as collision repair and carpentry, while the women's prison offers marketing management and upholstery, among others. And in Mississippi, men are offered 13 programs, while women are offered five, including one exclusively for them called "family dynamics." According to the Mississippi Department of Corrections' website: "The focus is similar to a Home Economics class, but the curriculum is broader."
The differences in educational programs in prisons is not only bad for women, Smith told me, but it is also bad for men. For example, many men would benefit from parenting programs, but they rarely have access. A report last year found that just 15 percent of men took parenting classes while incarcerated.
It was clear to the GAO nearly 40 years ago that prison reform needed to work towards eliminating inequities between men and women's facilities, including in educational offerings. And government-funded research has shown that prison education has a significant impact on whether or not someone will return to prison. But there has been little targeted action to fix the problems, and, as the TCJC report shows, that means not much has changed.