Why Would the Government Stop States From Helping Student Borrowers?
Massachusetts, Maine, and others want to police companies that collect loan payments. The Department of Education says they can't.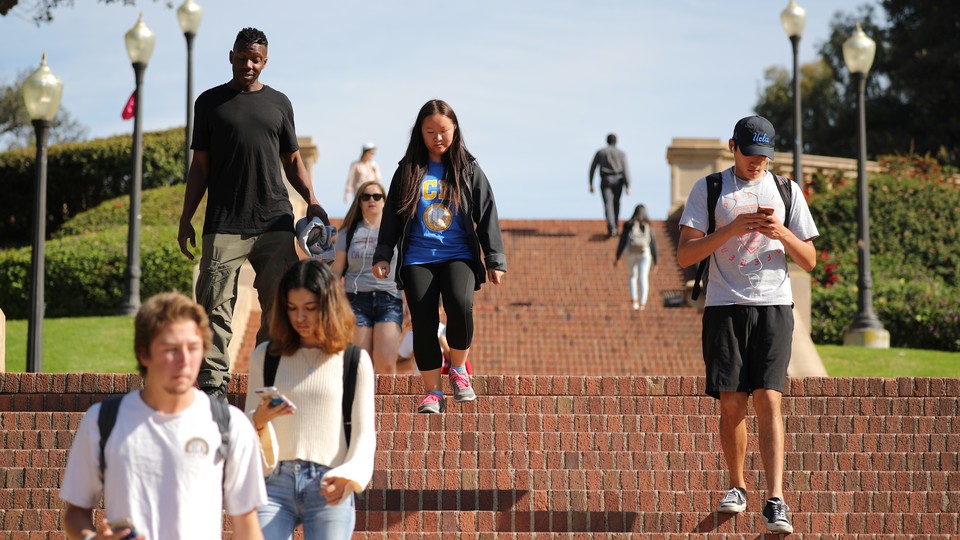 Every year, the Department of Education issues billions of dollars in student loans. And every year, outside companies are contracted to collect on those loans. The loans themselves are the subject of fierce debate among the higher-education crowd—but how they are collected tends to draw the most ire.
Borrowers have reported that these outside companies—loan servicers, they're called—have lost their paperwork, made it harder than it should be to to zero out their balances after becoming totally disabled, and incorrectly calculated their income when registering for a repayment plan based on it, resulting in higher payments than they can afford.
Lately, several states have taken notice of these practices and are trying to impose stricter regulations on loan servicers, in order to, they say, protect students from being exploited. On Wednesday, in a unanimous vote, the Massachusetts State Senate passed a bill—a student bill of rights, of sorts—with this in mind. But the bill's passage puts Massachusetts on the path towards a major fight with the Education Department, which has recently told states to lay off when it comes to oversight of loan servicers. (The department's position doesn't impact how states regulate the companies that collect privately issued loans.)
Massachusetts won't be alone in the fight. Since 2015, a handful of states have passed, or are at least considering, some version of a bill of rights for student borrowers that stiffen requirements for loan servicers—for instance, making sure servicers meet certain standards in order to get accredited, and empowering state officials to investigate and take action against the servicers for unfair practices. States, well aware of the rescission last year of several Obama-era consumer regulations by Education Secretary Betsy DeVos, have been moving to put their own rules in place. Removing regulations, as Devos's department wants, can harm students, and its latest endeavor to block states' attempts to police loan servicers has left many wondering: If the department won't do more to protect students, who will?
Under Obama, the department tried to improve loan servicing from students' perspective, aiming to make servicers communicate more with borrowers, reform the process of eliminating loan debt for those who are totally and permanently disabled, and create rules for loan servicing that are consistent across the country. When the Trump administration reneged on those aims a year ago, it raised concerns that the department was overlooking borrowers' interests. Sure, the Obama-era rules weren't perfect, Jennifer Wang, of the Institute for College Access and Success, an advocacy group, told me, but there was a lot that borrower advocates liked. However, she says, if the department did not have its own reforms, that shouldn't prevent states from having them.
Loan servicers, for their part, disagree, insisting that the federal government is right to call states off. They argue that inconsistent policy across states—along with the fees that state-level guidelines might require them to pay—will make it harder for them to serve students. Last month, the Education Department made it clear that it largely agreed with them. The department issued a "notice of interpretation," saying states were overstepping their boundaries by putting restrictions on companies that were servicing federal student loans. The notice stated that it is the department's job to police the companies, and that states should defer to it. (The Education Department, which is in the process of an overhaul of the student loan–servicing system, declined to comment for this story.)
States immediately fought back. The bipartisan National Governors Association condemned the move, and two Democratic attorneys general immediately hinted that they would disregard the guidance. Meanwhile, after pressure from state lawmakers, two state-backed loan agencies—Massachusetts and New Jersey—resigned from a national loan-servicing lobbying group, the National Council of Higher Education Resources, which supported the department's move.
Higher-education leaders have also expressed concern. As Janet Napolitano, the president of the University of California system, who was formerly an Obama Cabinet official, as well as a state attorney general, put it, "to take the state AGs out of the picture, who do a lot of these financial-fraud type of cases to the benefit of the residents of their states, I think is an overuse of their preemption power"—a reference to the question of whether states or the federal government should hold sway. (It's a curious showdown not least because it has state-level Democrats arguing passionately about states' rights.)
Eric Lesser, a state senator in Massachusetts who championed the state's bill, told me that the department's announcement of this stance prodded him to action. The legislation had been introduced in January of 2017, but has seen increased momentum since the March interpretation. Having passed on Wednesday, the bill now heads to the state House of Representatives, where companion legislation is under consideration. Maine followed suit, passing a bill through its state's senate on Thursday. "Three words for Betsy DeVos and Donald Trump: Bring it on," Lesser tweeted on Wednesday. "Here in Massachusetts, we will stand up for student loan borrowers if they won't." The states are inviting a fight—and given how much the current system can hurt students, it's one worth having.