The Future of College Looks Like the Future of Retail
Similar to e-commerce firms, online-degree programs are beginning to incorporate elements of an older-school, brick-and-mortar model.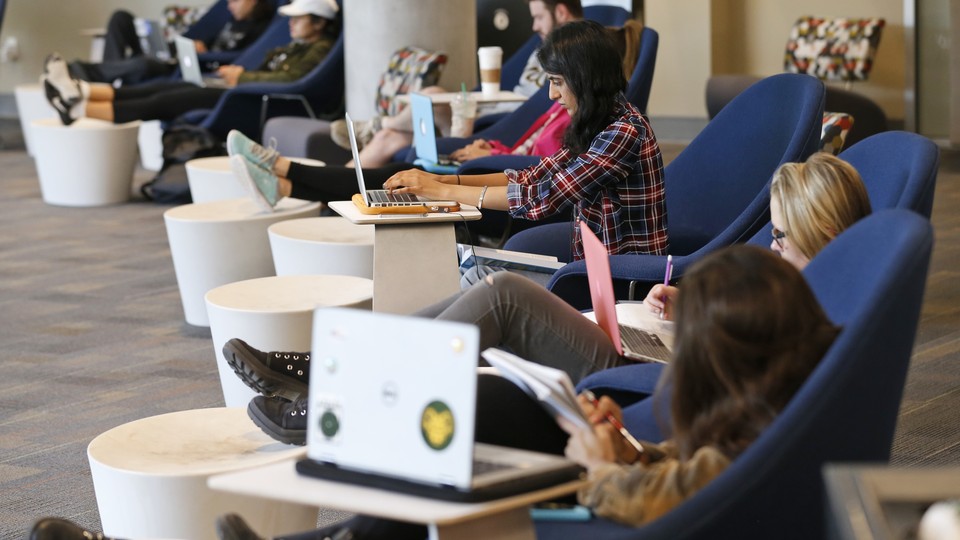 Updated on April 23, 2018
Online learning has come a long way since the turn of the millennium. It certainly hasn't displaced traditional colleges, as its biggest proponents said it had the potential to, but it has gained widespread popularity: The number of students in the U.S. enrolled in at least one online course rose from 1.6 million in 2002 to more than 6 million in 2016.
As online learning extends its reach, though, it is starting to run into a major obstacle: There are undeniable advantages, as traditional colleges have long known, to learning in a shared physical space. Recognizing this, some online programs are gradually incorporating elements of the old-school, brick-and-mortar model—just as online retailers such as Bonobos and Warby Parker use relatively small physical outlets to spark sales on their websites and increase customer loyalty. Perhaps the future of higher education sits somewhere between the physical and the digital.
A recent move by the online-degree provider 2U exemplifies this hybrid strategy. The company partnered with WeWork, the co-working firm, to let 2U students enrolled in its programs at universities, such as Georgetown and USC, to use space at any WeWork location to take tests or meet with study groups. "Many of our students have young families," said Chip Paucek, the CEO and co-founder of 2U. "They can't pick up and move to a campus, yet often need the facilities of one."
Students in many of 2U's degree programs already meet up with each other during yearly class meetings held on campuses, Paucek said, but the WeWork partnership allows for more-consistent in-person gatherings and the potential for new programs, such as architecture, for which physical studio space is required. Paucek is, for someone who runs an online-degree company, remarkably open about the importance of physical space: "The history of online education is a vast underestimation of the power of people," he told me.
Richard DeMillo, the executive director at the Georgia Institute of Technology's Center for 21st Century Universities (where I am a visiting scholar paid to research the future of higher education), thinks that some traditional campuses will gradually move toward a similar middle ground. He wouldn't be surprised if universities start fusing the best of the online experience with the best of the physical experience, possibly like 2U is trying to do with WeWork. "Think of it as the storefront for the university," DeMillo said.
DeMillo says he's already seen the physical-digital dichotomy start to dissolve. He remembers when, a few years ago, Georgia Tech launched an online master's degree in computer science, and students in the program started showing up at university-affiliated events in their hometowns. Some of the online students even traveled to Atlanta for commencement—the first time many of them had ever set foot on the campus. "They wanted to see in person the professors they got to know over video," DeMillo said. "Students don't have a problem blending the two experiences, either for efficiency or because they are digital natives."
Of course, blending learning experiences in this way is not always a smooth, or even feasible, process for many traditional colleges. Most of them are not designed to allow students to take just one course at a time or to toggle between online and face-to-face classes; taking a class on most campuses requires enrolling as a student in a full-fledged degree or certificate program and then choosing to participate exclusively in either online or in-person classes. "While universities have all these resources for lifelong learning, we also have all the constraints in how the model currently works," said Carissa Carter, the director of teaching experiments at Stanford University's Hasso Plattner Institute of Design.
In 2014, the d.school, as the Stanford institute is known, sponsored a project in which undergraduates were tasked with rethinking what a college education will look like in 2025. One of the results was a design for a lifelong, on-and-off education experience. It was called the "open loop university" and would admit students for six years of study that could be undertaken at any time. Under this system, students could "loop out" after two years to go work and then "loop in" a few years later, with four years left on the clock if they wanted to try something else. The idea is that students who returned after looping out could use the time that remained to retrain for new careers later in life, whether in their 30s or 50s.
That particular vision is not likely to be realized anytime soon, but some colleges are thinking along similar lines. Several universities, including MIT, Penn, and Boston University, recently started a type of online degree called a "MicroMasters" as a way for students to begin work on a graduate degree without committing to a years-long program. Students who do well and pass a set of proctored exams earn a MicroMasters, equal to somewhere between a quarter and a half of of a typical master's degree. Top performers can then apply for slots in a full master's program from the universities, to be worked toward in-person; if accepted, they would be only a semester or two away from finishing a full master's degree. When MIT launched its MicroMasters, in 2015, it expected 200,000 students would enroll across all programs; within the first nine months, more than 1.3 million people signed up.
Such physical-digital experimentation can even alter the experiences of students already enrolled at physical college campuses. For example, 75 percent of the 56,000 undergraduates at the University of Central Florida, in Orlando, took at least one online class at the school last year, even as they were enrolled in face-to-face courses. (Another 10 percent took a hybrid course, a mix between online and face-to-face.) Nearly a third of the university's classes take place online, which officials say has eliminated the need to build at least five additional classroom buildings.
For now, though, most short-term or blended-learning programs exist not at universities but in the professional world, with companies running ongoing programs to train their current workers. And, here too, the division between online and face-to-face learning is thinning.
Take Xerox, for example. In the 1970s, the company opened a sprawling campus in the suburbs of Washington, D.C., to train its workforce. Some 1,800 employees came through the facility in any given week for classes. But Xerox sold the campus in 2000, when it began to move its professional-development courses online. It now mixes face-to-face training with more than 10,000 short online videos and other on-demand reference materials. John Leutner, the longtime head of global learning at Xerox who retired in 2016, told me that this arrangement saves the company money and also improves retention because workers can learn on their own time and at their own pace.
Companies also regularly turn to outside help instead of training workers themselves. Employer-financed programs account for about half of the business of General Assembly, a firm that holds classes for coding and other skills. The company can customize its curriculum for companies' most immediate needs—"unlike in the past when companies sent someone off to a university for graduate school," said Charlie Schilling, the general manager of the enterprise business at General Assembly. He added, "Someone can take an assessment on a Friday, sit through a part-time data-science class in a week or two weeks depending on their flexibility, and immediately return to their job and do things in new ways." It is, in a sense, a sped-up version of the open-loop university dreamt up by those Stanford designers.
As the economy continues to ask more and more of workers, it is unlikely that most campuses will be able to afford to expand their physical facilities to keep up with demand. At the same time, online degrees haven't been able to gain the market share, or in some cases the legitimacy, that their proponents expected. Perhaps a blending of the physical and the digital is the way forward for both.