Why Colleges Are Embracing the #NeverAgain Movement
Colleges are assuring students that gun-control activism won't affect their chances at admission—and affirming their value of civic engagement in the process.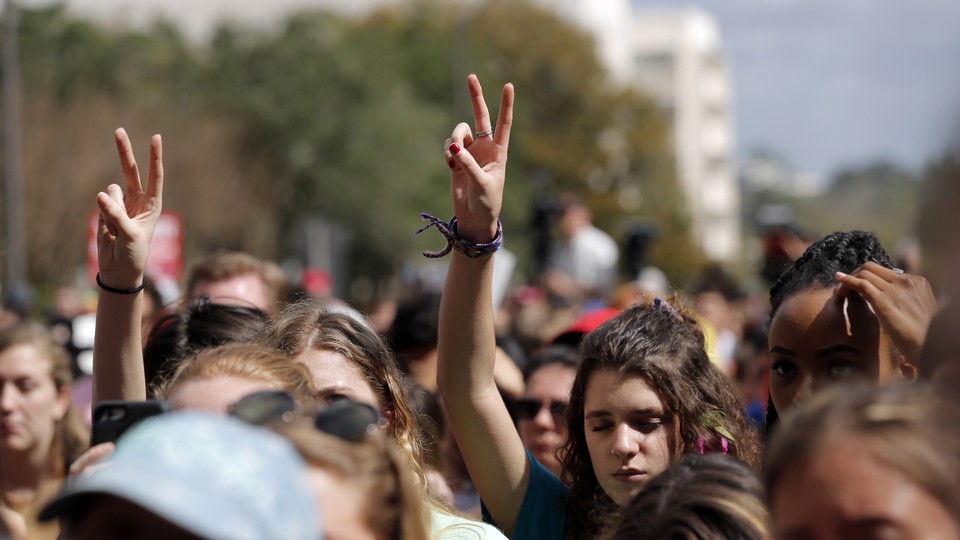 As high-school students around the country organize in support of stronger gun-control legislation in the wake of the Parkland shooting, many are finding that, at the very least, one thing they don't have to worry about is the possibility of disciplinary action hurting their chances of getting into college some day. Superintendents in some school districts have warned that students who participate will face disciplinary actions such as suspension. But over 250 college-admissions offices around the country have responded to these concerns, most of them with assurances that students' activism will not hurt their chances at admission, even if their high schools do take disciplinary action.
Because college applicants must disclose whether they have ever been suspended from school or faced other disciplinary measures, many students have been concerned that colleges might rescind an acceptance or look unfavorably upon future applications. According to the National Association for College Admissions Counseling (NACAC), many member colleges have reported that large numbers of students have been calling admissions offices worried about the effect suspensions could have on their admissions prospects.
Typically, students want to avoid evidence of disciplinary measures on their school records. While getting suspended for, say, drinking beer at a school football game might not automatically disqualify a student from most colleges, admissions officers do take those matters seriously and expect an applicant to express remorse and show growth, explained Diane Anci, a dean of admissions at Kenyon College, a small liberal-arts college in Ohio.
Responding to these concerns from students, many college-admissions offices began issuing statements on social media and on their websites last week promising seniors and future applicants that they would not be penalized for participating in nonviolent protests. The admissions office of Georgetown University, for example, tweeted: "We provide all applicants an opportunity to elaborate on any disciplinary infraction and carefully consider all context they provide. Participation in a peaceful protest will not negatively impact admission to Georgetown."
Teens have been involved in other social movements over the past couple of years, such as Black Lives Matter and the Women's March. But the post-Parkland movement is the first to elicit a widespread response from colleges. Drew Riley, the associate dean of admissions at Colgate, noted that his college has seen an uptick in political activism among their applicants in recent years, but that the coordinated, nation-wide activism around this issue is "unprecedented." Colleges' quick response could also be due to the fact that this movement is focused on high-school students—and includes national school walk-outs as one of its core actions. This makes concerns over school discipline more common than they may have been in previous movements.
But while the #NeverAgain movement stands out for provoking a wave of public support, most of the schools' statements didn't particularly focus on the movement or on gun control—instead, the statements emphasized support for students' free expression and engagement in activism more generally. The official account of UC Berkeley, for example, tweeted: "Dear prospective students: We fully support your right to peacefully protest, and would never refuse your admittance for doing so. Signed, the home of free speech." Most schools emphasized that political participation of any kind fits in with the core mission of their school. A message from Duke read: "Duke has always valued active and responsible engagement in civic life among its students and applicants. We will always consider all applicants fully and individually … An applicant's participation in peaceful protests has never been a reason for us to deny or rescind an offer of admission."
The administrators I spoke with emphasized that their support would extend to peaceful protest of any political leaning. Jon Boeckenstedt, a vice president for enrollment at DePaul University, A Catholic university in Illinois, said that DePaul would support students participating in any form of civic action, including a March for Life. He added, though, that this support does not give students carte blanche; his university was not endorsing "senioritis" or violent protests.
Nathan Furst, the director of admissions at University of Connecticut, said that in discussing their statement on the Parkland activism, his office questioned whether or not it would support a student who attended a white-supremacist rally. Furst said that, in the end, the school decided it would even support that applicant, as long as he or she were protesting in a nonviolent capacity. "We would support their right to free speech," Furst said. He echoed DePaul's Boeckenstedt in drawing the line at violent protest, and advised students to "engage in an appropriate way. Be peaceful, but get your voice heard."
Anci from Kenyon college added that her school doesn't privilege activism over other activities that show student leadership. Being politically active, like being the captain of the track team or the vice president of student government, provides students with deep and real knowledge, she said. "Like any other kind commitment outside of school, participation in politics gives students clarity and enables them to understand their strengths," Anci added.
Some schools pointed out that students' involvement in the protests could become a way of communicating their interests in an interview or an essay.  Stefanie Niles, the president-elect for the National Association for College Admissions Counseling (NACAC), said that Dickinson College in Pennsylvania, where she is the vice president for enrollment management, would be interested in hearing from participants why this issue motivated them.
"It is always exciting for admissions officers to meet 17-year-olds who can say that they have identified a passion in their lives and that they are committing themselves to something," Anci added. Since student activism plays a large role in the campus culture at many colleges, a students' high-school activism can be a good indicator that she will fit in. "We have a very active student body," said Colgate's Drew Riley. "A student that is involved in politics in high school shows that they ready to be part of a student body like ours."
Some admissions officers did seem to express more explicit support for the Parkland movement. DePaul's Boeckenstedt was among the first to come out with a statement on February 21. He tweeted, "Dear Students: If you participate in protests against gun violence and incur school discipline for walking out, you can rest assured you can report it to DePaul and we won't hold it against you. #ParklandStudentsSpeak." And the Yale admissions officer Hannah Mendlowitz wrote in a blog post on Yale's admissions site: "Yale will NOT be rescinding anyone's admission decision for participating in peaceful walkouts for this or other causes, regardless of any high school's disciplinary policy. I, for one, will be cheering these students on from New Haven." It's worth noting that some admissions officers told me they tweeted without explicit approval from top administrators, whereas other schools have written official statements.
While the number of colleges that have made statements of support for student protestors keeps growing, most of the 2,000 colleges nationwide have not yet made statements. It is still too early to look for patterns or omissions among the list of colleges who have released statements. At first, most of the schools that released early statements came from northern states, where public opinion tends to be more supportive of gun-control legislation, but they have since been joined by the University of Texas, Emory in Georgia, Rice in Texas, and University of South Carolina. The list also covers a range of school types, including private schools and public schools as well as both small liberal-arts colleges and larger research universities.
The diversity of schools on the growing list could be indicative of higher education's broader embrace of student activism in recent years. Some have argued that the colleges' statements are attempts at good optics and easy, low-cost ways of marketing themselves to more students, particularly those students who are politically engaged. The move could also be a practical one on the part of colleges who may have to make decisions about promising applicants who have faced disciplinary action due to their participation in the movement. But most of all, college administrators seem to view the upcoming marches as an opportunity for civic engagement that will better prepare young people for college life.