What Will the Nationwide School Walkouts Accomplish?
They won't immediately prompt congressional action on gun control, but they're vital to activists' momentum.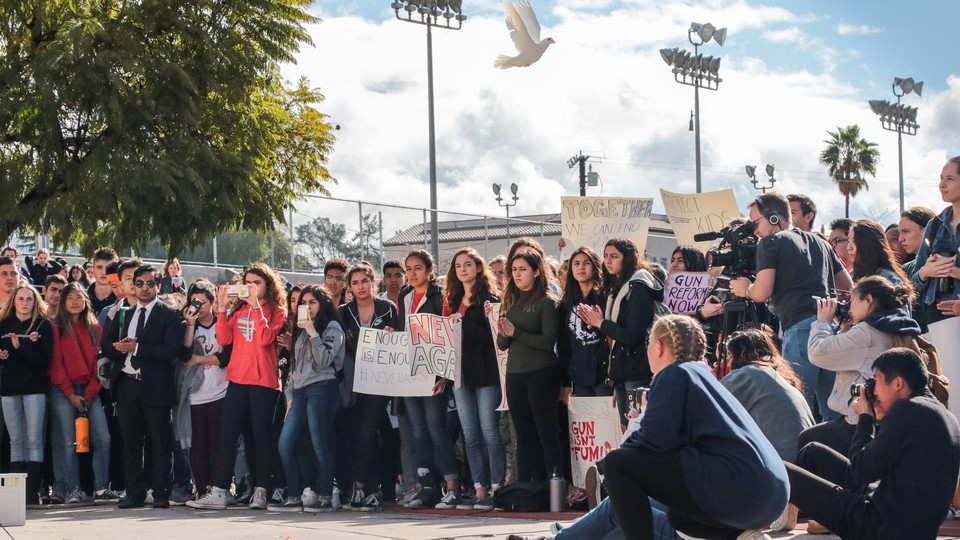 At 10 a.m. on Wednesday, students at 3,000 schools and across every U.S. time zone were in, or will be in, a state of protest. They locked arms. They formed hearts across football fields. They prepared press packets for journalists.
They were participating in a nationwide walkout—17 minutes long, to commemorate the 17 victims of the school shooting in Parkland, Florida, exactly one month ago. The protests are the latest channeling of activist momentum following the Parkland shooting—momentum that previous school shootings were not able to produce.
In some ways, Wednesday's protests fit neatly into a long tradition of youth-driven activism around the world in the past century. The clearest historical parallel, historians who study student activism said, is probably the South African anti-apartheid movement in 1976, when thousands of black students across the country walked out of their schools; many of them were shot and killed by police. Dawson Barrett, an assistant professor of U.S. history at Del Mar college in Texas, also pointed to the 1969 Moratorium To End the War in Vietnam, a nationwide movement and teach-in, as well as Earth Day, an environmental teach-in day in 1970.
But there is something truly rare about the scale of Wednesday's protests. Lots of other student movements, such as Black Lives Matter or the Day Without Immigrants in 2006, were more localized, and hit many key cities but didn't resonate on the national level in the way that these walkouts have.
Wednesday's walkout also exhibits an unusually ambivalent dynamic between schools and activists. Earth Day, as Barrett pointed out, was a relatively uncontroversial cause, so schools across the country were participating in the movement and collaborating with students. Black Lives Matter fell on the opposite end of the spectrum, with many schools not participating or supporting the protests because they were politically controversial.
This walkout falls somewhere in between. Some schools collaborated with the students on actions, moments of silence, or programming with guest speakers. But other schools have forbidden students from participating in the walk-out, with some even threatening suspension. Some superintendents cited safety concerns for these restrictions, arguing that they didn't have enough staff to protect students from potential violence while they were outside of classrooms. But other schools explicitly objected to students' political activism: One middle school in Fresno, California, allowed students to walk out, but strongly discouraged them from speaking about gun policy, noting that some students wanted to make a statement of solidarity rather than engage in an act of political protest.
The protesters' decision to walk out of school is loaded with symbolic meaning, argued Ben Kirshner, a professor of educational psychology at the University of Colorado Boulder who has studied youth activism. "They're seen in the public eye as under the care and protection of high schools, and that [implies] a more vulnerable view of students as children in need of care and protection," he said. "So when they walk out of schools, it defies the more dominant discourses about youth or students [and identifies them] as not vulnerable, not apolitical."
Indeed, the protesters—who were organized by activists ranging in age from 14 to 23 involved with Youth Empower, a group affiliated with the Women's March—want political change. What does success look like for them? The end goal may be Congressional action, but as many of the protesters well know, that seems far off, particularly since the White House walked back some of its stronger gun-control proposals earlier this week.
Instead, the protests are a means of, in the organizers' words, "sustain[ing] outrage." That outrage started with rallies and visits to the Florida State Capitol in the days after the shooting, and it is set to continue, with a march on Washington later this month and another walkout planned for April.
The protests could end up serving another useful, quite different purpose—inspiring adults across the country to get behind the movement. The historians of activism I spoke with all pointed out that in order for a youth movement to succeed, it does still need adult support. "[Legislators] are not actually being pressured" by this display of youth activism, Barrett said. "When you look at the history of student movements among high schoolers, they have to have adult allies in order to pressure people in power, because they can't vote and they don't have money."
Another effect of the walkout, whatever else it accomplishes, is that it will make a much wider group of teens and pre-teens entertain the idea of demonstrating. "I think it is noteworthy that however you feel about the issue, by May, every high-school student in the United States is going to have contemplated protesting," Barrett said. In this way, Wednesday's walkouts might be best interpreted as a protest that begets yet more protest.