The Ripple Effect of the West Virginia Teachers' Victory
The success of the statewide strike has intensified education unrest nationally—and could have lasting implications for the country's schools.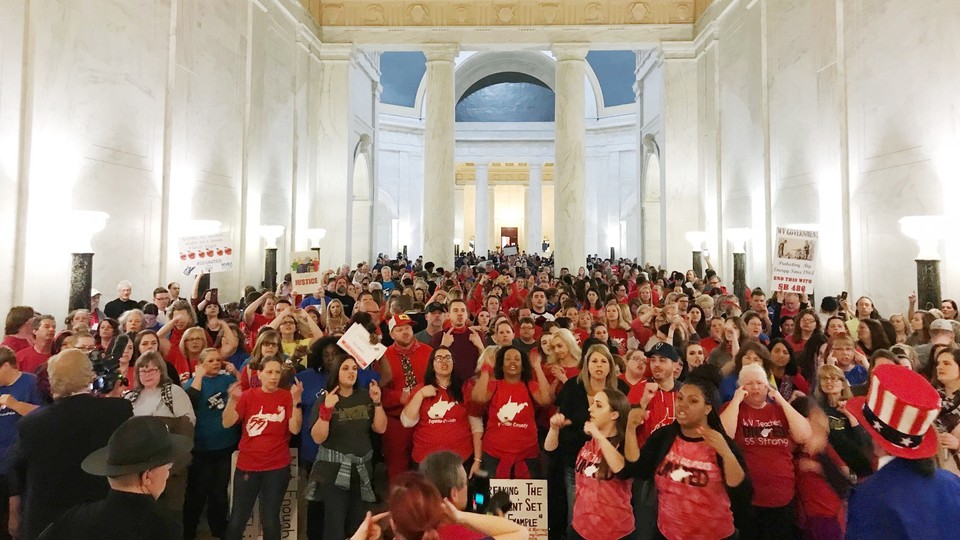 West Virginia lawmakers at last reached a deal on Tuesday to raise teachers' salaries by 5 percent. The agreement—along with the prospect of policy solutions to the educators' other demands—brought to a close a teachers' strike that had kept K–12 classrooms across all the state's 55 counties closed for nine school days. Even though the West Virginia walkout is over, however, observers suspect that it has jump-started a national movement that could have lasting implications for the country's schools.
Evidence that the success of West Virginia's roughly 20,000 K-12 classroom teachers is intensifying educator unrest nationally can already by seen. In Oklahoma, where the average teacher's salary is even lower than that in West Virginia, educators are poised to stage a similar walkout, potentially in early April, to demand higher pay from the state legislature. According to the Los Angeles Times, the Oklahoma Education Association on Thursday plans to unveil a school-shutdown strategy; the teachers' union said the vast majority of the 10,000 educators who responded to a survey supported shuttering campuses so they could strike. In Kentucky, a battle over educators' pension benefits has raised the possibility of a teachers' strike there, too. And other teachers' unions throughout the country (and the world) have voiced their solidarity with their West Virginia counterparts through public statements, #55strong tweets, and pizza donations.
"We're getting support from teachers all over—Alaska, New Mexico, Oklahoma. ... These places are saying, 'We know that if they've done it in West Virginia, we can do it here too,' so I think [this strike] is going to start spurring some action in other states," Annette Jordan, a teacher at Hedgesville High School in West Virginia's Berkeley County, says.
The strike in West Virginia, which in 2016 ranked 48th in the nation for teacher pay, wasn't aimed only at securing higher salaries; it also sought to raise awareness about the countless burdens teachers shoulder, and at demonstrating that kids' learning and long-term outcomes suffer when educators are stretched too thin. "Teachers in other places in the country are looking to West Virginia teachers because they are taking a stand and asking for a livable wage and for better benefits," Karla Hilliard, an English teacher at Spring Mills High in Berkeley County, told me last week when I visited the picket near her school. "What teaching encompasses today [anywhere in the country] is so different than what it did 20, 25 years ago; with every continued mass shooting, with the tragedy of Parkland, there's more recognition of ... all of the different parts and facets of our job."
As I reported last week, teachers' demand for a 5 percent pay increase was secondary relative to their calls for better health-care benefits through the state's beleaguered Public Employee Insurance Agency. Those demands were accompanied by concerns that the state is devaluing the teaching profession with legislation that would lower educator qualifications and eliminate seniority protections. In fact, despite an indication last Tuesday from Governor Jim Justice that the strike would end after he agreed to the 5 percent pay raise, the state's Republican senators initially refused to sign off on the proposal, and teachers insisted that they wouldn't back down without a stronger guarantee that their demands would be met. The walkout continued for another week.
The likelihood that the demands will be met beyond better pay remains unclear. For starters, an agreement hasn't yet been reached on PEIA. Justice, a Republican, has promised to convene a task force as early as this week to figure out a way to resuscitate the insurance agency, whose severe funding shortfalls have resulted in rising co-pays and other health-care costs not only for public-school teachers but also for state employees across the board. Compounding the uncertainty around PEIA is teachers' perhaps deeper dissatisfaction with how much West Virginia's political and judicial branches value the quality of their work, and in turn the long-term prospects for the state's young people—concerns that resonate with educators across the United States.
Joshua Weishart, an associate professor of law and policy at West Virginia University whose research centers on education law, believes that the strikes may represent a new dynamic in the fight over what right children have to an education. Historically, when courts have found that such a right existed—something that varies state by state—they have ordered schools to undertake certain equitable and adequate financing measures, Weishart said. But after nearly five decades of litigation, the judiciary was accused of overreach, and unequal funding (and desegregation) is still pervasive. The courts have since retreated from that responsibility, he continued, and judges today are more hesitant to order specific integration remedies or stipulate how much money state legislatures should appropriate for education.
"So what do the people do when the courts are reluctant to intervene and the other branches of government have failed them for so long?" Weishart asks. "They either quietly accept their fate or they publicly resist and demand change." The teachers in West Virginia—and potentially their counterparts in Oklahoma, Kentucky, and other states where educator grievances are nearing a tipping point—have taken the latter route. And as teachers' relatively victorious outcome in West Virginia suggests, that route is proving to be fruitful.
"Teachers make for strong advocates—perhaps better ones than lawyers," Weishart says. "A political or social movement can oftentimes accomplish more than any lawsuit, and it can certainly do so more quickly." After all, he pointed out, some school-finance cases have dragged on for years and even decades before seeing results. "What we have here is an opportunity for the people to vindicate the constitutional rights of children not in a court of law but in a political arena."
It's debatable as to why exactly West Virginia was the state to precipitate this fledgling national teachers' movement, but experts tend to agree it comprised, in the words of Paul Reville, a professor of education policy and administration at Harvard's Graduate School of Education, "a perfect storm of factors."
For one, unlike most other states, West Virginia doesn't allow for collective bargaining at the local level; the same is true of Oklahoma. When that limitation corresponds with a notably low salary, a statewide strike is more likely. Meanwhile, a sizable chunk of West Virginia's 55 counties is contiguous to other states, where average salaries are sometimes as much as $20,000 more than they are locally. That results in a double whammy, contributing to an exodus of quality teachers to districts right across the borders and making it difficult for West Virginia to attract qualified, experienced teachers to its own schools.
Educators in West Virginia have told me they worry about the impact this phenomenon has on the quality of children's learning and on the health of the state's economy; a struggle to retain and attract quality teachers translates into a struggle to uphold the quality of schools, which ultimately makes it hard to convince corporations to set up shop in the state and contribute to its tax base. That's in part because it'll suggest to those corporations that there aren't enough well-educated people in the state to fill the necessary positions and enough qualified teachers to teach employees' children. "If we don't continue to support our teachers, they're going to continue to flee the state," Tony McDonald, a health-education teacher at Warm Springs Middle School in Morgan County and the president of the county's American Federation of Teachers chapter, told me last week as he was picketing. "I'm born and raised in West Virginia—I love this state through and through— but at some point [being able to financially support] my kids matters more than what I want." In a similar vein, educators feel that state policymakers underestimate the importance of the education system to efforts to stimulate the economy, pointing to the state's corporate tax cuts, which often result in less funding for schools.
As much as the demands of West Virginia teachers were about their own pay and benefits, the underlying message was about what teacher compensation means for the quality of the education being provided and, ultimately, the well-being of the state's kids. "What teachers are told every day is …, 'This kid can't read but he has to read by the end of the year; figure it out,' so we do. 'These kids are never going to pass this test but he has to pass this test,' so figure it out and we do it. 'Well, there are only 25 books and you have 35 kids; figure it out,' and so we do. So when [politicians] ... look at us and say, 'I'm sorry, there's nothing we can do,' that is not acceptable," said Jessica Salfia, an English teacher at Spring Mills High School. "Because what we have done for the last dozens of years —the things that we have needed to do to make it work—we have made it work in our classrooms and they have got to make it work for us now."
The grievances expressed by West Virginia teachers like Salfia are emblematic of those felt by public-school educators across the country, many of whom have struggled for years with demanding and often growing workloads despite relatively low pay. Concerns about the government's disinvestment in traditional public education in favor of private and charter schools—which have become more acute since the appointment of the pro-school-choice Education Secretary Betsy DeVos—have helped fuel the uptick in teacher unrest. "A lot of it is building up in teachers … and it's not just the uncertainty about whether we're going to shift now and invest in school-choice programs," Weishart said, alluding to speculation that lawmakers in  West Virginia, which currently doesn't have a charter-school law, might introduce such legislation. "It's also now about whether we're going to arm them with weapons. … They live day by day now in crisis mode, and I think all of this is just starting to take its toll on teachers."
Harvard's Reville, who previously served as Massachusetts's education secretary, suggested that this pressure, combined with the feeling that they're not being heard, is starting to push things over the edge for K-12 educators. "I think it's people in the field of education saying, 'Don't forget about us. We're still here; we're still doing the hard work of preparing the next generation so that you can have a functioning economy and democracy.'"
The West Virginia teachers' strike may also be gaining national traction because it is proof that organized labor can still have clout despite political efforts to undermine such movements, Reville said, pointing to a forthcoming ruling from the U.S. Supreme Court that's expected to outlaw mandatory public-sector union fees and therefore weaken such labor organizations. Unions elsewhere, including those representing educators and other public-sector workers, may find it inspiring "that a group of teachers [across the state] came together largely on their own, stood up, took a position, and then held fast when they felt like they weren't receiving the proper support from state officials," Reville said.
In that sense, the West Virginia teachers' strike is symbolically important, according to Reville: "People will take faith in this—they will feel emboldened and empowered to act," he said. "The fact that [West Virginia's teachers] made some headway and came out victorious, I think, is a real shot in the arm for the labor movement."