The Problems at Michigan State Went Far Beyond Larry Nassar
Allegations of sexual harassment against the dean who supervised Nassar reveal why decades of complaints weren't dealt with more aggressively.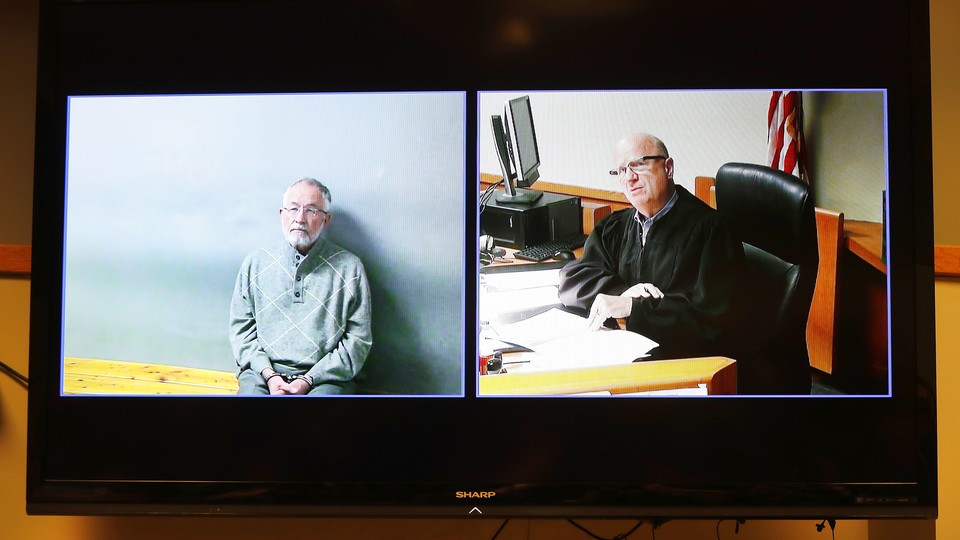 A former Michigan State University dean—and the former supervisor to the serial sexual abuser Larry Nassar—is now facing his own set of sexual-harassment accusations. William Strampel, who served as dean of the university's College of Osteopathic Medicine until December 2017, allegedly sexually harassed four MSU students and stored pornography on his university-issued computer, according to a court affidavit. Strampel, who stepped down as dean citing "medical reasons," was arrested Monday night on four charges including criminal sexual conduct and willful neglect of duty.
The latter charge focuses on Strampel's obligations as a public-university administrator who oversaw Nassar and allowed him to continue seeing patients even while he was the subject of a Title IX investigation into accusations that he had assaulted a female student. Nassar, the former MSU sports doctor, was in January sentenced to up to 275 years in prison for molesting dozens of young female athletes over his decades-long career. Strampel had been named as a defendant in earlier civil lawsuits against MSU contending the university failed to protect Nassar's victims. Strampel, who was arraigned by video on Tuesday, is denying the charges, according to news reports.
The new revelations help explain how sexual harassment can fester at higher-education institutions like MSU. Rarely do acts of sexual assault happen in isolation; they proliferate, as The Atlantic contributing writer Marianne Cooper has pointed out, in part because such institutions tend to be "male dominated, super hierarchical, and forgiving when it comes to bad behavior." To have one harasser in charge of another is a particularly extreme version of this dynamic, practically guaranteeing that harassment will last.
The court affidavit alleges that Strampel leered at and groped at least two students and made sexually suggestive comments to at least four. Investigators in February uncovered roughly 50 photos of "bare vaginas, nude and semi-nude women, sex toys, and pornography"—many of them apparently "selfies" of female MSU students, according to the affidavit. Also uncovered on Strampel's computer: a video of Nassar performing a "treatment" on a young female patient.
One of the questions that has lingered since Nassar's high-profile sentencing hearing: How did the one-time USA Gymnastics doctor get away with molesting young female athletes for so long? It's clear that a lack of accountability at MSU is largely to blame, and the allegations against Strampel offer the latest clue as to exactly how accountability crumbled when it came to punishing Nassar. One victim is cited in the affidavit as saying she "was not surprised Nassar had been able to victimize so many women under the supervision of Strampel."
In a statement, John Engler, the newly appointed interim president of MSU, said that Strampel's "failings are unacceptable." "That is why our work to change procedures, strengthen accountability and prevent sexual misconduct is so important," continued Engler, who in February began the process of revoking Strampel's tenure and terminating his employment. "While the crimes of one doctor and the misconduct of his dean do not represent our university, they do demand the scrutiny of everyone in order to assure individuals like these can never be in a position again to harm others."
MSU's organizational chart shows an immense university that, like many if not most large higher-education institutions, is highly hierarchical. The College of Osteopathic Medicine—which has numerous departments, its dean's office alone comprised of more than a dozen executive staff—is one of 17 degree-granting colleges at MSU. Those report to the central administration, which, in addition to the university's president, includes two executive vice presidents and the board of trustees.
Cooper, in her article for The Atlantic, cited research showing that "male-dominated organizations are more likely to have cultures characterized by aggressive and competitive behaviors and so-called locker-room culture" and that such organizations are more likely than female-dominated ones to condone sexual misconduct in the workplace. This factor may have contributed to the persistence of sexual harassment at MSU's College of Osteopathic Medicine (where a slight majority of the top executives are men). All but two of MSU's trustees are men, too.
Cooper also cited a tendency to forgive bad behavior as contributing to sexual harassment in large organizations, and this ingredient is perhaps the most pertinent when sussing out what went wrong at MSU. Nassar was effectively forgiven by MSU officials, including Strampel, until the very end. Strampel allowed Nassar to continue seeing patients before MSU concluded its Title IX investigation. And when MSU's Title IX office did conclude its probe, it cleared Nassar of wrongdoing, concluding his behavior was "medically appropriate." Then, Strampel failed to "enforce or monitor" protocols that had been set to govern Nassar's behavior despite indicating to the Title IX office that he would do so.
For an alleged harasser to have supervised a serial harasser is to put too fine a point on the dynamics Cooper describes. Who in this system was looking out for the students? Who could students have turned to for real, meaningful intervention? Unfortunately, it seems that help, for many, was too far off.