The Push for Harsher School Discipline After Parkland
Some policymakers are considering whether to more aggressively punish student misbehavior in their effort to make campuses safer.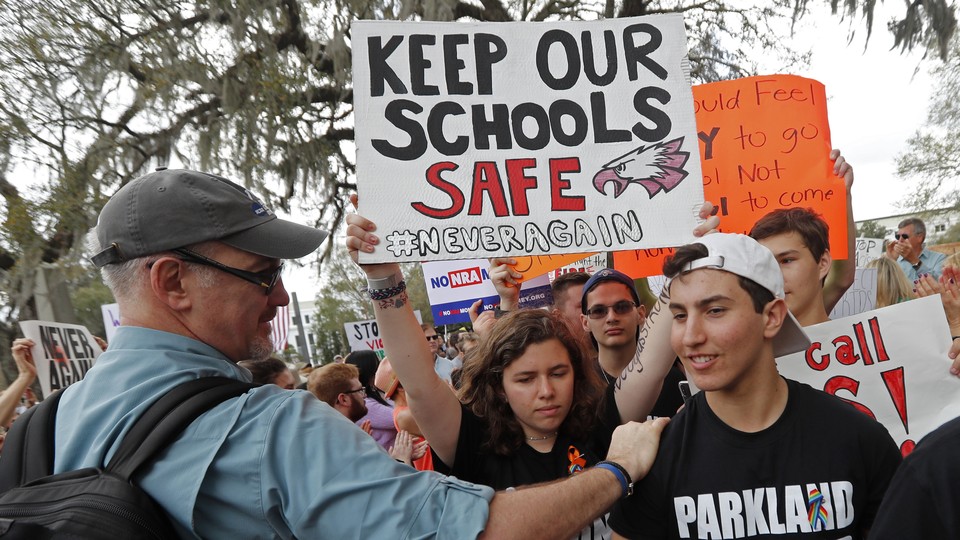 The February 14 Parkland shooting that killed 17 people has led to a slew of policy proposals, including the headline-grabbing call from President Trump and others for laws that would arm educators with guns. There have also been appeals for schools to increase the number of armed law-enforcement officers on campus and to fortify their buildings. Trump says he wants schools to be as secure as airports.
One of the questions on the table: school discipline. Do schools need to punish unruly children earlier on and more harshly, in the hopes that doing so prevents larger, more violent transgressions later? In 2014, the Obama administration released guidance that encouraged schools to emphasize "constructive interventions"—victim-offender mediation, for example, or preventative classroom-management strategies—rather than more punitive approaches.
In part because of this directive, schools in recent years have phased out zero-tolerance policies, like automatic out-of-school suspensions even for minor infractions such as swearing, which became popular after Columbine; additionally, many schools have de-emphasized their reliance on campus security and police officers to handle misconduct. Conservatives have questioned whether this shift has made campuses more dangerous, and Trump is now indicating he wants schools to pivot back to a more disciplinarian approach.
After Parkland, Trump announced the creation of a school-safety commission. One of its specific tasks is to review the Obama administration's 2014 guidance and decide whether it ought to be rescinded. The goal of the 2014 guidance was to eliminate race-based discrimination in discipline practices: Federal data had long shown that students of color were suspended at disproportionately high rates despite evidence suggesting that such students are no more likely to misbehave than are their white peers.
Critics, however, decried the new rules as federal overreach, with some concluding that the policy—which threatens to withhold funding for schools that fail to comply with it—has hampered educators' ability to ensure their schools are safe and orderly. Some studies have found a correlation between discipline reform and increased rates of reported disorder, while others have associated it with a decline in academic performance for never-suspended students. (Any research on student-discipline practices is limited in its ability to draw causal conclusions, as schools are inherently difficult settings for experimental research and because districts have translated the Obama guidance into local policies in varying ways.)
Now, some policymakers and pundits have started to scapegoat discipline reform as a key factor behind campus massacres. School-based shootings rightly lead to policy discussions, "but to say that we should therefore be on the lookout for more dangerous kids to the point that it feels like fear-mongering—that could exacerbate the problem instead of actually solving it," said Cami Anderson, the former superintendent of Newark Public Schools and founder of The Discipline Revolution Project.
In a hearing with U.S. House representatives this past Tuesday, Education Secretary Betsy DeVos, who's leading the White House's school-safety commission, refused to elaborate on how or why the elimination of the 2014 guidance factored into the commission's goals, noting that the prospective repeal is part of the administration's larger effort to review pre-Trump executive regulations. Liz Hill, a spokeswoman for DeVos, on Wednesday stressed that the focus on student discipline is just one item on a menu of potential "common-sense solutions to prevent school violence." "Everything is on the table when it comes to keeping our nation's students safe in school," Hill said in an email, noting that the commission will hear from a range of stakeholders. "No single policy topic nor group's input will carry more weight than another."
But conservative think tanks and lawmakers have made it clear that they believe the Obama-era guidance is a key contributor to the likelihood of another Parkland. The House Judiciary Subcommittee on Crime, Terrorism, Homeland Security, and Investigations, for example, scrutinized it at a hearing on school Tuesday morning titled "Preventable Violence in America: An Examination of Law Enforcement Information Sharing and Misguided Public Policy." And the right-leaning Heritage Foundation recently announced the launch of a robust school-safety initiative, publishing a report that laments the Parkland shooting as a potential consequence "of failing to punish and correct serious wrongdoing by troubled youths" thanks to policies like the 2014 guidance.
Similarly, Florida Senator Marco Rubio, a Republican, earlier this month urged the Justice and Education departments to revise the 2014 student-discipline guidelines on the grounds that they "may have contributed to systemic failures to report [the Parkland gunman's] dangerous behaviors to local law enforcement." The Obama administration's guidance encouraged schools to emphasize "constructive interventions"—victim-offender mediation, for example, or preventative classroom-management strategies—over stringent practices such as out-of-school suspensions and a default reliance on security or law-enforcement officers to handle misbehavior. This directive, Rubio argued, "arguably made it easier for schools to not report students to law enforcement than deal with the potential consequences."
It's not that school discipline doesn't matter: A student whose misbehavior is left unaddressed can certainly put a school at risk, posing a danger to not only her peers and teachers but also to herself. And any discipline policies that are shown to hamstring educators and law-enforcement officials in their efforts to deal with such conduct—which some researchers contend the 2014 guidance has done in isolated instances—deserve scrutiny.
But the discipline practices have been, and continue to be, scrutinized. And despite the limitations of the data and some instances of poorly designed reforms, compelling evidence suggests that replacing them with the traditional punitive approach wouldn't do anything to prevent school shootings. In fact, the teenager accused in the Parkland shooting had been disciplined repeatedly, including a suspension and more than two dozen other "disciplinary incidents" in middle school and eventually an expulsion from Marjory Stoneman Douglas High. Media coverage indicates the two Columbine assailants had been suspended, too, as had some of the other teens behind school shootings, including some who were never seen by their peers or teachers as a major threat. Many other offenders, meanwhile, had clean disciplinary records.
There's a general disconnect between school-safety debates in Washington and those happening on the ground, said Anderson of the Discipline Revolution Project. But the disconnect between the federal student-discipline conversation and what's happening at schools is noteworthy because of how deeply entrenched it is. Not only is the current conversation exaggerating the role of student-discipline policy in determining the likelihood of a school shooting, it is also leveraging and fueling an existing political tug-of-war that has amounted to one of the education world's most rancorous and gridlocked controversies in recent years. It doesn't help that the school-safety commission—which Trump specifically tasked in part with addressing discipline—is comprised exclusively of four Republican cabinet members and not a single educator, scholar, or student.
In a Gallup poll of roughly 500 teachers released Thursday, just 2 percent of respondents mentioned "more discipline/accountability for students" as the "one thing that could be done to prevent school shootings from occuring in the United States." By contrast, 33 percent mentioned stricter gun laws, while 19 percent identified better mental-health care as the key solution. Meanwhile, the Congressional Black Caucus dismissed the effort to dismantle the Obama-era guidance as symptomatic of a larger effort to "criminalize" student behavior.
At the local level, many policymakers are seeking to institutionalize the ideas driving the 2014 guidance: In 2017, for instance, state legislators introduced roughly two dozen bills proposing alternatives to punitive exclusionary discipline. Local conversations have increasingly focused on holistic school-safety measures—those that ensure at-risk kids feel cared for by the adults on campus, for example, or that enable students who act out to be counseled rather than ostracized. Much of the White House's school-safety commission's focus is on holistic solutions, too, like improving access to mental-health treatment.
For Washington policymakers to give outsized attention to student-discipline reform is to succumb to ideological precepts that lack empirical support. It is to waste the lessons gleaned from the growing tally of school shootings while reinforcing racial disparities. And it is, most importantly, to fail the future victims of campus violence.