DeVos Digs Herself Deeper
In her 60 Minutes interview, the education secretary failed to convince policy scholars that she'd improved her understanding of the issues.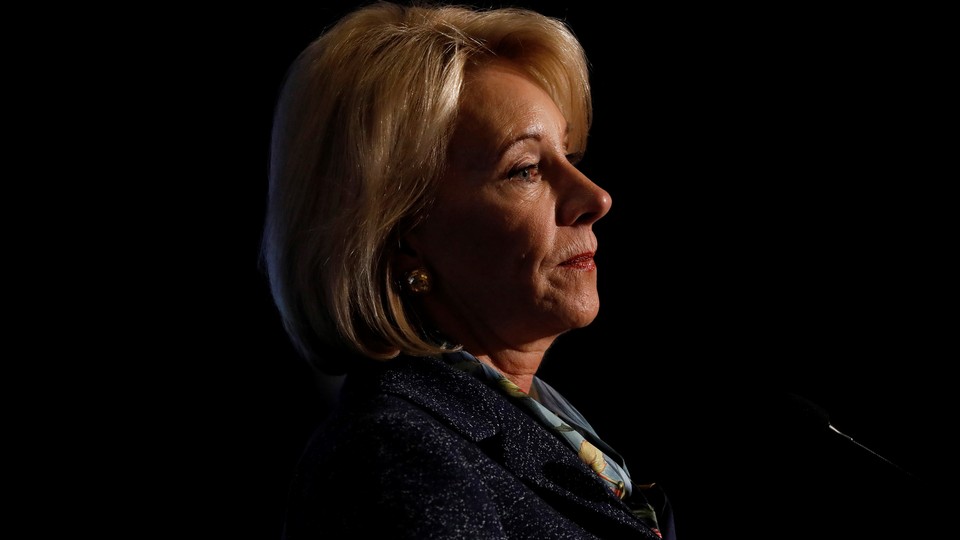 It was, perhaps, the best opportunity she had to patch up her reputation since starting her new job.
Betsy DeVos, the country's highly unpopular education secretary, had been asked to participate in an interview on 60 Minutes, and the news-media-shy billionaire philanthropist and school-choice advocate accepted the invitation. The media appearance would be a high-stakes endeavor, and not only because it was pegged to the newly announced White House school-safety commission that she'll be leading. It had been a little over a year since DeVos's Senate confirmation hearing, a saga in which she had to convince key members of Congress that she, a person with very little experience in public schools, was fit to be the nation's education chief. The January 2017 hearing had so many gaffes that it, along with the social-media buzz leading up to it, generated mainstream interest in issues typically familiar only to education wonks.
The brouhaha quickly came and slowly went, and aside from a few fiascos here and there, DeVos over time made fewer and fewer headlines. After all, she gave the media little to talk about, establishing a formidable barrier between herself and journalists, keeping public-speaking engagements somewhat to a minimum, and spearheading few newsworthy policy initiatives. And when she did make public appearances or announce regulatory changes, she typically stuck to talking points. None of this did much to warm her critics' hearts, but she generally escaped the sort of ridicule and vitriol that had accompanied her initiation in Washington.
Then 60 Minutes happened. In a segment with the veteran journalist Lesley Stahl that aired on Sunday, the education secretary stumbled and fumbled once again. And this time, education scholars and public-school advocates contend, her delivery was even worse than it was last January: With sometimes awkward body language and tense facial expressions, the businesswoman-turned-cabinet-member reiterated her default talking points—"We should be funding and investing in students, not in school—school buildings, not in institutions, not in systems"—and at times seemed to unwittingly debunk them, saying she didn't know enough about a given issue or providing a response that conflicted with a previous statement. She didn't elaborate on research to back up her claims about, for example, the merits of charter schools and voucher programs or the best school-discipline practices. At one point, after lamenting America's struggling K-12 institutions and being asked whether she'd sought to actually spend time in them, DeVos acknowledged, "I have not intentionally visited schools that are underperforming."
"Maybe you should," Stahl responded.
"Maybe I should. Yes," a smiling DeVos concurred, in a tone that left some viewers wondering about her sincerity.
Stahl called DeVos out early on in the interview: "This sounds like talking—instead of acting." But critics contend it was a particularly egregious genre of talking—one marked by apparent ignorance and contradictions. The ensuing news coverage and analyses (and satires) of Trump's "most hated cabinet secretary" were as amusing as they were scathing, as were the reactions on Twitter, with countless users attempting to one-up each other with roasts. CNN reported that DeVos's 60 Minutes appearance even had the White House on edge.
"I wasn't surprised" that the interview turned out the way it did, said Noelle Ellerson Ng, who oversees the policy and advocacy arm of the School Superintendents Association, "but I think the naive portion of my personality wanted to see her do better."
DeVos could've spent the many months since her Senate confirmation hearing preparing for high-pressure interviews, acquainting herself with the intricacies of education policy, and consulting with her education-secretary predecessors to learn the best practices for the job. Even though her school-choice advocacy and other conservative positions make it unlikely she'll convert her critics into allies, there's nevertheless room for improvement on her presentation alone: She could have at least studied the research analyzing policies she's endorsed and visited the underperforming schools she's so intent on reforming. In short, she could have demonstrated that she'd grown more savvy at advocating for her positions, even if those positions remained unchanged. Surely she didn't want to inspire another Saturday Night Live skit or to again be the butt of grizzly-bear-style jokes.
Yet DeVos's 60 Minutes appearance made it seem like she didn't do any of those things, and now many experts and advocates are wondering why?: Why did she perform so poorly? Why didn't she use the opportunity to rectify the mistakes she made at her confirmation hearing? Why are her answers to serious policy questions often so rhetorical?
When I asked various scholars about their reaction to the 60 Minutes interview, I was typically met with a long pause or a heavy sigh (at least one gave me a hollow chuckle). Few were surprised by her megaflop, though most said they had hoped DeVos—who's chaired numerous education-advocacy and political organizations and is an omnipresent figure in her hometown of Grand Rapids, Michigan—would leverage the interview to improve her credibility within the education-policy world. Any hope they had dissipated within seconds.
"I found [the interview] to be somewhere between disappointing and disturbing," said Claire Smrekar, an associate professor of public policy and education at Vanderbilt University whose research focuses include school choice. "It just demonstrates—again—an appalling lack of understanding of some public fundamental principles and practices related to public education."
"I can understand being nominated the Secretary of Education and lacking some of the deeper knowledge," Smrekar continued, "but then I would go to work."
Spokespeople for the education secretary did not respond to numerous requests for comment. DeVos has dismissed the segment as unfair: Generally an infrequent tweeter, she has as of Wednesday posted five tweets responding to the interview and tagging 60 Minutes. The latter three tweets accused the program of failing to cite research supporting her ideas and of featuring a clip of her being grilled about her financial interests yet omitting the response she provided to that "misguided question."
CBS, which broadcasts 60 Minutes, has since published an article acknowledging her retorts but reiterating in the first sentence that DeVos "was unable to answer questions about schools in her own state." Indeed, Mark Hlavacik, an assistant professor at the University of North Texas who specializes in the rhetoric used around education policy, suggested that DeVos had plenty of opportunities to steer the conversation in her favor—by, say, elaborating on the specifics of policies she highlighted—but failed to do so.* Had she mentioned research and described anecdotes in arguing for charter-school expansion, for example, a viewer might conclude, "She's thinking about education; she has some ideas about it, and is pursuing them," said Hlavacik, who's studied DeVos's speech and written about her anti-Washington rhetoric. The interview "was a major missed opportunity."
The backdrop of the 60 Minutes segment was a White House announcement Sunday evening that it is supporting a Justice Department program that would facilitate state efforts to train teachers and other school employees to carry firearms, among other initiatives to combat school violence; the administration also announced that DeVos will be chairing a commission tasked with exploring solutions to achieve that mission. Accordingly, the 60 Minutes exchange kicked off with a quick discussion of school safety.
DeVos commended the student activists in Parkland, Florida, who after the massacre at their school last month have spearheaded a movement advocating for stronger gun-control legislation. But the education secretary didn't mention their gun-control objective explicitly in her praise—and when Stahl stressed that stronger gun laws are baked into their mission, DeVos deflected: "They want a variety of things," she responded. "They want solutions." DeVos then went on to reiterate her support for controversial plans to equip teachers with guns, before seeming to back away from the idea: "I couldn't ever imagine her [my first-grade teacher] having a gun and being trained in that way."
More back-and-forth ensued, after which DeVos and Stahl arrived at a moment that's since gotten some of the most attention: a question centered on the outcomes of Michigan's more than two-decade-long charter-school-expansion project, which she helped shepherd and bankroll. Pushing back against the contention that charter schools and voucher programs deprive traditional public schools of funding, DeVos insisted that achievement at traditional public schools actually increases when a large percentage of children opt to enroll in privately run schools. Stahl asked whether Michigan's schools have in fact gotten better thanks to the charter-school experiment. DeVos responded:
"I don't know. Overall, I—I can't say overall that they have all gotten better."
The reality, as Stahl retorted, is quite the opposite of what DeVos initially suggested: Michigan ranks toward the very bottom of the country on national reading and math assessments. "Despite two decades of charter-school growth," Politico reported last year, "the state's overall academic progress has failed to keep pace with other states"
Generally speaking, experts were quick to scrutinize the ways in which she phrased comments and sidestepped tough questions, the ways in which she moved her body and shifted her facial expressions. And of course, they tried to make sense of why much of her delivery was so abysmal.
Some waffled over whether she intentionally dodged certain questions or genuinely didn't know the answer. Her 60 Minutes snafu was either "a matter of total incompetence or willful ignorance," suggested Joshua Starr, the CEO of PDK International, a professional educators' association. "That's either a stunning lack of knowledge or an outright lie." But a few concluded her to be categorically disingenuous. Luis Huerta, an associate professor of education and public policy at Columbia University's Teachers College, argued that DeVos's nonanswers and evasions and seeming refusal to support her claims with data were deliberate.
Intention aside, observers emphasized that one of the greatest flaws of her 60 Minutes interview was something less political: DeVos, they argued, simply doesn't have a policy background nor personal experience in public schools, qualities that are critical for the country's education chief. And for Vanderbilt's Smrekar, all of this—DeVos's lack of knowledge and authority and insight, and her resulting inability to help others by providing guidance and leadership—amounts to "educational malpractice."
Compounding that, moreover, are her struggles with effective public speaking. In fact, the University of North Texas's Hlavacik suggested that DeVos knew more about education policy than she portrayed in the interview. But, he added, the education secretary's job is "to lead or preside over the national conversation about education policy"—"and that includes giving a good, coherent answer about specific policy questions when asked."
The education department has historically equipped its secretary with a robust communications team—a group of experts who can help that person hone his or her public-speaking skills—in addition to a cadre of subject-matter experts. It's unclear whom DeVos relies on to help her with media engagements; the Education Department has been contending with severe understaffing. In a piece last month on DeVos's shift in school-choice messaging, Politico reported that DeVos had met behind the scenes with Frank Luntz, "one of the top Republican messaging experts, to figure out how to talk about conservative educational policies without sparking protests from teachers and liberals."
The takeaway of the 60 Minutes interview? Some suspect that it'll be more of the same moving forward. Maybe DeVos will have a third chance at assuaging her critics' concerns and effecting positive changes and uplifting and reviving the national conversation around education. But observers are starting to lose the little hope they had—and some worry that further disappointment will come soon, as the new school-safety commission comes to fruition.
Vanderbilt's Smrekar worries mostly about the political impact of DeVos's 60 Minutes fiasco. The interview, she said, is bound to spark another wave of vicious animosity against the education secretary. "It becomes an opportunity for personal attack and that is not productive, nor does it serve the public good—it just continues the polarizing," she said. "This was an opportunity to get Americans thinking more about the most pressing questions of public education."
---
* This article originally misstated that Mark Hlavacik is an assistant professor at the University of Northern Texas. We regret the error.