Finding New Meaning After An Olympic Career
Once they retire, athletes are often left clueless about education, employment, and real life. A new national initiative seeks to change that—will it work?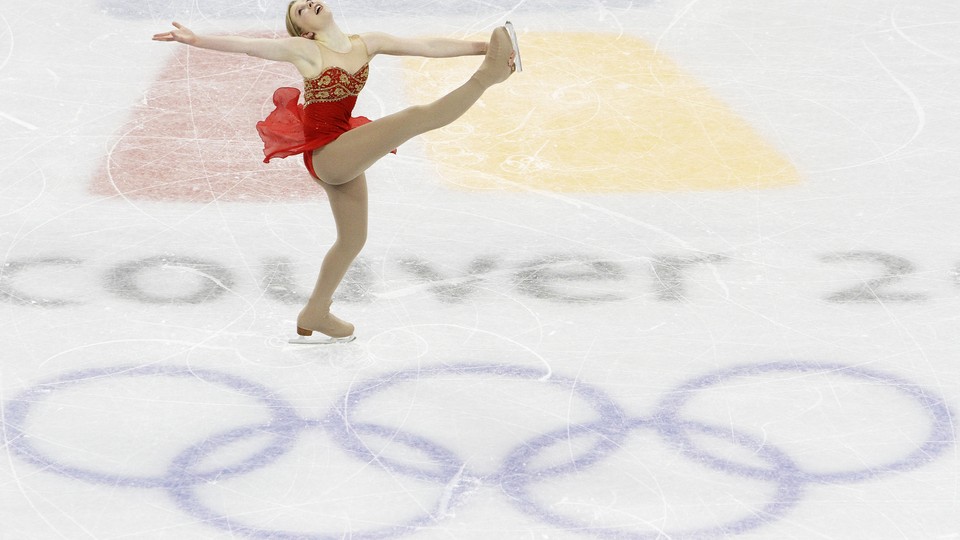 Shortly before getting on the ice at the Pacific Coliseum in Vancouver, Canada, during the 2010 Winter Olympics, the U.S. national champion figure skater and high-school senior Rachael Flatt was writing a paper on Pride and Prejudice for her AP English Literature class. Though it was her first time competing in the Olympics, Flatt had been training vigorously for years; she knew that every spare moment had to be put toward maintaining good grades. She had a way of overthinking her skating routines anyway, and concentrating on Jane Austen before taking to the ice was a helpful distraction. When the time to perform arrived, Flatt executed her triple toe loops and double axels without error, finishing seventh overall. On her essay, she received an A.
"My parents told me that if my grades suffered, my skating would be postponed," Flatt said. Though she missed three months of classes leading up to and during the Olympics, she graduated from high school on time and was admitted to Stanford. "I didn't have much social life that year," she recalled. Flatt continued to train up to eight hours a day while in college and graduated in four years.
Even with her superior education, Flatt struggled after retiring from skating in 2014. "Leaving a sport feels like a divorce: You're cut wide open and have a gaping hole," she said. But neither U.S. Figure Skating (the national body that governs the sport) nor the U.S. Olympic Committee (the entity that coordinates Olympic activities for U.S. athletes) had much to offer in the way of post-retirement support, Flatt said, emphasizing that the USOC's mission is simply to win as many Olympic medals as possible. "Once they've retired, athletes can feel like they're an afterthought," Flatt explained. "If you don't have an education or training to guide you, you're kind of out of luck."
Despite the razzle-dazzle and romance that surround the Olympic games, elite athletes competing on U.S. Olympic and Paralympic teams historically have had few educational and employment opportunities outside of their respective sport. Other nations with robust Olympic teams often provide their athletes with more substantial support: In Canada, for example, top athletes receive an annual income of up to $18,000 as well as a subsidized college education.* By contrast, the U.S. adopts a hands-off approach to its top athletes. "We [Americans] emphasize individualism and individual responsibility more than any other country in the world, so we leave it up to the athletes to figure things out for themselves," said Jay Coakley, a sociologist and the author of Sports In Society.
Internal USOC surveys of former Olympic and elite athletes reveal their concerns about the future: 38 percent said they were mentally unprepared to end their athletic careers, only 16 percent of those still competing reported having done any planning for life once their athletic careers were over, and 43 percent of those who had retired from sports found entering the workforce difficult.
This might be changing. Unlike most of their predecessors, the cadre of U.S. Olympians now competing in Pyeongchang will have access to programs and tools to help them sort through their post-athletic options. The Athlete Career Education program, adopted by the USOC in 2013, aims to rectify some of the oversights that athletes like Flatt endured once their athletic careers ended.
Leslie Klein leads the ACE program. A former Olympic kayaker, Klein said that most athletes competing in the Olympic and Paralympic Games who go on to retire right afterwards are "absolutely not" prepared for what's to come. That's in part because their education experiences are "all over the map," she said. Most of the athletes have at least the equivalent of a high-school diploma, and some have undergraduate and graduate degrees. Many athletes' college options are determined by whether their sport is sanctioned by the National Collegiate Athletic Association, and whether higher education would provide the opportunity to compete at the highest levels (which is not true for all sports). With swimming, volleyball, and track and field, for example, college is the natural route because they can compete as students at the school. "Almost all [athletes in these sports] get a degree and go on to an elite athletic career," Klein said, acknowledging that it may take them more than four years to complete their schooling. (Klein herself graduated from Middlebury College, where she also competed in cross-country skiing and swimming, in six years.)
But for athletes whose sports aren't common on college campuses, or for those whose route to the elite level is outside the NCAA system—like skating, gymnastics, and ski jumping—obtaining an education requires improvisation and hustle. Access to a quality education also varies depending on all kinds of factors. Expense is one. According to Flatt, competitive skating—with all the travel and coaches and costumes and equipment—costs up to $100,000 per year, and athletes without sponsorships often must work part-time to cover expenditures. "The first thing to go is their education," Flatt said. A sport's culture matters, too: The skating world, for example, values academic achievement, Klein said, whereas that for boxing doesn't. In some cases, "athletes have to pick education or sport," she added. The family's emphasis on academics and an athlete's own drive to learn also affect how much education she'll pursue.
Another difficulty for some retiring Olympic and Paralympic athletes is a lack of professional work experience. Given the hundreds of hours spent training, competing, and traveling to competitions, full-time work is impossible for most of the athletes who compete internationally, Klein said. An internal 2012 USOC poll found that almost half of all active Olympians worked, and half of these for 20 hours a week—with half again of these making less than $6,000 per year. A dearth of professional work experience and income, as well as unease about falling behind people their age, prompts some otherwise robust athletes to retire, Klein said. Some then "un-retire," she added, because the sport is all they know.
But what's toughest about retiring from competitive sports, according to Klein, is the emotional adjustment. "The biggest problem is the identity transformation that an athlete has to go through, from being on top of the world in their sport, with media attention, and turning around to face the real world without skills or relationships," she said. The Olympic champion Michael Phelps's tumultuous adjustment to life after elite swimming exemplifies the struggle; he told an audience at a mental-health conference this year that he had collapsed into depression after the Olympics, even considering suicide.
The USOC was pushed to create ACE after an internal working group concluded that athletes needed and deserved more assistance in acquiring an education and finding work. Though the USOC had offered ad hoc career and athletic programs for at least 20 years, the athletes themselves were largely unaware of them. USOC supports were "non-integrated," and provided help only on an "as-available and as-requested basis," the working group reported. Further, just three USOC staff were devoted to helping athletes with their educations and careers, and almost 60 percent of current or retired Olympians did not use even these staffers' support. The report included seven broad recommendations that would establish the USOC as a leader in providing "holistic" support for athletes; the committee's Board of Directors promptly adopted all the suggestions.
Under ACE, the USOC now provides a variety of centralized services to current and former Olympians and Paralympians who apply to and are accepted into the program: career counseling, mentoring, specialized training to help retiring athletes adjust to their new identities, sponsorship for online degree programs at the for-profit DeVry University, a two-week training program at Dartmouth's Tuck School of Business, tuition grants, and "fellowships" with corporations in which athletes are eased into jobs like interns. Once accepted into ACE, athletes have access to a private online platform where they can connect with other Olympians and potential employers—"kind of [like] Facebook meets LinkedIn," Klein explained. ACE also plans to offer workshops on tax preparation, public speaking, and brand management, and to host a three-day post-Olympic Games welcome-home ceremony in Washington for all current and former athletes.
"We are able to take each individual situation and work to provide an array of programs and opportunities based on need," Klein said. Plus, she added, offering this support sends the signal to athletes that the USOC cares. So far, roughly 1,700 athletes have used ACE services, including more than 50 from this year's Olympic team.
What limits ACE are its size and funding. It's not clear how much money ACE receives from the USOC—a USOC representative said the organization does not release the budget of each department—but its staff is relatively small: Klein runs the program with three career coaches and two administrators. Though athletes applied for $1.6 million in college tuition grants, ACE could only afford to give out $237,000—"a big gap," she said, between what athletes want and what ACE provides.
The athletes themselves question how helpful this new endeavor will be. Han Xiao, who heads the Athletes' Advisory Council—a group made up of elite athletes whose purpose is to represent and safeguard their interests to the USOC—said that the resources devoted to ACE are significant but probably insufficient. And according to Xiao, the opacity surrounding ACE funding makes it impossible to evaluate its actual value to athletes.
Access to these services also is restricted. While all retired Olympians and Paralympians qualify, athletes who are currently competing need approval from their sport's national governing body to use the ACE programs. There are 55 such bodies in all—each representing one or more of the sports played in the Olympic, Paralympic, or Pan American Games—and each body decides which of its athletes qualify for the educational and career programs. Depending on the sport, this can mean that just a fraction of competitive athletes qualify. And again, every athlete needs to apply to be considered at all for services.
Allysa Seely learned about the ACE programs a few months before competing in the 2016 Paralympics in Rio.  She went on to earn a gold medal in the triathlon, surging past the top woman during the last leg of the event, and winning by more than a minute. It was exhilarating, she said, but a little disorienting afterwards. "It's something you train for every day for years, so when it's over you think, 'what's next?'" she said. Seely attended some ACE workshops and consulted with a career coach there who helped set her up with a flexible part-time job. She's decided to aim for the next Paralympic games, and devotes about 30 hours a week to running, swimming, cycling, lifting, and miscellaneous maintenance. When her athletic career ends, she'll go back to ACE and use their services to go back to school to study medicine, she said: "I make a point to push myself."
---
* This article initially stated that top athletes in Canada receive a monthly rather than annual income of up to $18,000. We regret the error.