Why Students Are Still Spending So Much for College Textbooks
New technologies are revolutionizing education—but they're also keeping prices high.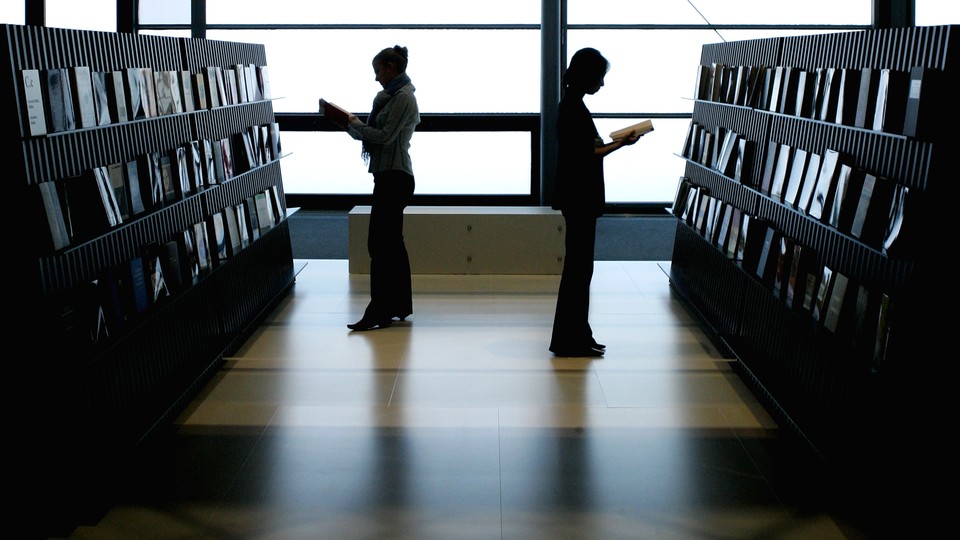 After settling into his dorm this past fall, John McGrath, a freshman at Rutgers University, took the campus shuttle to the school bookstore. He waited in line for 40 minutes clutching a list of four classes—including Microeconomics, Introduction to Calculus, and Expository Writing—and walked out later with an armful of books, some bundled with digital codes that he would use to access assignments on the publishers' websites. He also exited the store with a bill for about $450.
McGrath, an accounting major, pays close attention to his expenditures. He had researched all the textbook options—new, used, digital, loose-leaf, rental—and knew about the various online venues that compete with campus bookstores for sales. His plan was to buy materials that he could later resell. But he was surprised to learn not only that he had to purchase digital codes for half of his classes, but also that those codes are often sold exclusively at the campus bookstore—and for a steep price.
Along with the traditional textbooks, many college classes now require students to purchase access codes—which cost $100 on average—to online platforms created by publishers such as McGraw-Hill and Pearson. Homework and quizzes are hidden on the platforms behind paywalls that expire after the semester, meaning students can't resell them once they're done with the course.
"There doesn't seem to be any way around it," McGrath told me. McGrath, whose mother is a friend of mine, reached out last fall to tell me his story after learning that I was working on a story about textbook costs. My son, who also attends Rutgers, had to purchase access codes for two fall classes as well.
But Rutgers, a public research university in New Jersey, is far from the only higher-education institution where these codes are growing in popularity. Roughly 60 percent of students used an access code during the 2016-17 academic year, according to the National Association of College Stores (NACS), most of them underclassmen at four-year institutions or community-college students taking introductory classes.
Publishers and some professors tout the advantages of these new digital assessment tools, pointing to their ability to streamline the academic experience by making it more efficient and customized. The fact that they're becoming omnipresent on some campuses speaks to instructors' enthusiasm for them. But as demonstrated in a new report by Student PIRGs, a collection of college student-run advocacy groups that works alongside U.S. Public Interest Research Groups, students are starting to question their merits: The access codes threaten to exacerbate the already-high cost of college materials, undermining the used-book market and reshaping the college experience. As McGrath put it, now "you have to pay to do homework."
Greg Mankiw's class, "Economics 10a: Principles of Economics" is Harvard's most popular course among undergraduates, attracting 633 students this past fall. As is the case in many introductory classes, students attend a combination of large lectures and smaller sections led by graduate assistants and visiting faculty. Mankiw, who himself only gives a handful of lectures per semester, assigns readings from a loose-leaf version of his own extremely lucrative textbook, Principles of Economics, donating royalties from books purchased by Harvard students to charity.
In 2016, he started requiring students to purchase both the textbook and a code that gives them access to a digital platform known as MindTap. There, students complete their homework assignments and take exams, which are graded automatically on the publisher's website. Students pay about $130 per year for the book and code, a discounted cost Mankiw negotiated with publishers for those at Harvard.
Mankiw feels that students and faculty have benefitted from the new technology, which includes videos and mini-lectures. Students now get immediate feedback on their work, when the information is still fresh in their minds, rather two weeks later, he told me. The teaching assistants no longer have piles of problem sets on their desks to grade, he said, which frees up their time for office hours and face-to-face meetings with students. This new approach to textbook publishing, Mankiw said, is "disruptive change."
Publishers, which are increasingly investing in digital products for college classrooms, are making a concerted effort to help faculty members adapt to that change. McGraw-Hill for its part employs several hundred consultants who are charged with helping faculty members integrate technology into their classes—even humanities courses that don't easily lend themselves to the multiple-choice exam format.
Representatives from the publishers are actively reaching out to students to facilitate the integration process, too. McGrath, the Rutgers student, recalled representatives from the publishing company of his economics textbook coming to his class on the first day to explain to them how to use the digital platform and codes.
Proponents of that "disruptive change" say the growing pains pay off: The new digital learning materials, they say, pay dividends for students' learning. Scott Virkler, an executive who oversees higher-education products for McGraw-Hill, said that students get better grades in digital classes than they do in non-digital classes. He also noted that the platforms are especially beneficial to extremely busy community-college students, who account for 40 percent of the country's undergraduate population, because they allow people to do homework on their phones.
According to Virkler, another reason the platforms are correlated with better academic performance is because they can help instructors better identify who in a given class needs the most attention or isn't keeping up. "We can tell instructors if their students have done their homework, whether they are struggling in particular areas, and how much time they spend on task," Virkler said. "We know that if students wait to do their homework, they won't do as well as students who do it immediately after the class. We can alert students to get their work done."
The theoretical value of that data extends beyond the outcomes of individual students: The new materials also provide a trove of previously unavailable data. A publishing company might compare classes within a college and can find, for example, which professor is the most effective. Or it can gather data from multiple colleges to compare students and college outcomes around the country. With thousands of students all taking the same exams at the same time across the country, the publishing industry has unique insight into American higher education.
But this technology and its resulting data collection are so new that few have considered its long-term implications.
With the rising costs of higher education, every dollar spent counts, including that on books and supplies. It's hard to pin down how much students spend on classroom supplies each year—based on student surveys, NACS estimates that they spent $579 on their required course materials during the 2016-17 school year, while the College Board analyzed school data to conclude that they spend up to $1,400 annually on materials including textbooks, technology, and binders. Regardless, average annual costs have generally remained steady and even dropped slightly in the past year; lots of courses have refrained from adopting the new assessment tools and enable students to use library books and other free source material, offsetting any increases attributed to the access codes.
"The No. 1 concern that I hear [from students] over and over is pricing," said A.J. Goldman, the general manager for textbooks at Chegg, a website that seeks to make college more accessible to students and offers services such as test prep and tutoring. He said it's common for students to have to buy a $500 textbook and $100 access code for a single course, and lamented how much of a burden that is for many students. "$5 makes a difference," he said. "It's the cost of a meal." "Nontraditional students" account for a majority of today's college-going population, some of them single mothers who are working 40 hours a week while taking night classes and taking care of their kids. "The difference between spending $80 and $100 on a book is serious money for them," he continued. "It's an hour of work."
According to Kaitlyn Vitez, who works on higher-education issues at U.S. PIRG, the cost of textbooks affects the types and number of classes students are able to take. U.S. PIRG estimates that the country's 5.2 million undergraduate students who receive financial aid spend about $3 billion annually on textbooks and codes. All the while, the codes are helping publishers maintain their profit margin in an era when students have the option to rent or buy loose-leaf versions, creating more competition than ever before.
That profit could be a key motivation for embracing the codes has many students annoyed. Harvard's student newspaper, for example, has penned several articles and critical editorials calling attention to the price of the access codes for Mankiw's class. According to research from NACS, "When asked to select the top three words or statements that best describe their feelings toward access codes from a provided list, overpriced was selected by 62% of all students, while 24% selected waste of money and unnecessary."
One factor keeping the prices high is the fact that access codes are typically available only at the campus bookstore and not on websites that cater to students who are concerned about costs. And because they often come bundled with the associated textbook, students are then forced to buy that textbook, even if they otherwise wouldn't because they already have a copy or could find a cheaper version elsewhere. What's more, because access codes expire at the end of the semester and cannot be reused, if a student drops, withdraws from, or fails a class and wants to retake it, she must purchase that code again. She loses access to any homework and exams she's already completed, and unlike an old-fashioned textbook, she can't pass the code along to a sibling or friend.
"Open 101: An Action Plan for Affordable Textbooks," the new paper by Student PIRGs,  compares textbook costs for 10 college classes, including Algebra, Biology 1, and United States Government, at 40 randomly chosen public and private nonprofit two- and four-year colleges. They found that roughly a third of the textbooks surveyed were only available as a bundle with the access codes and in turn ineligible for resale; the report also demonstrated that the codes increased the total classroom expenses for students. Student PIRGs recommend that faculty members and universities adopt "open educational resources"—open-access, free course materials—rather than costly books and codes from the major publishers.
But that may be a tough sell: Given broader changes in higher education, the third-party education services that administer and grade the student assessments on the digital platforms have found a welcome market. As universities shift an ever-growing share of their payroll to adjunct faculty, fewer and fewer full-time, tenure-track professors are teaching introductory undergraduate classes, leaving that responsibility to the low-paid temporary instructors who are overburdened and have little say over what course materials to use. The publisher-provided online assessments provide quality control and systemization for this rotating cast of adjuncts. And by freeing the adjuncts of one classroom responsibility, the codes help justify their low pay.
And this new option works very well for faculty, whether tenured or adjunct. Grading papers is a time-consuming, boring task that detracts from work that brings professional rewards, like conducting research and presenting papers at conferences. Plus, some faculty who are also textbook writers, like Mankiw, profit from the system.
After Mankiw announced he was adopting the codes, the Harvard Crimson's editorial board wrote that "This change to Ec10 represents part of a corporatization of education." As part of this shift, the student journalists continued, "the sharing of knowledge has become another business opportunity, and maximizing profits come above the will to foster open intellectual discourse."